Bay horses usually have chestnut or brown colour on their cots. These colors may be in points on whole body which looks cool. Black points appear on the tail side, without them horse is not bay.
Here are some bay horse names for easy pick.
| | | |
| --- | --- | --- |
| Bay Stallion | Bay Mares | Bay Geldings |
| Comanche | Ruffian | Real Quiet |
| Round Table | Rachel Alexandra | Carrot Top |
| Rowan | Nightmare | Prince Harry |
| Gulnar | Storm | Ginger |
| Carrots | Penny | Tuskan |
| Cortland | Vehari | Brandy |
| Red snapper | Dusky | Amaretto |
| Magenta | Cannoli | Saffron |
| Elmen | Caramel | Shetra |
G
Famous Bay Horse Names
Figure Horse
Every horse breed is influenced by foundation stallions, the popular three stallions are Godolphin Arabian, the Byerley Turk, and the Darley Arabian. However, not in the case of Morgan Breed, this breed development is credited to only one astounding stallion, Figure Horse. 
Though the stallion goes by the name, Figure, he was widely called 'The Justin Morgan Horse.' Owned by Justin Morgan, Figure had the ability to outrun, out-trot, and out-pull his opponents. History is clouded as to who was the Figure's sire, some believe True Briton while others credit Traveller.
Comanche
Comanche is one of the most famous American horses that was sold to the army for $90 in 1868. 
Comanche was ridden by Captain Myles Keogh to Custer's Last Stand. The 7th Cavalry Regiment of the US Army was defeated against the Native Americans, the only living survivor of the Battle of Little Bighorn was Comanche.
Comanche was the only survivor standing among heaps of dead soldiers and animals, however, he was severely injured. Comanche was treated for his injuries and nursed back to health. This war hero soon got retired and was never ridden again.
Frankel Horse
The 14-time unbeaten runner, Frankel, is a retired British Thoroughbred racehorse. Frankel is named after American trainer Bobby Frankel and trained by legendary son Sir Henry Cecil. He is royalty, even bred and owned by one, late Saudi Prince Khalid Bin Abdullah.
His sheer presence scared off many competitors, people came from all over the world to see him race. Over 294,000 people watched him win his 14 victories. Frankel came from a family of runners, his father Galileo was an Epsom Derby winner and her mother Kind won six races.
Seabiscuit Horse
Seabiscuit's story was one of going from rags to riches. He started from nothing and became a racing star. He was the butt of bad jokes because of his small size and laid-back demeanor. Seabiscuit appeared as he would rather laze around than step into the starting gate.
This Champion Thoroughbred racehorse won a quarter of 40 races in his 2-year-old season, not quite an impressive performance.
The change happened when he was handed over to another trainer, Tom Smith. Smith saw the greatness that others failed to. Tom brought a new Seabiscuit who was fearless, ready to go to any lengths to win. Victories followed with wins at Detroit Governor's Handicap and the Scarsdale Handicap, and many more. 
War Admiral
The fourth winner of American Triple Crown Winner, War Admiral, was an American Thoroughbred racehorse and outstanding broodmare.
He was famous for his rivalry with Seabiscuit, the match between War Admiral vs. Seabiscuit was termed 'Match Race of the Century in 1938.
This match brought joy to many helpless men and women during the Great Depression. War Admiral had an amazing racing career with 21 wins of 26 starts and prize money of $273,240. He was a successful leading sire who sired 40 stakes winners.
Ruffian Horse
There are a few fillies like Ruffian, there was something so exquisite about her that spellbound the onlooker. She saw triumph and she suffered a tragedy, she was unbeatable and unstoppable in the earlier years till July 1975. Ruffian was a fierce runner who paraded to the starting gate like a vindictive hell queen.
Ruffian won 10 consecutive races but on a hot July day, during a match race with Foolish Pleasure, she collapsed and lost everything. Ruffian underwent surgery which was not successful, so, she was euthanized. Her story was told via many books and a film Ruffian.
Storm Cat 
Storm Cat was an American Thoroughbred stallion who was unbeatable as a two-year-old, winning the Grade I Young America Stakes and a runner-up in the Breeders' Cup Juvenile. Unfortunately, things didn't go down well at 3, he developed a respiratory infection and injured his hind leg, which marked the end of his short racing career.
Even after retirement, Storm Cat contributed to the racing world by being a leading sire of 108 graded stakes winners and eight champions. He was the highest-paid leading sire of his time.
Pleasant Colony
Pleasant Colony's transformation from an ugly duckling to a Swan was inspirational. The American Thoroughbred racehorse was not considered handsome, barely noticeable among the athletic horses. His notable recognition was winning the first two legs of the American Triple Crown; the Kentucky Derby and the Preakness Stakes.
Son of sire His Majesty and dam Sun Colony, Pleasant Colony appeared in 14 starts, 6 wins, 3 seconds, 1 thirds, and earned US$965,383 in prize money. After retirement, Pleasant Colony entered stud at the Buckland division near Lexington. 
Peter Pan 
Peter Pan was not as good as his other relatives Colin or Celt but he still was a hero in his own regard. Though this Australian Thoroughbred racehorse won many races like Victoria Derby and the Mackinnon Stakes, the world was yet to see the great Peter Pan.
During the Great Depression, people were suffering because of worldwide economic hardships. Peter Pan brought a ray of hope for people looking to escape the harsh reality.
The stage was set for Australia's greatest horse race, Peter Pan created history, ran the race of his life, stunned the audience, and won by the neck. 
Quevega Horse
Quevega is a French-bred, Irish-trained National Hunt star who got the stamina, speed, and class. She was a beauty on the racecourse, the bay coat color glistened in the morning light as she ran. 
In the initial stage of his racing career, she was trained by B. Watrigant and won her first two races. Later, she was sent to Ireland and trained by Champion Trainer Willie Mullins. Quevega won many hurdle races in Ireland. She raced 21 starts and won 16 of them. The Australian racing star ran her last race in 2014.
Rachel Alexandra
Bred by Dolph Morrison, this American Thoroughbred racehorse was not a winner all her life. She was turned down at the 2006 Keeneland November breeding stock sale as an x-ray showed a minor issue in her development. She was sent to Jimmy Dodwell Dimond D Ranch, Texas, he saw some rare qualities in the young horse, the long stride and abundant speed.
Dodwell convinced Morrison not to sell this gem. When Calvin Borel took over the reins, the unstoppable duo embarked on an unstoppable nine-race winning streak. She raced in 19 starts and won thirteen of them along with the prize money of US $ 3,506,730.
Real Quiet
Real Quiet was an American thoroughbred who was just four inches short of becoming the 12th Triple Crown winner. He won the first two legs of Triple Crown: the Kentucky Derby and the Preakness Stakes but suffered a small margin defeat in the third and final leg, the Belmont Stakes.
Trained by Bob Baffert, Real Quiet was a grade winner who won many prestigious racing events like Hollywood Futurity (gr. I), the Pimlico Special Handicap (gr. I), and the Hollywood Gold Cup Handicap (gr. I). Real Quite won 17 of 20 starts and over US $3 million in career earnings. He was a leading sire of 15 Stakes winners.
Round Table
Round Table was the people's hero. In his era, he was overshadowed by some legendary race heroes like Native Dancer, Swaps, and Nashua. Round Table worked silently and stacked up enough victories to be inducted in the United States Racing Hall of Fame.
The bay colt was the greatest turf runner in American racing history. He was up against the toughest lot in his three years old season, Gallant Man, Bold Ruler, Calumet's Gen. Duke, and Iron Liege.
Round Table bagged many awards like US Champion Turf, American Horse of the Year, Leading Sire in North America, and more.
Ruthless Horse
Ruthless was a New York-based filly who was sired by imported British stallion Eclipse and dammed by Barbarity. Ruthless is counted among one of the few fillies who have won a Triple Crown Race. She landed a spot in the Racing Hall of Fame because of the career-defining win in the inaugural Belmont Stakes 1867.
Trained by A. Jack Minor, Ruthless was indestructible, defeating colts in major races. She did not take a rest after Belmont Stakes and defeated stallions again in Travers Stakes at Saratoga. Ruthless had a sterling career of 11 starts, 7 wins, and 4 seconds.
Sea The Stars
This Irish Thoroughbred racehorse is Son of arc winner Urban Sea and half brother of Galileo. Sea The Star came fourth in his maiden race, emerged as a clear winner in the second race, and subsequently won Group 2 2008 Beresford Stakes.
He got famous for his victories in the 2000 Guineas, the Derby, the Eclipse Stakes, and the International Stakes. Sea The Star lost only one race in his 9 starts career and earned £4,416,708 in prize money. After his retirement in October 2009, he stood at the Aga Khan's Gilltown Stud in Ireland for stud duty.
Shergar
Shergar had a brilliant racing career but kidnapping overshadowed all his victories. The bay colt was meant for the racecourse, he made the audience's eyes widen in amazement wherever he went. He won Epsom Derby with the longest-running margin – 10 lengths.
He won other major races like the Irish Sweeps Derby by four lengths, King George VI and Queen Elizabeth Stakes.
He was retired to stand at stud and valued at £10m. That's when the unfortunate happened, Shergar was kidnapped by the armed men from the Agha Khan Stud. Kidnappers demanded three million dollars in ransom which was not paid. It was reported that the horse was killed though the body was not found.
Ta Wee Horse
In Dakota language, Ta Wee means Beautiful, she surely was beautiful and the bay coat added to the elegance.
Daughter of sire Intentionally and dam Aspidistra, Ta wee was one of the greatest weight carriers of all time. She carried crushing loads in her last two races, 140 pounds in Fall Highweight Handicap and 142 pounds in Interborough Handicap.
The two-time American Champion Sprinter was retired to broodmare duties. Ta Wee was an astounding broodmare who had four foals, four of them were Stakes winners.
Tonalist
Tonalist was a magnificent horse who is famous for making California Chrome lose the Triple Crown. California Chrome had already won Kentucky Derby and Preakness Stakes, Belmont Stakes 2014 was his last stop but Tonalist changed the scene by winning the race.
Tonalist did not participate in Kentucky Derby or Preakness Stakes at the year, she might have won all three legs as Tonalist was in good form.
Tonalist is unusually tall with a long stride, he went on a winning spree after his unpredictable win at Belmont Stakes and won many races. He was retired after Breeders' Cup Classic 2015 and stood at Bill Farish's Lane's End Farm in 2016 for stud duties.
Tuscalee
Tuscalee was small in stature and often looked down upon by the counterparts. Little did they know that Tuscalee would emerge out as a record holder for the most American Steeplechase races winner in the sport's history. This record is yet to be broken.
Tuscalee holds the record for 37 career jump wins. He was the star of his time, everything he did make the news, many media publications followed him everywhere. He became an inductee of the US Racing Hall of Fame in 2013.
Twenty Grand
Twenty Grand was part of a stellar group of juveniles in 1930 but Twenty Grand stood out with many wins. He was counted among the 'big four' by Chicago Tribune along with Jamestown, Mate, and Equipoise. 
He had an impressive three-years-old season after winning the Wood Memorial Stakes, Kentucky Derby, Belmont Stakes, Dwyer Stakes, Travers Stakes, Saratoga Cup, and the Jockey Club Gold Cup. Twenty Grand finished second in Preakness Stakes otherwise he would have been a Triple Crown winner.
Twenty Grand was sterile so his contributions stayed on the racecourse. He lived out his days at Greentree Farm as a pensioner.
Cardigan Bay
Cardigan Bay or Cardy was the household name in New Zealand. Cardigan Bay was not just a star among his crowd he won multiple races in other countries like Australia, Canada, and the United States. He was the first North American horse to win the US $1 million in prize money. 
Driven by the leading reinsman, Peter Wolfenden, Cardigan Bay won major class races in New Zealand like the New Zealand Trotting Cup and Auckland Cup in the initial stages of his career.
Cardy is also well-known for winning Australia's Inter Dominion Pacing Championship. He beat mighty pacers like Bret Hanover, Overtrick, and Meadow Skipper.
Dark Bay Horse Names
Golnar – Golnar is a Persian word or a flower with a flame colour centre. This name is perfect for your bay colour male horse.
Meatball – As inspiration from the red colour of meat and it is the bay meatball. This name is perfect for the bay, chestnut or red horse.
Rowan – It is a tree with chestnut or bay colour flowers. Nature, flowers and trees are the best inspiration to find names.
Niran – This name is very popular in Arab for Arabian horse breed. Niran stands for fire in the Arabic language.
Alev – A Turkish term stands for fire. If you have bay mare then Alev is the perfect name for her.
Apple – Apple has a red colour so why not a bay name? It is the perfect name for your male or female horse.
Roan – It is a special coat colour of horses that come in brown to reddish appearance. You can pick this name for your horse.
Grulla – Grulla horse also comes in bay, red or chestnut shade. If you name Grulla to your bay horse it will bring a crazy idea.
Princess Fiona – Princess Fiona is catchy mare name. It is basically a red hair female character from Shrek.
Female Bay Horse Names
Male Bay Horse Names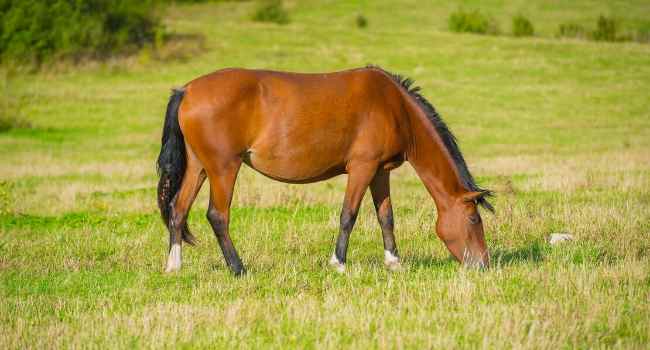 More Horse Name ideas
If you are still confused between names and want more names. We have arranged a list of many other colour names which are similar to the bay. Pick some more colour names from below list.
Pick Right Name for Bay Horse
Make sure about picking the right name for your horse. Pick a name which you can keep for a long time. A good name makes the association of the owner with his pet. Here are a few tricks.
If you have a new horse then leave him for a few weeks and notice personality. Every horse is different from others and his behaviour, personality and preferences will be different.
There are countless tricks and ways to find unique horse names. You can start from his look, breed and coat colour. When brainstorm, consider state, university, literary character or town.
Make sure the name is easy to pronounce. Some time name can be best on paper but hard to call.
Say in different tones, like say it loud and slow and make sure you can call it anywhere.
In start teach your horse by creating a curse for food and say it many times in a day.