We consider gray color is coat color of horses that their hairs make a layer of a gray color. Usually, gray color horses have black skin. In most breeds, we have seen gray color horses that look casual and decent at first sight. Gray horses are mostly found in the Arabian breed but some gray horses can be seen in thoroughbred and other breeds. The most famous horse breed that has gray color horses is Lippizaner breed.
Dapple gray is a horse called dapper due to gray color and has gray color layers or lines. It is difficult to find some times good name or nickname for your gray horse but good research and deep observation can filter out a good name for our horse. Here we combined a list of gray horse names, I hope you will be able to find a catchy name for your gray horse.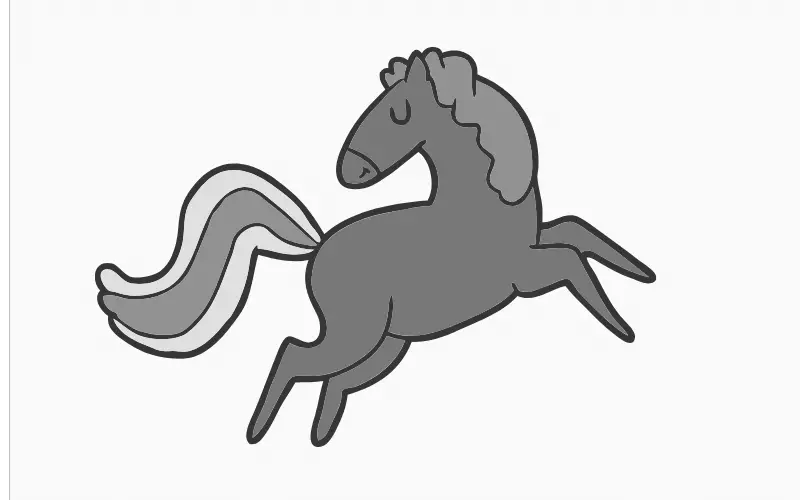 Gray Horse Names List
| | | |
| --- | --- | --- |
| Foggy Notion | Greystoke | Blue wave |
| Graphite | Stone | Ash |
| Lamboo | Mitti | Apache |
| Amos | Steely Dan | Knight |
| Storm | Sandy | Venom |
| Iron | Shadow | Smokehouse |
| GrayHour | Dubliner | Centerville |
| Pegasus | QuickSilver | Smoke signal |
| White Tornado | Silver Bullet | Smog Ring |
| Marshmellow | Moonwalk | Mercury |
| Rafiki | Aggie | Alpha |
| Snowman | Bridle veil | Cloud Burst |
| Grey Scale | Thunderclap | Gun Smoke |
| Jupiter | Sterling | Ghost |
| Eclipse | Badger | Austen |
Famous Grey Horse Names
Greyhound 
Greyhound horse was a standardbred grey horse that got famous as an outstanding sports horse. This trotting grey horse got the "The Great Grey Ghost" and "Silver-Skinned Flyer" titles because of his exceptional athletic and trotting skills.
Though he made his owner Colonel E. J. Baker was proud countless times but the major wins were Hambletonian Stakes(1935), Championship Stallion Stakes(1935), and Horseman Futurity(1935).
He was probably the only horse that kept enjoying the fame even after retirement. Horse enthusiasts around the globe would come to pay tribute to this exceptional horse. The cause of this grey horse's death is unknown. The records show that he was buried at Baker Cemetery on Red Gate Farm. 
Babieca 
Babieca, a magnificent war horse, was owned by El Cid who reclaimed Valencia from Moorish control. Babieca belonged to a noble Iberian breed. He was exceptionally weak and spindly in the early years of his life but who knew that he would become Spain's most honored horse one day.
The books of history describe El Cid's horse as "well-trained" and "devoted war-horse". Babieca died two years after the death of El Cid but no one dared to ride him in these two years. The warhorse was laid to rest in 1101 in San Pedro de Cardena Monastery Burgos, Provincia de Burgos, Castilla y Leon, Spain.
Palomo 
Palomo was a grey-ish white horse that accompanied Simon Bolivar on the campaigns of national liberation. Palomo was gifted to Simon Bolivar after the Battle of Boyaca by an elderly peasant woman named Casilda.
History is not fluent in the life of this exceptional horse but these books describe him as a tall horse with an exceptionally long tail. Unfortunately, he couldn't live long after the grueling march held in Hacienda Mulalo and he was buried next to Hacienda Chapel with great honor.
Native Dancer
Native Dancer or Grey Ghost, the most accomplished and celebrated thoroughbred racehorse, imprinted the books of history with several wins including the two American Classic Races; Preakness Stakes(1953) and Belmont Stakes(1953).
He only got defeated in the Kentucky Derby(1953) other than the said American Classic Race he remained unbeatable.
This Maryland-bred was foaled at Scott Farm (near Lexington, Kentucky) whereas he was raised at Sagamore Farm in Maryland. He was admired as a nice, playful, big, and rough horse. This National Museum Of Racing And Hall of Fame and Maryland State Athletic Hall Of Fame Inductee breathed his last on November 16, 1967.
Spectacular Bid
Spectacular bid, a thoroughbred racehorse, who won 26 out of 30 races he took part in. Besides winning the American Classic and numerous other professional races, he made history with several racetrack records as well.
The Spectacular Bid's coat color was breathtakingly dark in the early years but as he aged, he started resembling Flea-bitten Horses. 
The Spectacular Bid's stud career was not as exceptional as his racing career as he did well in the beginning but remained disappointing in the last few years. Spectacular Bid died from a heart attack and he was chosen to be buried at Milfer Farms.
Skip Away
Skip Away, a famous grey stallion was bred and owned by Anna Maria Barnhart and Carolyn Hine. Besides being prized as American Horse Of The Year in 1998, he was also granted U.S Champion Three-Year-Old Colt (1996) and U.S Champion Older Male Horse(1977,1998) awards.
During his stud career, he foaled several champions and stake winners who won and are still winning the hearts of horse enthusiasts. After retirement, unlike most of the famous horses, Skip Away couldn't live longer and died of a sudden heart attack, leaving all of us heartbroken. He was laid to rest at Old Friends Farm in Georgetown, Kentucky.
Silver Charm
The Kentucky Derby and Preakness Stakes Winner 1997 Silver Charm is American Thoroughbred that impressed spectators with his talent. Trained by Bob Baffert and ridden by Gary Stevens, Silver Charm is the oldest surviving winner of the Dubai World Cup.
Silver Charm amassed a $7 million earnings and got himself a place in the Racing Hall of Fame. His sheer competitiveness and determination made other opponents careful about picking up a fight. He was retired to stud at Three Chimney Farm in Kentucky.
Holly Bull
Holly Bull was a Thoroughbred racehorse that faced an inexplicable flop in the Kentucky Derby after finishing twelfth. After the disappointing defeat, Holly Bull pushed forward and emerged as a fighter. He won the Florida Derby, Blue Grass Stakes, Metropolitan Handicap, Haskell Invitational, Travers Stakes, and Woodward Stakes in the same year.
Holly Bull was also honored with the American Horse of the year award and his career earnings stand at $2,481,760.
Unfortunately, He sustained an injury at the start of his four-year-old campaign that ended his career. Son of sire Great Above and mare Sharon Brown was put down on June 7 at Jonabell Farm.
Lady's Secret
It would be safe to call her the Racing Iron Lady. Lived up to the family's legacy, Lady's Secret became racing immortality just like his father, Secretariate. Lady's Secret lacked size, weight, and height, she looked anything but a racehorse to trainers.
Looks can be deceiving that was proven by the lady horse with multiple wins and over $3 million career earnings.
Lady's Secret was a champion at 2 after winning the Moccasin Stakes. She is a winner of the Eclipse Award Horse of the year. Lady's Secret was also the honored inductee of the National Museum of Racing and Hall of Fame.
Winning Colors
Winning Colors, just like her name, was focused on winning. This Champion American Thoroughbred racehorse was a grey filly who won the Kentucky Derby. She was counted among the only three fillies who have managed to win this prestigious race. 
Winning Colors won two of two races in her two years old season. Of all the races, the Kentucky Derby was the race that got her the most recognition.
She was up against some of the toughest competition, racehorses like Big Siren and relatives of Secretariats. He had breathing difficulties and surgery which made it difficult for her to race till she was eventually retired.
Princess Rooney
Princess Rooney was surely a princess, not just in looks, coat color, but also in talent. She managed to make a name for herself in the sport of kings. Princess Rooney won the inaugural Breeders' Cup. She had a sterling three years racing career with 21 starts, 17 wins, 2 seconds, 1 thirds, and an earning of US$1,343,339.
Even after her retirement, she did not lose her worth and sold for $5.5 million to be a leading sire, making her the third-highest paid of that time.
Black Tie Affair
The 1991 Horse of the year winner, Black Tie winner, was an amazing athlete, so determined and focused on the racecourse. Bred by American businessman Stephen D. Peskoff, Black Tie Affair was a thoroughbred racehorse who was a graded stakes race winner at two, three, four, and five.
Son of Miswaki, Blue Tie Affair, was a winner in six consecutive graded stakes. He defeated legends like Twilight Agenda, Strike the Gold, and Unbridled to win the Breeders' Cup. Black Tie Affair retired in 1992 and was sent to Japan for Stud duty.
Cozzene 
Cozzene took some time to find his best time. He evolved as a mighty runner at his own pace. The beginning of his racing career was not as promising as that of a legendary runner. In his first season, he won three of six starts. In 1985, Cozzene surprised everyone with a Breeders' Cup Classic win.
Apart from his racing career, he is also known as an outstanding sire who sired two Breeders' Cup winners and many other accomplished horses. Cozzene was diagnosed with melanoma, a disease common for grey horses. He was put down on October 7, 2008, at Gainesway Farm in Kentucky.
Bamboo Harvester Horse
Who didn't love the talking horse, Mister Ed, back in the day? The black and white comedy television series was widely popular and the audience loved when American Saddlebred talked to his owner. He played the leading role of Mister Ed, however, in real life, he was Bamboo Harvester.
Bamboo Harvester was a trailblazer who captivated a large audience with his personality, temperament, and acting skills, the show was an instant classic. The real Mister Ed was a star even before he stepped foot in Hollywood. He was euthanized as Bamboo Harvester developed many kidney problems and arthritis.
Traveller Horse
Traveller was undoubtedly the most famous horse of the civil war. The trusted General Robert E. Lee mount was not just for the war but also added to the grace, power, and dignity of his owner. The duo was inseparable and indestructible, they are forever associated with each other, such was their connection.
Traveller was not new to wars, he spent most of his life on bloody battlefields. In the early years, Traveller participated in many shows and won many ribbons and trophies. General Lee fancied him at first glimpse and called him 'my colt'. Traveller survived a few months after Lee's death. 
Tapwrit
This American Thoroughbred racehorse is known for his historic win at Belmont Stakes 2017. Following the legacy of his famous sire Tapit, Tapwrit gave applaud worthy performances in many races. He inherited grey coat color and good looks from his father.
Bred by My Meadowview LLC, owned by the chairman of Barnes & Noble, Leonard Riggio, Tapwrit took retirement from the racing world in October 2018. He was due to stand at Gainesway Farm in 2019.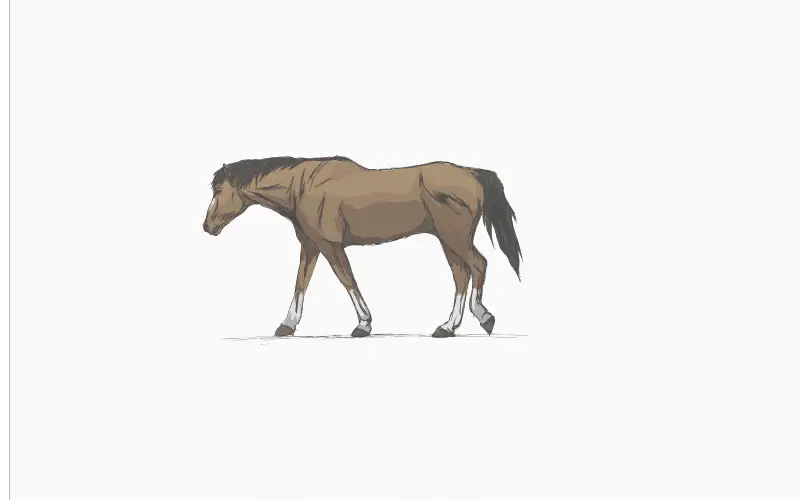 Gray Horse Names with Meaning
That is the shortlist of grey horse names with all colour combination like flea-bitten gray horse names, dapple gray and only grey names.
Graphite (A stone of gray color is graphite)
Grau (German for gray color is Grau)
Abu-Abu (Gray color in the Indonesian language)
Dusty (From dust, the resemblance with gray color)
Silver (A color like gray color )
Rusty (Bit is not resembled still goof for gray horse)
Ash (Remainings after burning some material)
Smokey (From smoke color smokey)
Siva (Name for gray color in the Bosnian language)
Pele (For gray color in Latvian)
Grijs (For gray color in dutch language)
Final Words
Gray color Horse is not breed oriented so we can pick names on their random outlook. This list of gray color horse names is the best collection so it is easy for you to now pick the best name for your horse. You can drop your suggestions in comments so we can update the list.