Horses are mostly named by their quality of speed, gait or attitude, mostly also name their horses according to their colours. And naming a horse for their colour is also a very spiffing idea in its own way. A brown horse or an equine coated horse is very common in colour which makes it even harder to name a unique name for such a magnificent creature but at the same time, it is also easy because the brown shades in the horse have different varieties as well.
All you have to do is savvy your imagination and add a little creativeness. This article will help you in calming in your brainstorm a bit and find the perfect name that fits your horse personality.
| | | |
| --- | --- | --- |
| Brown Mares | Brown Stallion | Brown Geldings |
| Banania | Chocolate | Buckskin |
| Beige Beauty | Korichnevyy | Flaxen Flair |
| Palomino | Burnt Sienna | Gold Nugget |
| Caramel | Cappuccino | Kobicha |
| Espresso | Maroon | Tootsie Roll |
| Mushroom Top | Brown Sugar | Hickory |
| Corny | Antoccino | Tostada |
| Brioche | Nestles Crunch | Macchiato |
| Crostini | Penny Loafer | Sandcastle |
Famous Names for Brown Horses
Horses carry storied history on their backs of loyalty, dedication, strength, and determination. They have aided and entertained mankind for centuries. Many horses were just a come and go while few of them were standouts.
We have come to talk about some famous Brown Horses from history. Stat with us to know about them.
Affirmed Horse
This American Thoroughbred is famous for his rivalries with fellow runner Alydar, both met on the racecourse ten times. Affirmed is also the Triple Crown winner, one of the most difficult achievements in horse racing. He is honored to be the last Triple crown winner before it was shut down.
Affirmed was an accomplished horse who bagged many wins and awards. This magnificent Brown Horse gained racing immortality and his legacy continues to live in the hearts of horse racing fans.
Bend Or
Bend Or was the monument of courage, class, beauty, and kindness. The strength and charisma of this British Thoroughbred were unmatchable on the turf and in the stud. He was the winner of Epsom Derby 1880 and his jockey Fred Archer considered him ' probably the greatest horse he had ever ridden.'
Produced by sire Doncaster and dam Rouge Rose, Bend Or came from the family of winners. This beautiful horse started running at the age of 2 and had a sterling racing career. Bend Or was owned by Hugh Lupus Grosvenor, the first Duke of Westminster. He became an active breeding sire after retirement.
Big Brown Horse
Big Brown was a sight to behold when he ran fearlessly on the racecourse. As a bird takes to wind, Big Brown ran in the air. His beautiful brown coat color glistened with the sunshine. 2008 was Big Brown's year, he won two important championships, Kentucky Derby and Preakness Stakes.
Big Brown sustained an unfortunate hind hoof injury, which led to his retirement. Even though he is not living his high-end action life right now but Big Brown has adapted to the new environment and continues to stand out. He is now living at Dutchess Views Farm in Pine Plains, New York.
California Chrome
California Chrome is a breathtaking vision of power and grace, a horse straight out of a fairytale. This millionaire horse earned a whopping $14.8 million throughout his career, with multiple wins.
This American Thoroughbred racehorse won Kentucky Derby, Preakness Stakes, Dubai World cup, and multiple other races.
California Chrome became unstoppable when teamed up with jockey Victor Espinoza. This unbeatable tandem had a six-win streak in 2013-2014. California Chrome was sold to the JS company to stand at Arrow Stud, Hokkaido.
Cigar Horse
The cigar was an American Thoroughbred racehorse whose transformation from a modest horse to a legend is worth the applause. His 16-race win streak made him the most in-demand horse during 1994-1996. Trained by Hall of Famer Trainer, Billy Mott, Cigar became a legend on dirt, leaving his counterparts way behind in the race.
Most of the fans know Cigar from his signature triumph at the Breeder's Cup Classic 1995 and the popular race call from Tom Durkin "And here he is the unconquerable, invincible, unbeatable Cigar!". Though Cigar was lethal on the racecourse but on a normal day, he was kind, soft, and gentle who got along easily.
Curlin Horse
Curlin was a rich horse, in color, looks, talent, speed, and earnings. He was the first American-based racehorse who crossed one million dollar mark in career earnings. This American Thoroughbred did not race till three years of age, he made up for the lost time by winning multiple races afterward.
Curlin always ran with great determination as if he was aware of the responsibility and what was on the line.
Apart from being named champion of some notable horse racing accomplishments like Breeders' Cup Classic, Dubai World cup, Preakness Stakes, and more, he also sired many prominent winners like Vino Rosso.
Deep Impact Horse
Deep Impact, son of breeding sire Sunday Silence, was a runner at heart. This two times Japan Horse of the year winner managed to capture the public attention as only a few horses could. This Japanese bred Thoroughbred was an undefeated Triple Crown Champion and won seven Japanese Grade 1 races.
Following his retirement, he was employed to stud at Shadai Stallion Station. Deep Impact was euthanized after a cervical fracture. He passed away on 30th July 2019, at 17 years of age.
Easy Goer
This American Champion Hall of Fame Thoroughbred racehorse was so beautiful that he would have won any beauty contest with maximum votes. Owned and raised by the prestigious racing family, anyone who looked at this brown horse saw potential, it was nearly impossible to tone down the hype.
Easy Goer, son of Alydar, was trained by Shug McGaughey and ridden by Pat Day. In his racing career, he won 14 of his 20 races, including nine G1 wins. He continued to bag multiple awards and stood stud at Claiborne Farm in Paris. He died at the young age of 8.
Frankel
The Frankel will make you believe that there is such a thing as a perfect horse. Owned and bred by the late Saudi Prince Khalid bin Abdullah, this British Thoroughbred racehorse is the modern-day Secretariat. Named after the American trainer Bobby Frankel, this horse stayed unbeaten in his racing career.
He participated in 14 races and won all of them. Horses like Frankel do not come along very often, this British racehorse became the first in 60 years to become a champion at the age of two, three, and four. His total career earnings stand at £2,998,302.
Hurricane Fly
Hurricane Fly is never calm and quiet, this retired Irish Thoroughbred racehorse likes to stay active does not just laze around. If you were a spectator in the stands, the moment Hurricane fly had stepped foot in the racecourse, you would have predicted his win, such is his aura.
Hurricane Fly held the record for the winner of most G1 races till 2019. This horse is affectionately known as 'The Fly' for his speed and ability to overcome hurdles. He is recognized for winning 21 G1 hurdle races.
Invasor
Invasor was bred in Argentina though his ancestors were quite diverse belonging to different parts of the world. He kickstarted his racing career at Marona's racetrack in Uruguay where he won his debut race. Now, Invasor (Invader) was ready for longer distances, tougher competition, and muddier track.
He emerged as a champion in the world's two richest dirt races, Breeders' Cup Classic and Dubai World Cup. Argentinians and Uruguayans celebrated with the honor "Horse of the Rio Plata".
Irish War Cry
Irish War Cry, the son of Curlin, is a retired American Thoroughbred who is one of the best dynamic runners of his generation. He is well-known for winning the Wood Memorial Stakes, Pimlico Special Handicap.
Irish War Cry took retirement in September 2018. If reports are to be believed, he is an active breeding stallion at Northview Stallion Station in Maryland.
Northern Dancer
Northern Dancer, an exceptional racehorse and a successful sire of the 20th century, was bred by Edward P. Taylor. This Canada's Sports Hall Of Fame and Canadian Horse Racing Hall Of Fame inductee spent his entire life belonging to Windfields Farm. 
After retirement from their racing career, he sired hundreds of winners and stake winners.
Northern Dancer retired from stud on April 15, 1987, as he was taken over by arthritis and heart problem. In November 1990 Northen Dancer suffered from another deadly disease called "colic". He was euthanized on November 16, 1990, and laid to rest at Windfield Farm in Oshawa, Ontario.
Master Charlie
Master Charlie, a champion thoroughbred racehorse, was jointly owned by Phil T. Chinn and William Daniel. 
During his successful racing career he won several races but Tijuana Futurity(1924), Colorado Stakes(1924), Remsen Stakes(1924), Hopeful Stakes(1924), and Kentucky Jockey Club Stakes(1924), earned him the most success. This remarkably successful year(1924) earned him American Champion Two-Year-Old-Colt Award. 
This extraordinary horse credited his joint owners' account with $95,525. Unfortunately, due to lack of records, it's not clear when this finest racehorse died and where he was buried. 
Makybe Diva
Makybe Diva, a British-bred racehorse, got immense fame from winning Melbourne Cup for three consecutive years (2003, 2004, 2005). In November 2005, due to exceptional history, this enthusiastic mare was admired as the highest-stakes-earner. She retired and began her breeding career in 2006.
This first foal from Makybe Diva was born on 17 August 2007. During her breeding career, she has given birth to 4 exceptional foals, that are doing well on the racecourses. Makybe is still alive, enjoying retirement at Tony Santic's boutique thoroughbred farm in Victoria. 
Lookin at Lucky
Lookin at Lucky is another famous racehorse that is surviving this deadly Coronavirus outbreak with us. This American thoroughbred, a winner of Preakness Stakes, was foaled on May 27, 2007. This extraordinary racehorse earned his owners, $3,307,278 from his racing career.
His major wins are Best Pal Stakes(2009), Del Mar Futurity(2009), Norfolk Stakes(2009), Cashcall Futurity(2009), and Preakness Stakes(2010).
He was sold several times Mike pegram, Karl Watson, Paul Weitman was reported to be his owners but he now belongs to Coolmore Stud. Fortunately, he is alive breathing with us and it's yet to see what the future holds for him. 
Lexington
Lexington, a United States Thoroughbred racehorse, got fame and recognition from being sire than a racehorse even though he won six of his seven-race starts. This exceptional sire and racehorse were bred by Dr. Warfield and trained by John Benjamin Pryor, an American thoroughbred racehorse trainer. 
Lexington was a racehorse of willful and vicious temperament. In his entire successful racing career, Phoenix Hotel Handicap was considered Lexington's major win.
This racehorse breathed his last on July 01, 1875, and was buried in a casket right in front of the stable. Lexington got honored by the United States Racing Hall Of Fame in 1995, years after his demise.
Light Brown Horse Names
| | |
| --- | --- |
| Hawk | Cougar |
| Scooby | Toffee |
| Clay | Bister |
| Biscuit | Yohi |
| Taz | Teddy |
| Chocco | Maroon |
| Cser | Bullseye |
| Chestnut | Banania |
| Miso | Clove |
| Brioche | Crostini |
| SandCastle | Monkey |
| Spot | Tosla |
| Teddy | Tom |
| Penny Loafer | Peach |
| Brown Beauty | Brownie |
| Booster | brown Pit |
| Gizmo | Nuts |
| Clayton | Mocha |
| Peanut | Apricot |
| Honey | Scooby |
| Automn | Whiskey |
| Cold | Goldy |
| Nust | Nema |
| Hershey | Expresso |
| Goal | Tod brown |
| Brown bee | Browntec |
| Brownoo | Cinamon |
| Falcon | Rusty |
| Penny Loafer | De vogue |
| Almond | Raisin |
Dark Brown Horse Names
| | |
| --- | --- |
| Cidar | Chesnut |
| Mudd | Teak |
| Clove | Copper |
| Russet | Bombi |
| Moose | Leather |
| Brew | Beans |
| Arizona | Almond |
| Graham | Sundance |
| Tenner | Braun |
| Java | Mocha |
| Nestle | Kitkat |
| Oatmeal | Pepsi |
| RootBear | Sadona |
| Walnut | Yogi |
| Twix | Bear |
| Bosco | Burnell |
| Toast | Tanny |
| Canoli | Caramell |
| Cadoli | Cola |
| Hickori | Dusty |
If your horse is a light brown its coat will resemble clay and you can name it; Clayton. Just like that a Carob is a tree that produces small brown beans like a pea but they are dark in color you can name your horse next to a tree; Carob.
If your horse has a little grey color touch in the leg area or the hair, there is a color named; Fuscous. This is a kind of color which is a mixture of brownish-grey color. And if the horse has dots or pigmentation of brown color you can name is Bister.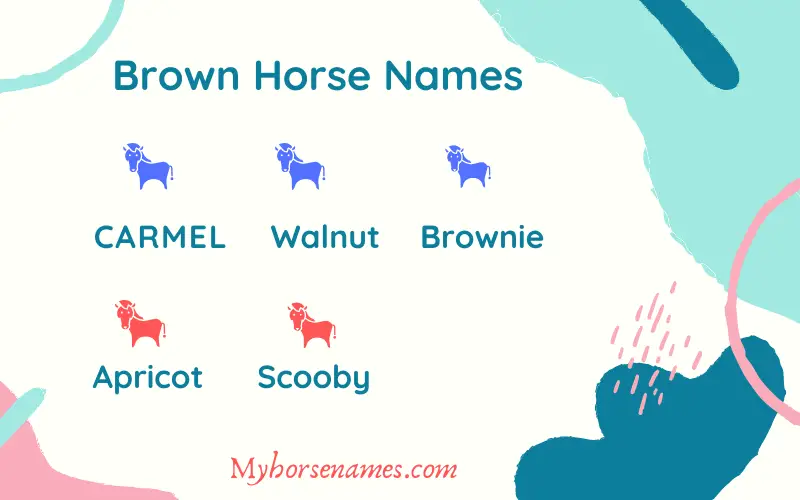 Brown Horse Name with Meaning
| | |
| --- | --- |
| Name | Meaning |
| Donut | Ice cream bran with brownish chocolate |
| Leather | Resemble brown, animal by-product |
| Brun | The word for brown in the Swedish language |
| Chip | Word derived from chocolate chip |
| Toast | A kind of brownish bread is Toast |
| Nestle | A famous children food brand |
| Cinnamon | Good Name for reddish-brown Horse |
| Honey | Product from the honeybee, best short name |
| Coffee | Best Name for a dark brown horse |
Naming Tips
Other than English, you can also search for brown colour in other languages. Like, brown colour in the Hungarian language is called Cser which is pronounced as sair, this name sounds very classy in its own manner. Spanish is a very famous language which is spoken all around the world and it is very likely to English, brown colour in Spanish is called Bronceado. This name sounds a fancy name and it is very easy as well.
Another way of deciding your brown horse name is by just looking around or simply think of things you love and if they have any similarity to the colour in them. For example; there are many beer lovers all over the world and if you are one of them, then give a good look at the beer's colour, it is brownish golden. No, don't name your horse beer but you can name it Pilsner, it is the lightest brown coloured beer brewed. And if you are a tea lover name it Tazo, it is a famous brand of tea and it sounds like an artistry name too.  
Final Words
There are half of the breeds have a brownish colour horse. Brown horses are racehorse mostly. It is not easy to find the best name for your horse. Making different choices in the selection of names confuse us. This list is a collection of best names. You can pick your favourite from the list and drop in comments if you have a unique name in your mind.
It is hard to overlook their contributions and legacy. Their memories still live on in their fans' hearts. These horses have written history with their dominant performances and strong will to overcome struggles.
Read More from Blog