So you want a black horse name for your lovely stallion or mare. It is easy to find the best ideas for your horse or pick any name from our collection.
The staggering black colour of your pet will need a moniker which should be as perfect as they appear, so you will have to brainstorm a lot of names which represent its beauty forever.
It is an Irish myth, said that Fomorian was a black supernatural and a dangerous creature that was known for its speed of light. So, the Balor gives a sense of fast or speed which suits to the name of a black horse. Here is the list of black horse names.
| | | |
| --- | --- | --- |
| Black Mares | Black Stallions | Black Ponies |
| Black caviar | Koal | Ebony |
| Ruffian | Batman | Black Bunny |
| Ash | Smokey | Blackberry |
| Stormy | Thunder | Cosmos |
| Twilight | Cookies | Darcy |
| Duna | Duncan | Raven |
| Black Beauty | Slatter | Midnight |
| Black Rose | Nitrogen | Graphite |
| Nebula | Dark Night | Black Pack |
Famous Black Horse Names
There are some horse names for black horses which are famous and very popular. These names are a collection of recent resources and data of black horse lovers.
It's usual for us to praise the horse's appearance especially if the coat color is black. Black horses are uncommon but not rare. The black horses are often admired to the point that sometimes I began thinking how lucky they are, they do not have to do anything to be recognized.
Not all black horses got the appreciation for just the "black coat" some black horses did actually made their masters proud. In this article today, we would be discussing the most important black horses that have got their name sealed in the books of history with their heroic wins or achievements.
Bucephalus 
Bucephalus, who is also spelt as "Bucephalus", was the beloved horse of Alexander the Great. Alexander named him " Bucephalus" when he was about to ride this insane horse for this first time even before adoption. This loyal horse had a black coat, was taller, and a little stubborn than most of the horses. 
Alexander and Bucephalus had an intense bonding, they were inseparable. Bucephalus accompanied  Alexander in many battles including the famous battle of Geek-city states, Gaugamela, and Darius.
The Bucephalus horse, which is considered the best Thessalian strain, gave up on his life after the battle of Hydaspes. This faithful companion died at the age of 30 but unfortunately, the books of history are doubtful about the cause of death. It is however clear that Bucephalus died and was buried in Jalalpur Sharif, a town situated outside the Jhelum, Punjab, Pakistan.
Byerley Turk
Byerley Turk or Byerly Turk was an exceptional Thoroughbred horse. This thoroughbred horse is referred to with both spellings but the few most trusted sources recall it with the true spellings "Byerley".
This horse was admired for it's brownish-black coat, elegance, speed, and courage. It's not clear whether it's true or not but the books of history describe it as an "Arabian Thoroughbred horse". 
This horse is recorded as the earliest of three famous stallions; Darley Arabian and Godolphin Arabian. This captain Robert Byerley's companion died in 1705 and the cause of its death is unknown.
Black Caviar 
Black Caviar is an extraordinary thoroughbred horse that remained undefeated 25 times. This exceptional racehorse is trained by Peter Moody, a Melbourne-based professional horse trainer. 
Black Caviar was born in Nagambie, Victoria on August 18, 2006. In 2008, Black Caviar debuted the racing career by winning 5 lengths.
This racehorse has been rated as the top thoroughbred horse several times. This horse is ridden by the world-famous horse jockeys; Ben Melham and Luke Nolen. Throughout its entire racing career, Black Caviar remained unbeatable. 
After winning 25 professional races, Black Caviar retired in April 2013. The reason for this early retirement is " aches and pain". This supernatural creature is now being used for breeding. She has given birth to approximately 4 or 5 foals yet but the figure can go up to 15. This racehorse is now 15 years old, it's yet to see how long it's going to serve us.
BlackJack
BlackJack is a Morgan-American Quarter horse that is named in the honor of John Joseph BlackJack Pershing, a general of armies. The BlackJack horse was born on January 19, 1947, and it left us on February 06, 1976.
This Quarter horse served the military for 29 years as a Caparisoned (riderless horse). After 29 years of military service, it retired on June 01, 1973. During his military career, BlackJack attended state funerals of John F. Kennedy, Lyndon B. Johnson, Herbert Hoover, and MacArthur.
To honor BlackJack, it was laid to rest with military honor near the parade field in Fort Myer, Virginia. BlackJack is one of the four horses(the other three are chief, Sergeant Reckless, and Comanche) that were buried with military honor.
Ruffian 
Ruffian was a thoroughbred horse whose death left us in shock. This racehorse was bred by Barbara Phipps Janny and Stuart S. Janney Jr. at Claiborne farm near Paris, Kentucky. 
This American champion thoroughbred horse made the owners proud by winning 10 consecutive races by wide margins. Due to Ruffian's supernatural racing skills, it was not only included in the list of the U.S's top racehorses of the 20th century and but also got admired by the famous sportswriter Willam Nack.
Ruffian remained true to its job till the last breath. The race that was held on July 06, 1975, at Belmont Park was the last race Ruffian attended as this poor creature came out with the hoof flopping uselessly.
In this last race, Ruffian was so determined to win the race that it kept on running insanely despite being injured. Ruffian was unstoppable after this last race, it kept on doing what it had been doing all its life until this horse stopped breathing.
This race horse's death left us all shattered, Ruffian was chosen to be buried in Belmont Park with its nose pointing to the finish line. Ruffian is now recalled with the following names and titles;
Queen of racing
Queen of century
Queen of track
Filly of the century
The super filly
The black terror
Goliath 
Goliath is the most famous name in the books of history as great Britain's tallest horse. It is also admired as the tallest horse in the Guinness Book of World Records. Goliath was recorded to be 6 feet and 5 inches tall whereas the horses typically do go above 5 feet. 
Goliath attended more than 100 parades, rodeos, fairs, and equine events. Goliath was no less than a celebrity in the years of its active service.
Horse admirers used to call Goliath the true symbol of power, beauty, grace, and freedom. Besides regarded as the tallest horse, Goliath made a mark with its charm, kindness, and work ethic. This worth-mentioning horse died in July 2001 and it was laid to rest in Priefert Ranch.
Black Hawk Morgan
This solid black stallion was the influential Morgan shire that lived to serve its master till 1856. Benjamin Kelly bred this extraordinary horse and David Hill was reported to be its final owner.  This stallion was sold and adopted by several horse admirers but he gave up his life belonging to David Hill of Durham, New Hampshire.
This final owner bought it for $800 in 1844. During its entire lifetime, Black Hawk Morgan gave birth to the 1772 sires. Ethan Allen that is regarded as an influential Morgan sire and trotting racehorse was the Black Hawk Morgan stallion sire.
Midnight Sun
Midnight sun, an all-black, no marking stallion that was bred and trained by Samuel M. Ramsey and Fred Walker. This stallion lived and gave birth to 2600 foals at Harlinsdale Farm in Franklin, Tennessee. 
This all-black stallion was the first Tennessee walking horse to win the major championships. The Midnight sun's admirable wins were World Grand Championship 1945 and World Grand Championship 1946. This exceptional stallion credited the owner's account with $100,000 in its stud career.
After accompanying multiple owners, it died of colic on Number 07, 1965. The midnight sun was buried in the same farm where still its grave is noticeable.
Burmese
Burmese was a black RCMP police service horse who served the royal family its entire life. This black-brown horse was gifted to Queen Elizabeth in 1969. This exceptional police service horse was half Hanoverian and half thoroughbred. 
Burmese kept giving rides to Queen Elizabeth for almost 18 years. The honor this loyal servant, a statue of Burmese is installed in front of the Saskatchewan Legislative Building Regina, Canada. Burmese last appeared to the public in 1986 and the retirement was declared. The horse on royal duties are either slaughtered or sold after retirement but as Queen Elizabeth admired this horse dearly, she kept riding it till 1987.
This queen's favorite horse breathed its last in 1990, left the queen and several fans heartbroken. This royal horse's death made headlines in the entire world. 
Black Gold 
Black Gold, an American thoroughbred horse that was bred and owned by Rosa M. Hoots. This thoroughbred horse was the main source of income for the Hoots family. This racehorse earned around $111,553 in its entire career. The name "Black Gold" was given to this racehorse because of the black colt and the oil discovered in Oklahoma at that time.
Black Gold horse was the only horse that the Oklahoma-bred horses failed to beat in 6-furlong races. The Black Gold's breeder and owner lived in Indian territory, so the horse was often referred to as "The Indian horse".
Though this racehorse won several races, he did remarkably well in Bashford Manor Stakes, Kentucky Derby, Louisiana Derby, Chicago Derby, Ohio Derby, and Derby Trail. Black Gold retired but came back to racing track because he wasn't fertile for breeding.
After the comeback, Black Gold only brought disappointment to its owner. This Indian Horse was buried next to its mother's rival in the infield of FairGrounds.
Black Beauty Novel Horse
Surprisingly, Black Beauty is not even an actual horse; it only exists in a famous novel called " Black Beauty". This novel on horses was written by Anna Sewell on March 30th, 1820. It was intended to enlighten kids but people of all ages added to their cart after Anna Sewell's death. This novel is based on the inhumane treatment horses receive during their lifetime
It's simply a story of a horse named "Black Beauty" that got banned by South Africa's Apartheid regime because black can never be beautiful. In this entire story, the black beauty horse communicates about the trauma it went through in a way the horses would-be expressing if they could speak.
After several traumatic incidents, this fictional horse died from a traumatic downfall from overwork. It's not a true story, the writer wrote the abuse horses go through from the horse's point of view. The attachment of readers with this fictional black horse got it as famous as the real ones.
Ruffian thoroughbred was famous for his last injury on race tracks.She won every race on track.
Caviar took from famous fish food. Black Caviar was a mare who won 25 races on the track.
Two tones for this world like black carbon paper or even Carbon. It is a catchy name for both genders.
Ash is a cute female horse name in black colour. Very short and easy to call name.
Jasper is basically mineral phase but it is very common the first name in European states.
Kol sounds like coal gas. It is the best to name for your jet black horse. Very easy to call name for a stallion.
Batman is a fiction character but the black outlook of this character sounds crazy. Best for black pony or horse.
In digital word, E word is enough to increase word weight. This eopny sounds like ebony but it is good to name for a black pony.
Derived from the color of smoke like dark greyish. Smokey is a catchy term for black mares.
Bear is a catchy name for a stallion. If you have any full black breed like Friesian or any type of Arabian Horse.
Blackberry is a famous mobile company. The good thing about this name is that already most of the people aware of this.
Looks crazy name for a stallion. There is nothing to do with the black horse but it is cool addition in list.
If you are looking for the stormy name of your mares. This word "stormy" is good for the female horse.
A thunderstorm was the best to name for the stallion in a time. Now only Thunder is a catchy name for geldings or stallion.
All-time favourite movie of most of the people. This name is dedicated to the black female horse.
Caviar is a kind of fish food in black colour. This name is good for both genders either you use it for the male or female horse.
Sounds good for black stallion.
A cookie is baked food in round shape. It is very easy to remember and looks catchy.
Colby is a famous college in the United States. The name has many reasons to come to this list.
Cosmos: A Spacetime Odyssey was a famous television series. So the Cosmos is also a catchy name in the list.
Darcy is first name and famous character in Novels.
If you have black Arabian horse than chase is best name for your horse.
Duna is famous college
Best for the black mare.Elvira: Mistress of the Dark was a famous movie. But Elvira is good for the only mare
Famous bike company in Northwest.
Olive is black seed.Great name for both mare and geldings.
Oreo is a cute name for a black and white horse. If you have a black and white horse than pick this name.
Duncan was famous basketball player.
Ebony is dense black and hard wood.This name is best for mares.
Bucky is the best to name for a buckskin horse. According to the life stage of the horse, you can give this name.
Barton is famous community college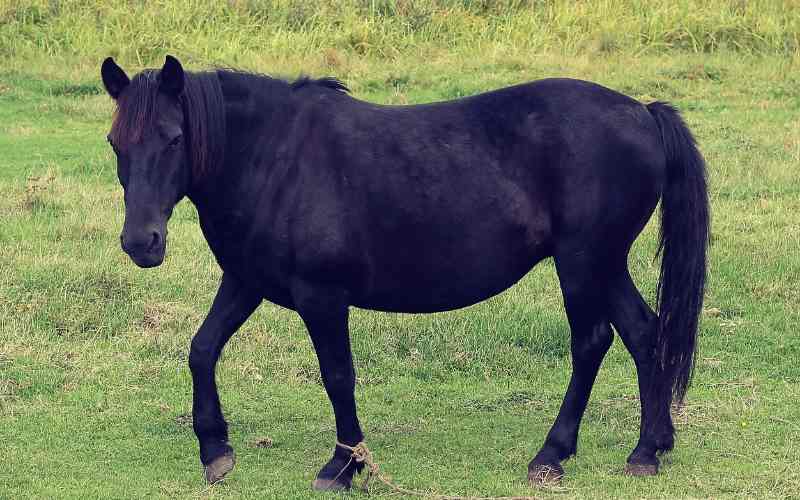 Female Black Horse Names
A black horse name should be something which gives a vintage or a kind of Viking feeling like; Balor, it was the name of a giant who also happened to be a king of Fomorians. Picking female horse names is easy as compared to male names.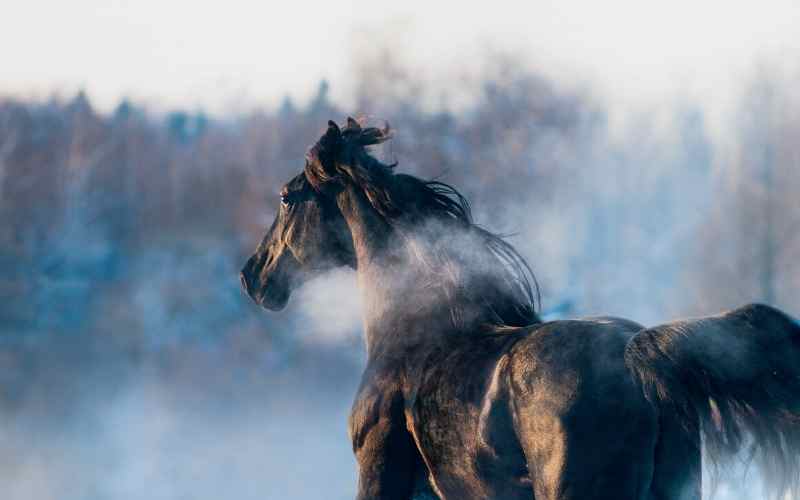 Male Black Horse Names
Male black horse name should be tough or strong as compared to a female horse. There are few breeds with black coat colour. Here are some male name ideas.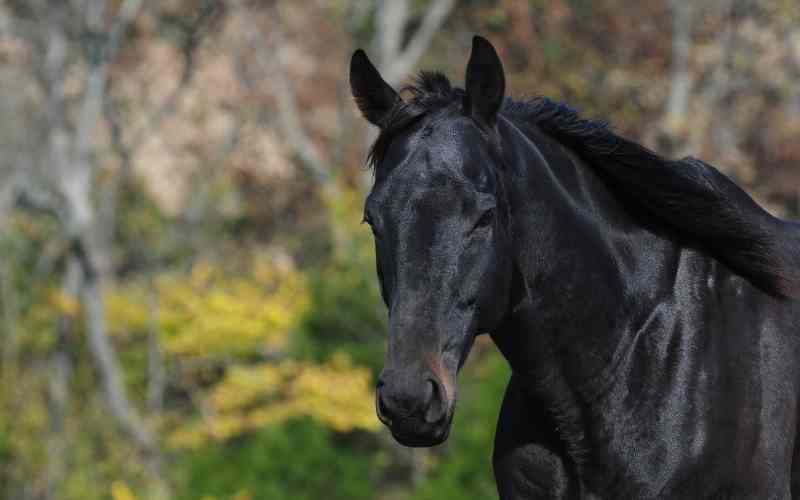 Unique Black Horse Names
Unique ideas come in mind and build a catchy tag. You can take ideas from food, home or even patio products. These unique horse names ideas are the best to pick.
Bucephalus – Favorite horse of Alexender the Great
Tornado – Name from Zoro's hore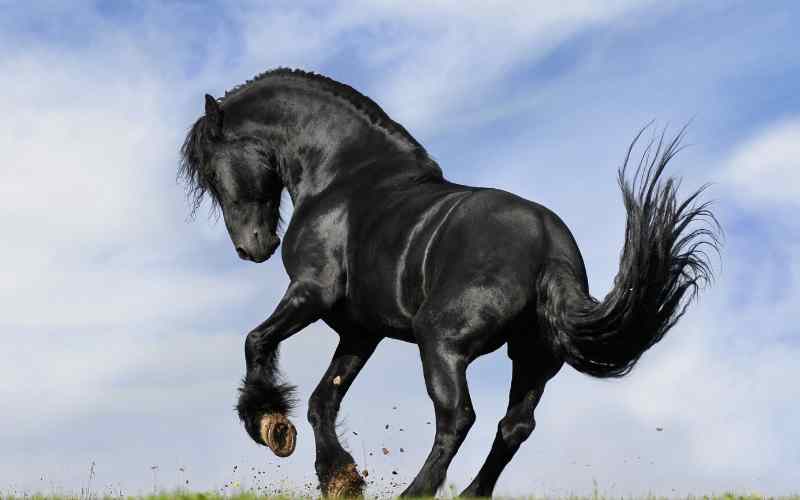 Dark Horse Names
These dark names are ideas from other black animals or natural things. Pick the best name for mare or stallion from the list.
Black Horse Name with Meaning
Another parable of the horse has a name; Sleipnir. This is one of the pre-eminent story, which says that a horse with eight legs was owned and ridden by Norse Vanir, he was said to be a king which was also a warrior.
You might want to consider this name for your black beauty is because Sleipnir was wild stallion which had an attitude and temper.
This horse was said to Loki's son and not anyone could ride it since only the chosen ones could do. All these attributes fit for your pet horse. Here are more names with meaning.
| | |
| --- | --- |
| Name | Meaning |
| Kona | It is coffee bean variety from Hawaii |
| Jameson | A whiskey type or product name |
| Hershey | Hershey is a famous chocolate brand |
| Latte | Coffee and milk combination product |
| Nero | Name for black in the Italian language |
| Must | For black in famous Estonian languae |
| Espresso | Espresso is Italian coffee |
| Porter | Porter is very delecious dark beer |
| Snickers | Give a catchy look, a shoe type |
| Poppy | A new emerging seed like baby |
| Raisin | A black by-product from trees |
| Amaya | In japanese , night rain is called Amaya |
| Stout | Stout is a variety of dark beer |
| Bork | Bork is also german beer type |
| Qara | Name for black in Azerbaijani language |
| Madow | Name for black in Somalian language |
| Pearl | A black pearl resemble your dark horse |
| Nisha | Nisha for night in sanskrit |
| Oreo | Good for black and white horse |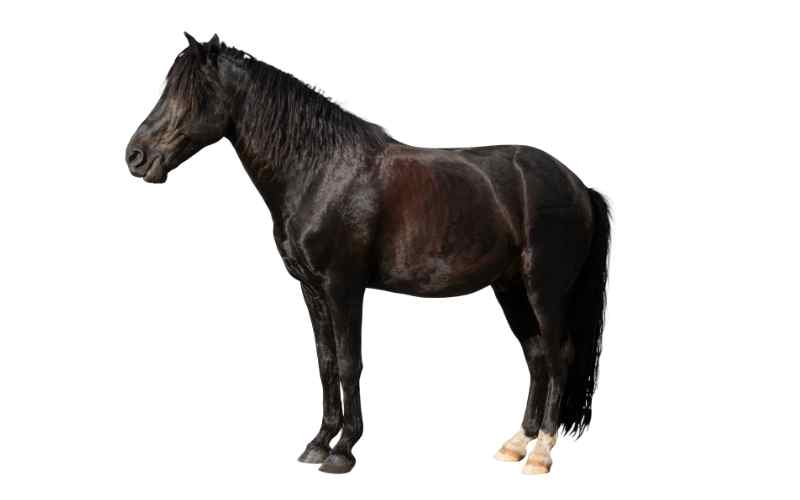 Naming your Black Horse
If you live anywhere near the mountains then Skadi will be the perfect name female horse. Since Skadi holds the reputation of trekking into the mountains and steep hills.
Skadi was said to be a horse of a frost giant called Thiazzi. Skadi is said to be a gentle and loved a quiet peaceful environment. So, if your black steed is a gentle one this name would be the perfect match.
If you are a fan of The Lord of the Rings series, then you definitely know the name of the horse already.
Shadowfax was the name of Gandalf's personal horse, this horse possessed and showed the perfect reflection of speed and stamina of trekking on mountains and through thick forest.
Shadowfax also had the capabilities of sensing dangers and always protected Gandalf with its life. Although Shadowfax was a slight mix of grey and black in colour, this name stands perfect for your horse.
We hope these names will help you to find the best name for your black horse. You can drop suggestions so we can update our list with your suggestion.
Three Tips to pick Black Horse Name
There are some tips which are famous for every breed or colour of horses. Compare them and pick your desired name.
Consider Breed
Compare horse breeds with black coat colour and separate their names. Like Friesian horse names or Black Arabian names are best for any black horse breed.
Physique
The appearance of your horse also matter. If you have strong stallion than pick badass horse names for him. Mare deserves cute names.
Idea from other Animals
Some other animals with black colour can bring unique ideas. You can use black dog, cat or wolf names for your horses.
This collection of black horse names is more than enough but we love your ideas in the comment box.