Friesian or Frisian horse breed is the most unique one. Friesian name due to origin in Friesland. In the united kingdom "Belgian black" is also used for this horse. Friesians are graceful and unique in appearance. Ancestors of this horse were used in wars. That is not a condition always for the black colour of Friesian. They can be chestnut in colour too. Frisian breed is a most beautiful breed with a long tail.
While the selection of names for Friesian we should keep the focus on cute horse names. Friesians are beautiful so cute or cool name will be best for them. The top names of horses bring some ideas for Friesians. Here is the list.
Male Friesian Horse Names
| | |
| --- | --- |
| Ash | Stormy |
| Carbon | Graphite |
| Dusty | Thunder |
| Tramac | Onyx |
| Elvira | Mystery |
| Merlin | Magic |
| Dracula | Warlock |
| Omen | Morticia |
| Phantom | Twighlight |
| Cola | Blackberry |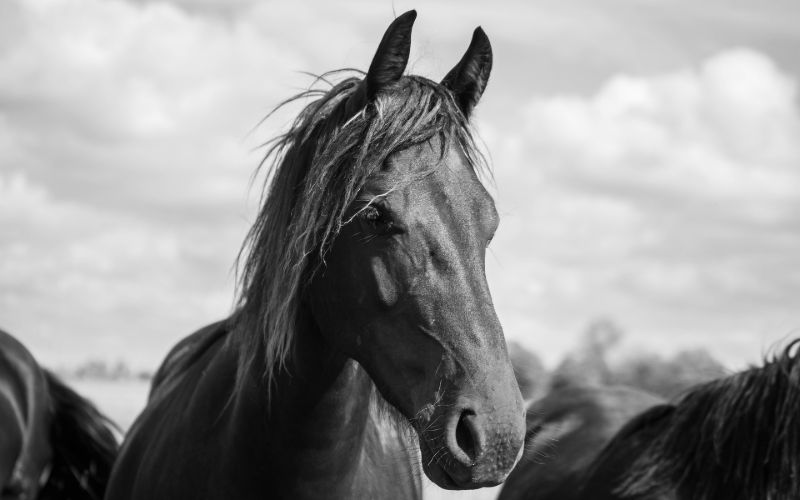 Female Friesian Horse Names
| | |
| --- | --- |
| Hershey | Raisin |
| Oreo | Bailey |
| Pepsi | Cola |
| Nebula | Cosmo |
| Comics | Bullet |
| Zorro | Bear |
| Vader | Leopard |
| Puma | Leather |
| Falcon | Panda |
| Ravan | Black beauty |
How to Get Creative Ideas for Names ?
They are tall breeds with black color. Their temperament and body make them suitable for dressage. They are considered the most beautiful breed with a majestic character. Naming Friesians is easy as with any black horse. Here are some innovative tips for your selection.
Get Ideas from black
Look around you and get ideas from black things either they are black horses from history, black flowers, or anything black in nature. That requirement will fulfill the criteria of coat color. Here are some black horses from history.
Black Caviar
A famous filly from Australia who competed in 25 races and never defeated. She looked black but the actual coat color was bay. This horse has a brilliant track record and trained by the world's famous jockeys.
Blackjack
Another American quarter horse from the history with a dark coat. He served in military services for 29 years. He was one of the horses buried with the military award.
Ruffian
Ruffian was a brilliant mare with a historical track record. She won ten consecutive races and won many awards for his owner. She ran for her whole life and her hoof degloved in the last stage.
Goliath
Goliath was the tallest black horse with an impressive record in racing. He was the symbol of power dignity and war.
Midnight sun
Midnight sun was all black tennese walking horse who won two championships during his life.He had black coat with no markings on his body.
Black Gold
Black gold was bred by the Roosa family and earned over a million dollars. He won many races during his career.
Here are some black flowers ideas
Petunia
Petunia is a black and expensive flower with all black leaves. These flowers grow in green surroundings.
Viola 
Viola is a beautiful flower everyone grows in containers. May be name is also a representation of the color of the flower.
Jamun
That is black fruit common in South Asia. Jamun is black in color with green plants. They are small in size and can be the best name for your stallion.
Friesian horses are giant in size so powerful or badass names also a perfect idea for Friesians.Here are some ideas
Beast – A term used for a giant one. Beast is the perfect name for draft horses too
Bruise – A giant character from movies
Bullet – Bullet is the name of perfection but also shows powerful meanings behind it
Ada – A female mathematician who won various awards
Runner – Another innovative name for your black Friesian
Friesian horses are not black only, they can be white and chestnut. They have a high rate of genetic disorders. These disorders bring different body appearance factors. They came from the Netherlands. Once the theory was war or battle horse but later turned to dressage breed. Friesians are expensive and very rare to find because they also need extra care for maintenance.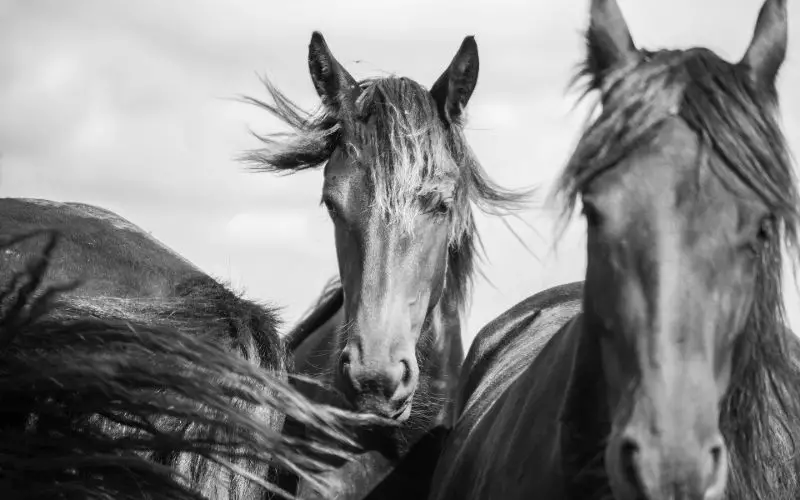 Famous Friesian Horse Names
| | |
| --- | --- |
| Ursul | Gadiela |
| Spider | Jack |
| Zanzibar | Tagi |
| Zwar | Kutro |
| Petro | London |
| Moulin Rouge | Copa |
| Copper | Coconut |
| Chocolate | Army Nob |
| Figaro | Fluffy |
| Ghost | BlackJack |
Names for White Friesian Horses
Picking white names is easiest as compared to names for other colors but there is no suggestion to pick without keeping any meanings behind it. You can add spiritual touch behind white names. Here are some famous names you can give to Friesian.
Sodashi– A famous white racehorse from history who won four races in a row
Starresha – A mare from racing history
Bolt – Inspiration from the white rod of light
Snowball – Generally Friesian horses have white hairs on the neck so naming snowball will be a perfect idea
Coconut – Did you check inside of a coconut, it is the best combination of black and white name
Hibiscus – A beautiful white color flower
Belly – White in the Russian language
Babak – White in the Serbian language
Phantom – Phantom was a very famous racehorse who won 7 races out of 10 in his career.
Shadowfax – A famous horse who appeared in movies
Desert Child – As the name shows, a racehorse with a brilliant record from history
Final Words
Naming your horse is easy but finding a catchy name for your horse is not an easy task. For naming your horse to keep our two steps suggestion in your mind.
Breed
Selection by breed like Friesian is our breed with black colour and health body. So we can pick a mixture of black, tough and cute names like Black beauty is the best to name.
Personality
Personality is visual when someone sees your horse the first time. The first thing which comes in contact is the personality of your horse so pick any name on the base of personality.
Keep these factors and the above guidelines in mind while picking a name for your horse. Give your suggestions in the comments.