It is easy to pick Andalusian horse names because the ultimate list of Spanish or racehorse can bring ideas. Andalusian is pure Spanish breed. It is a distinct breed from the 15th century. It is best known for warhorse and prized for nobility. In past used as a tool of diplomacy by Spanish riders.
Andalusian is 61.5 inch in height and 512 kilograms in weight. Almost 80% is grey and rest are bay, buckskin or any other colour. Elegance and race ability make him strong. Naming Andalusian is easy, based on colour appearance or Spanish name would be the best choice for the horse. Here is a list of Andalusian horse names with meanings.
Famous Andalusian Horse Names
Amar – Love
Amias – Loved by all
Alba – Sunrise
Blanco – White
Andres – Masculine
Abejundio – Beehive
Alonzo – Alonzo
Abril – The month of April
Valiente – Brave
Negra – Black
Roja – Red
Benito – Blessed one
Challen – Shining moon
Corazon – Heart
Linda – Cute
Fresca – Fresh
Gerado – Respectable
Georgia – Watchful
Eugenio – Nobility
Isabel – Izzy
Guillermo – Strong minded
Hernan – Brave and peaceful
Jove – Intelligent
Corredora – Runner
Leon – Lion
Tigre – Tiger
Gris – Gray
Hermosa – Handsome
Jeronimo – One who protects
Lucio – The light of day
Matias – Gift from God
Pazel – Peaceful
Luna – Moon
Lobo – Wolf
Mariposa – Butterfly
Santos – Saint
Paloma – Dove
Querida – loved one
Toro – Bull
Oso – Bear
Flor – Flower
Adolfo – Strong wolf
Bolero – Spanish Dance
Bonito – Pretty
Chico – Boy
Chiquito – Tiny
Alejendro – Defender of man
Torro – Bull
Zorro – Fox
Ambrosio – Permanent
Alasio – Rich and Healthy
Gitano – Gypsy
Cruz – Cross
Gordo – Pudgy
Lulu – Luiosa
Mona – Female Monkey
Jugo -Juice
Leo- Lion
Paco – Fransicso
OSO – Bear
Male Andalusian Horse Names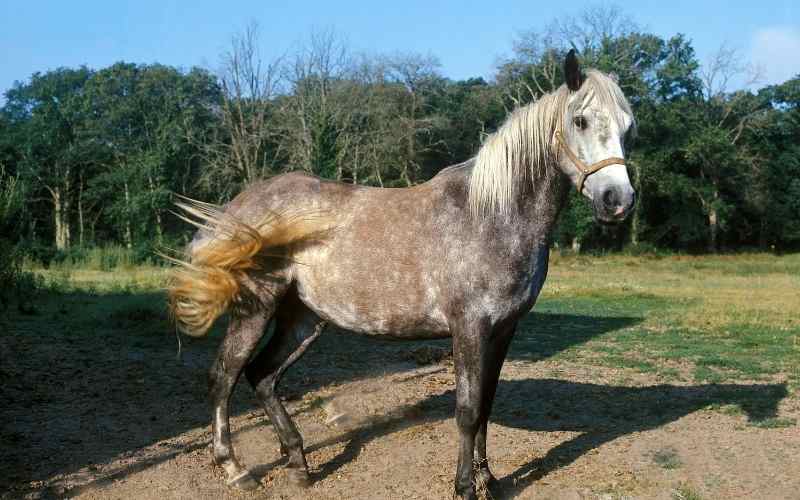 Sangria – A famous spanish Punch
Pepe – Nicknames for jones
Rico – Rich
Rivo – River
Toro – Bull
Alonzo – Noble
Ambrosio – Permanent
Cuto – Book Character
Alonso – Battle
Sancho – Character from Novel Dom
Fernando – Adventurous traveler
Carnation – National Flower of spain
Zape – Comic book character
Herminio – Army Man
Jandro – Protector
Iganco – Fire
Maximo – Greatest of lion
Valerio – Strong and Powerful
Rioja – Spanish Wine
Vito – Full of Life
Oala – Small or Tiny
Bruto – Name of Isabella
Female Andalusian Horse Names
Adonica – Word for sweet girl in Spanish Language
Anabella – Easy to Love
Zorro – Meaning Fox
Dulce – Meaning soft
Feliz – Meaning Happy
Tonto – Meaning silly
Octava – Octave
Antonio – Bandreas
Querida – Dear one
Emmie – Delicate and soft
Marisol – Sun and sea
Carlos – Santana
Nina – Little Girl
Andalusian Horse Names based on color
80% of Andalusian are grey in colour. Gray name will be perfect for them, here are some grey horse names that can help you to add best in idealist.
Anchovy – A gray colored fish
Silver – Gray shade color
Blade – Silver Knife blade
Chara – Short term for charcoal
Coal – Burned wood
Dusty – Shade in gray
Dolphin – Gray mammal
Dumbo – Gray Disney character
Granite – A type of stone
Inky – Catchy name for Andalusian
Meeko – A gray character in movie
Plata – Spanish for silver
Pebbles – A small gray color stone
Nickles – A silver color stone
Gray popupan – A pea gray variety
Graphite – Gray form of carbon and giving sound of gray color
Still not found a catchy name? Here are some tips that can help you to pick a name for an Andalusian horse.
Naming your Andalusian Horse
Color, appearance and similar breeds can bring great ideas for the horse. Here are some tips to follow while naming.
Color
You can pick a name on the base of colour. Andalusian horses are grey in colour so the gray colour in other languages or grey colour things can bring ideas. Names like silver, graphite are always catchy. Andalusian can be chestnut, buckskin or bay coloured. Bay colour names can also be a great choice.
Appearance
Andalusian horses are broad and rare breeds. Some fellow breeds like Arabian names, mustang horse names and Marwari names should be the first priority. On the base of appearance and behaviour, you can pick badass horse names or cute horse names.
Andalusian is quick and races breed so naming him very easy. The above list is the ultimate ideas for naming. However, if you have better ideas drop some Andalusian horse names in comments.