Mule Names selection is easy as compared to donkey or horse. The name depends on the appearance, colour and personal choice of the owner. Mules are cute Equidae family members. They are offspring of a male donkey and a female horse. They are usually bigger than a donkey and smaller than horses in size.
Mules are harder and eat less than horses. They are less stubborn and more intelligent than donkeys. If you are looking for the best creature in the Equine family, consider mules. They can live up to 50 years. So if you have a new mule and want to give a name. Consider this name selection.
Top 10 Mule Names
These top 10 names are the most commonly used names for mules on the farm. This list can be repeated from your selection or a brilliant ideas list.
Eeyore
The best and main character in Hundred Acre Wood. Eeyore is basically a horse but this name is the best fit for cute mules. (Source)
Conchita
That is a fictional character from Columbian coffee. Conchita represented by National Federation of Coffee Growers of Columbia for coffee promotion. A donkey character with two bags of coffee on his back.
Molly
This catchy name is very common for female horses. Molly gives the sound of a mule. Consider this name if the best fit for your lovely four-legged friends.
Gus
A character from movie "Gus".A movie based on mules and American football team for the production of underdog comedy scenes. In this movie, mule helps his football team to win the game.
Francis
Francis is army mule from first Francis movie in 1950. Character if funny and some times a supporting with the hero.
Manjushri
Manjushri appeared in Tibetian film. It is a tiny story with very less budget. Role of a mule in this movie is very appreciating.
Jasper
Jasper the mule is an adventure series with animated characters. That is technically not a film but an award-winning series of animation.
Benjamin
Benjamin appears in George Orwell. Beyond natural thinking about donkeys, Benjiman is very wise donkey in the movie. He does not talk to his friends but always think about the past and future.
Dominick
Character refers to cute Dominick donkey that never kicks. Dominick used in a song by Italian-American singer Lou Monte.
Jet
Jet is the second most common name in the list. There is no fictional character but a common farm name for mules. It is easy to call and catchy in sound.
Female Mule Names
Mules can not be either male or female.These female ideas are just sound of female name chracters for mules.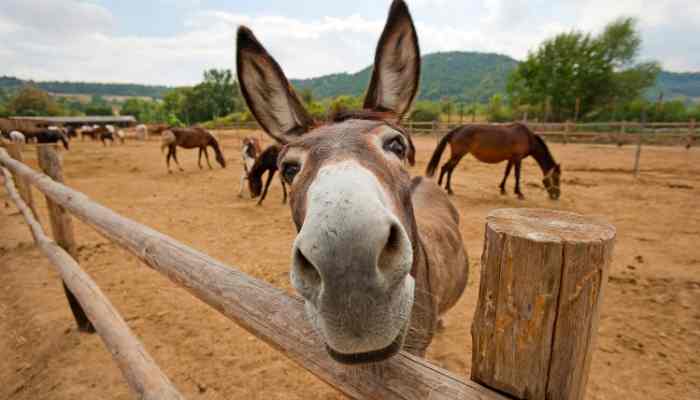 Male Mule Names
Funny Mule Names
Adding some fun in mule names is a better idea. They are actually intelligent and wise animals but cute names can add beauty in his name. Here are some fun ideas.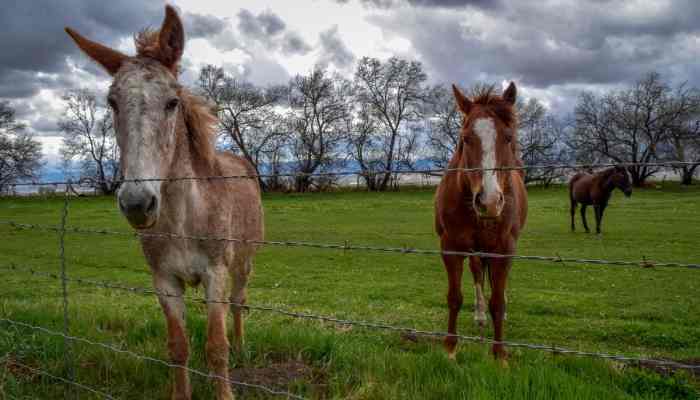 Cute Mule Names
Mule Names with M
Selecting names with animal first letter is best choice.This brings a catchy idea which sound atractive to call.Here are some good mule names with M.
Famous Mule Name Ideas
These ideas are not specific in movies, fictions or series.Famous Mules can be random mule names ideas or any other best selection for names.
Naming your Mule – 3 Tips
It is easy to select mule names. Mule naming ideas are your surroundings. Take ideas from food, environment and every catchy thing around you. Mule deserves cute names but badass or funny names selection depends on the owner of a mule. Here are three tips for name selection.
Consider Fellow Animals
Animals like horses and donkeys have the same appearance with Mules. Horse and donkey names can work best for mules. They are same in colour and body appearance. Most of the mules are brown and black in colour. Like black names can work best for black mules and brown names give catchy sound for brown mules.
First Alphabet of Mule
Mule starts with "M" and that is natural favour about first letter names. Names like Moly, Mobile and Moto are some catchy and funny ideas for a mule. Look around your surroundings and make a list of things starting with M.These names are easy to remember.
Color Appearance
Mule can be of different colours like brown, golden, grey or any other colour. You can select brown horse names for your brown mule. Black names will be perfect for a black mule. Many other factors like the personal choice of the owner also depend on the selection of the name.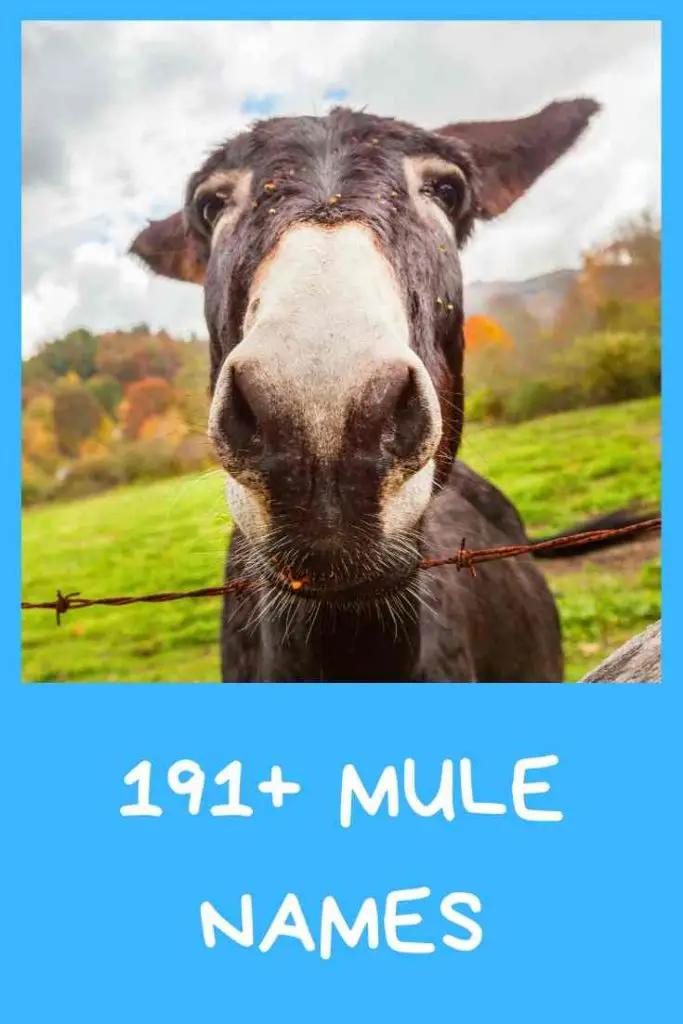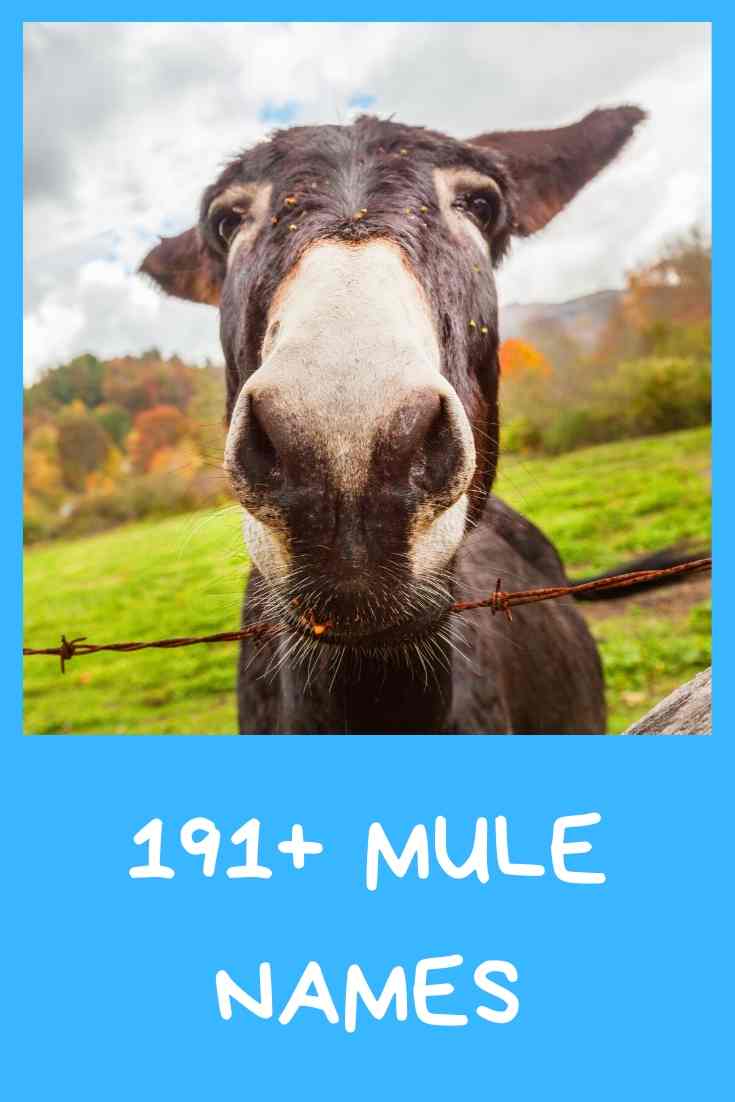 Final Words
These mule names are collected from different resources. Some names belong to horses and burros. Consider selection tips for better name ideas. Drop your favourite mule name in the comment section.