Donkey Names selection is easy if you read this guide. Hope you get a new burro or baby donkey and want to choose a catchy name for a donkey.
For me, Donkey is cooler and the best companion than horse sometimes. Donkeys are the most innocent creatures on earth. Good thing is that donkey is also a member of the Equidae family.
Donkey is innocent as such in Asia people are using it as a cart Animal from the last 5000 years. Keeping Donkey as a pet is also a creative idea. Some horse owners also love to have a pet donkey.
Giving a Name to your pet Donkey is not difficult in some cases, actually, the breed of your donkey or burro can help you to find the best name for him. It does not make a difference sometimes when you are moving with the best names for your male and female donkey names.
Every Donkey breed has special skin color and is different from each other, so when you find inspiration in variety, it can be the best choice. Here is the list of names that will help you to navigate and pick some good names for your donkey. Let us Scroll ideas. Here is a quick selection of names.
| | | |
| --- | --- | --- |
| Jack | Jenny | Foal |
| Jackson | Conchita | Jasper |
| Benjamin | Francis | Duncan |
| Romeo | Pedro | Willford |
| Shoelace | Claw | George |
| Blazer | Daisy | Blacksmith |
| Trigger | Amber | Franklin |
| Hilda | Browny | Zamora |
| Colonial | Emile | President |
| Jockey | Ruffian | Mouse |
Baby Donkey Names
A young donkey is called a foal. A baby donkey is very cute and fluffy. Everyone loves to pick it up this cute creature. We can use jenny and jack names for foal but some additional ideas also bring catchy ideas.
Baja
Basil
Penny
Mia
Piper
Archie
Bambi
Bomb
Riley
Harley
Alfie
Avery
Barkley
Benji
Beau
Narla
Harley
Blondie
Bonnie
Callie
Buffy
Carley
Brownie
Buddy
Clover
Charlie
Chase
Sasha
Willow
XO XO
Cain
Cricket
Buzz
Cookie
Chester
Chakra
Dip
Ruby
Lulu
Ginger
Emma
Maya
Hazel
Destiny
Diamond
Denver
Dijon
Chinnie
Tucker
Duffie
Ducky
Oliver
Bentley
Finley
Finnie
Harley
Marphy
Funny Donkey Names
Add some fun in the name and it will be more creative, here are few ideas.
Miss Pigie
Cookie Jar
Gordo
Homer
Barkley
Bubba
Pup Tart
Sir lion
Freud
Dozer
Sub woofer
Kramer
Indiana Bones
50 Scent
Fleasy E
Ninga
Pigsley
Wags
Waldo
Spanx
Nilla
Derby Girl
Gray Leader
Sitstay
Fitbit
Mac Daddy
Ruffcut
King kong
Wags
Flo
Foxy
Oreo
Princess
Baloo
Dobby
Elvis
Elmo
Hulk
Pikachu
Famous Donkey Names
There are many famous donkeys in history. They are from fiction movies, cartoons, or books. Hee is a few famous donkey characters.
Eeyore
A famous character from Hundred Acre Wood. He is the best friend of pooh (the main character). Eyeore is a very gloomy character and everyone appreciates him. He speaks less than all characters but is not considered a sad donkey. This name can extract the past idea behind this name.
Lana/Conchita
National Federation of Coffee Growers of Columbia made this fictional character. If you are a coffee lover then never miss this name. He always carries 2 bags of coffee beans on his back.
Gus
A football lover donkey from Walt Disney's movie "Gus.".This healthy donkey later moves to the United States with his owner. She has a fabulous kicking ability.
Francis
Francis is talking mule that appeared in 1950. She played the role of Molly who was intelligent and well trained. Molly performed exceptionally well as awarded in 1951.
Benjamin
Benjamin first appeared in George Orwell. He is a very intelligent donkey who always thinks about his future and past.
Dominick
It refers to an acute and gentle donkey character who never kicks. It is used by an Italian singer in his song.
Jasper
Jasper the mule is a very famous fictional character. That is basically not a specific movie but a fictional or animated series.
Male Donkey Names
Giving Name to your male donkey is easy as compared to other names. We can pick characters from movies or surnames of some human names. Male names demand a kind of tough and swag look in their names.
A name should be catchy enough and self-explanatory so everybody can identify a name that either is for male or female. These male names for your donkey can be used for babies.
Heartbeat
Jacob
Lucky
Bogart
Honker
Romeo
Poncho
Burrito
Bear
Duncan
Pedro
Jack
Officer
Shoelace
George
Willford
Darwin
Hazel
AssAsin
Don
Coco
Delaney
Blacksmith
Blazer
Shaun
Hamish
Pookey
Olive
Dominick
Julian
Nicole
Paula
Pubela
Soul
Franklin
Buckeye
Kentucky
Wilber
Humphrey
Chewy
SmartAss
Nestor
Norway
Nicolas
Nobby
Jazz
Jenkins
Pony
Zamora
Costas
Dallas
Kendoy
Arthur
Duchess
Jonass
Lassie
President
Diesel
Tootsie
Barney
Trigger
Twigy
Hilda
Pecos
Barley
Jassmine
Jassper
Jonass
Orson
Aston
Sheriff
Colonial
Jockey
Bronco
Buck
Female Donkey Names
A female donkey is called jenny or Jennis while a male donkey is called a jack, so the first name which is good for your female horse is jenny.
We can select female names the same as male names from movie characters. It is good to pick names from the movie heroine character as it is the best idea to pick cute names for your female donkey.
Kassy
Raspberry
Tobiass
Imprass
Clover
Julliat
Twiggy
Derry
Elvis
Woonkie
Gypsy
Pearl
Bella
Lucy
Daisy
Molly
Maggie
Stella
Sophie
Chloe
Roxy
Lily
Nala
Molly
Coco
Gracy
Roxie
Kennedy
Aster
Nightmare
Morgan
Sassy
Carolina
Hollyhowk
Mangolia
Butterscotch
Nutmeg
Peanut
Ladybird
Meadow
Marcas
Phineass
Donkers
Dass
Izi
Mimmi
Nova
Sasha
Willow
Layla
Skydancer
Delaney
San Dimass
Rugby
Biscuit
Cinammon
Brandy
Nugget
Mochi
Teach Your Baby Donkey His Name
There are two reasons to name your baby donkey, one pet is new to your home or farm, or the other you have a newborn foal.
Naming is the first step right after birth. Usually, the baby donkey responds quickly. Maybe you have listened to a myth that the donkey does not show affection.
In my barn donkey is more smart and affectionate as compared to other farm animals. They learn things quickly and respond well. Here are few tips to teach your pet its name.
Please be sure you have picked the right name for your donkey. choose a name that will never get old. Do not choose a name based on its size, weight, or any other traits. You should choose a name that describes his personality and behavior.
Use treats for attraction, keep some pieces of parsnips, apples, or carrots for donkeys in hand. Every animal or pet responds to food, every time you calling its name, and rewarding with treat makes a great combination.
Never lie or cheat on food, like you call its name, and do not feed with a treat.
You can switch treats for games if your donkey doesn't react. Throw some treats with his name and move around.
Once he responds you can feed him. Don't call different nicknames like your donkey name is Jack never mold it into jacky or Jaki. Nicknames and repetitive confuse donkeys.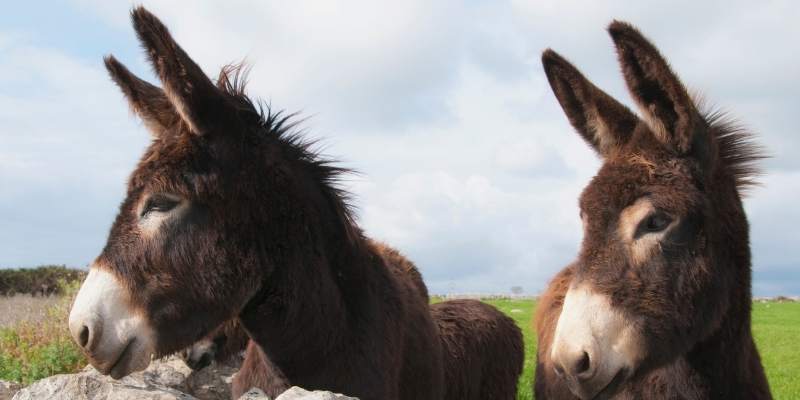 Donkey Pair Names
Here are few pair names.
Aston & Martin
Barnum & Bailey
Ben & jerry
Tom & Jerry
Burk & Wills
Bilbo & Frudo
Calvin & Hobbs
Jekyle & Hyde
Cain & Abel
Laurel & Hardy
Chaos & Badlam
Rum & Coke
Jeffer & Jeena
Baby & Ruth
Betty & Wilma
Loverne & Shirley
Black & Decker
Biblo & Frodo
Thelma & Louise
Name Ideas from other Languages
Lennan
In Irish translation for word "Love"
Kama
The Kama is word for "Love" in Sanskrit
Dakota
Dakota is word for Friend in Translation
Amica
Used for "Female Friend" in Italian
Corwin
English word means "Friend of Heart"
Balboa
Name of movie character, Currency name
Basil
Basil is a type of Healthy Hurb in world
Bobo
It is used for high educated Liberal
Boris
A character , also a famous surname
Nike
A famous shoe brand , sign of victory
Picasso
A famous painter, creator of paintings
Euston
In irish translation stands for "Heart"
Hubert
German character, also for bright Heart
Zephyr
A kind of cool breeze, fresh wind is Zephyr
Naming your Donkey
Sometimes we can not select names from the list and want to pick our own choice. There are some factors you can consider while choosing a name for your pet. Personality, breed, and color can help you to find some new names.
Personality
Personality should be the first factor to choose a name. Choose "lup" for your jack as it stands for "swag. Have a look at "Twardy" also stands for the word "tough". If your selection is based on the tough name then "Twardy" is the best name for your jenny. Dragut is an alternative of cute.Us is named in Bosnia for Horror.
Breed
Some donkey breeds itself name for this cute animal. Breeds have different colors and body shapes so we can select on the base of these characters like Arabian, orthodox, and Runner some breed associated names which we can carry from horse breeds too. Like we use "Pashmina" for jenny. In Irish "Port" is a name for foal or jack.
Color
Colour is the best selection model among all factors and criteria. Like by selecting colors we have different names. Dearg is named for the Irish donkey. Cassan is also the name picked by grey name conversion in the Somalian language. Rossa is an alternative to red in the Italian language. Dirigo is a replacement for a grey color.