Best Horse stall fans selection is easy if you read this guide. In summer Stall fans are the important thing to keep your horses cool. In addition, they will manage proper airflow and prevent moulds growth.
One of the most important things for its care is to install a fan in horse stalls. Horse stall fans allow ventilation in your barn allowing your horses to breathe fresh air 24 hours a day. Moreover, as summer season is coming to the importance of a horse stall fans cannot be neglected.
We humans can cope up with summer in many ways. We can sit in our air-conditioned rooms or have a glass of lemonade. But horses cannot do so. So it is important to install a fan inside a horse stall to ensure that your horses do not face harsh and extreme summer temperatures. 
Horse stall fans are necessary not only for summer but for all weathers because they ensure fresh air circulation.
Air circulation is necessary to keep the barn safe from fungus and different moulds that make the environment stale. Moreover, these moulds may go to the horse's respiratory system increasing the risk of infections. It may pose a threat to this delicate animal's life.

Best Horse Stall Fans Reviews
We have reviewed some horse stall fans for you to help you make a better choice.
1. Lasko 20″ – High-Velocity Quickmount
Lasko was founded in 1906 to engineer and offer the best small appliances; fans and household portable heaters.
The quality appliances, affordable rates, and excellent after-sale service has earned Lasko the trust and recognition it deserves.
Though several decades have passed, Lasko's commitment to quality and value remains intact. This company has manufactured a variety of forgiving appliances, the Lasko 20″ High-velocity convertible floor and wall fan is one of them. 
Our first pick for horse stall fans is Lasko's 20-inch fan which is durable and comes at a cheap price. It comes in 3 speeds and hence can be adjusted according to your needs.
This fan can be placed on the floor and can be wall-mounted as well. For mounting it on a wall, it comes with a bracket. You can easily convert it from a floor to a wall-mounted fan. It is easy to assemble as it needs no tools.
Its maximum CFM is 3650 which is low as compared to other fans but serves the purpose well. It makes noise as well. Everything in this fan is made up of good quality.it has a sealed motor and fused safety plug to ensure that fans stop if it gets hot.
2. Hurricane HGC736474 Pro-Series High -Velocity Metal Wall Mount Fan
Hurricane comes with a variety of fans which may fulfill all your needs. For a horse barn, their heavy-duty 20-inch wall mount fan is a good option. It has not made of good quality metal. The product is given a finishing look with black powder-coated on it making it durable.
It comes in 3 speeds. It has a high capacity of 4500 CFM making it suitable for places like barns. It can not only be tilted but also oscillates. It has a system built in it that make it auto shut off when the fans get heated beyond the limit.
This Hurricane fan is being recommended because of its versatility, thoughtful construction, and superior performance, and reliability. The versatility of this Hurricane fan allows it to be equally useful for homes, greenhouses, garages, workshops, and horse stalls. The heavy-duty aluminum blades, well-assembled tube base, 1400 RPM, and 4500 CFM speed make it a horse stall must-have. 
3. Lasko 20 – Weather Shield Performance Box Fan
This box fan is another product by Lasko. It is also 20 inches in diameter, comes in 3 speeds and has an attached handle for carrying it. This product has less capacity as compared to other fans but can work well at high speed. 
This fan is designed to be energy efficient. With its ring design, it blows 30% more air as compared to other fans with the same power. Moreover, it is also weather resistant. It can work well in rainy seasons and humid environments. It is equipped with a blue plug which is a patented fused technology that allows avoidance of accidents.
Lasko specializes in various small house appliances but it got the most recognition and fame from it's ultra-versatile portable and high-velocity fans. Being here for almost 100 years Lasko knows how to satisfy the need. 
This Lasko box fan would be a great addition to the horse stall as it is made for rough and tough use. If we start listing down Lasko's innovative features the list will go on. Out of all the innovative additions we have found the high-performance grill, three energy-efficient speeds, snap-on feet, convertibility, and no tool assembly worth mentioning. 
Features
✪ Save-Smart efficiency
✪ Built-in carry handle
4. Air King 9020 – 1/6 HP Industrial Grade Wall Mount Fan
Air king 9020 industrial grade fan is a 20 inches low maintenance fan. It can only be wall-mounted and has a capacity 367o which is pretty good for a horse barn fan. It has three speeds setting to choose from. It is not much noisy. 
Blades of Air King 9020 are powder coated to prevent them from rust. It is also tested for its safety according to AMCA standard 230.99. It also complies with ETA and OSHA.
Air king, as the name suggests is the king of all portable fans. It's in Amazon's choice as the "best wall-mount fan". This Air king wall-mount fan has 20 blades and comes with 3 powerful speeds and powder-coated steel. It is famous as a "high velocity and low-maintenance fan". This USA-made fan does not require any professional assembly as it is made to facilitate the users. 
The industrial-grade large space air circulation would make it a great addition to the horse barn. Pull cord switch and pivoting fan head makes it more versatile than any other fan listed online.
Features
✪ Cool and Circulate Air at Work
✪ Adjustable Settings with a Powerful Motor
✪ Full line of industrial grade and commercial grade air circulating
5. OEMTOOLS 24883 24 – Oscillating Wall Mount
This is another choice for horse stalls. It is 24 inches in diameter but the cage diameter makes it 28 inches which makes it quite big. It has a great velocity since it has a power of 6400 CFM which can easily cool down. It is a wall-mounted fan and hence cannot be hanged. Its sealed motor and high velocity make it suitable to be used in barns. It produces noise but quite bearable. Moreover, it's 2.0 A 3-speed motor make it energy-efficient and saves electricity. 
OEMTOOLS is a famous Amazon seller that has gathered so much appreciation and positive reviews in a short period. The best part of this OEMTOOLS is that it is listed with all necessary details and self-explanatory photos. The three-speed motor makes it super handy for a horse barn, shops, garages, and workshops. It is made to reward horse enthusiasts with unbeatable air movement. 
Some customers are found to be complaining about its low-grade switch quality which may easily break. Otherwise, the fan is made up of high-quality material.
Features
✪ Precision airflow
✪ Energy efficient
✪ Maximum cooling
6. New Air Wall Mount Fan 18
New Air Walla Mount is not only cheap as compared to other barn fans in the market but it is also energy efficient. Dual ball bearing of the motor makes it consume less electricity and hence give you benefit in the long run. It comes in 3 speeds though the highest is 3000 CFM only. 
It is 18 inches in size and hence can be placed in compact spaces. One of its benefits is that it is portable and can be plugged anywhere. It has a sealed motor and thermal overload protection making it a perfect choice for a horse stall. It has an adjustable tilt.
ired of finding all fancy wall-mount fans? You probably have not come across the New Air wall mount fan yet. Besides the fancy appearance, it comes with complimentary mounting hardware and powerful metal blades. This New Air wall mount fan is considered the handiest appliance as it requires no professional to fix and move to a new place. Perfect to be used in horse barns, garages, greenhouses, and all sorts of outbuildings. 
Features
✪ NewAir WindPro18F 18-inch High Velocity Portable Floor Fan
✪ Powerful Motor Drives the High-Power Fan
✪ NewAir Floor Fan Puts Safety First
✪ Easy to Assemble Right Out of the Box
7. B-Air Firtana 20X High -Velocity Industrial and Home Floor Fan 20″
If you are low in budget or don't want to spend a lot of money on a barn fan. We have another cheap B-Air Firtana fan for you. It comes in a size of 20 inches which is suitable for most of the barn settings and has 3-speed settings. It is multi-purpose and you can use it at home on a low-speed setting as well. It is easy to assemble and can be easily open apart for extensive cleaning.
It can tilt in any direction. The downside is it produces noise. It is designed for hanging or keeping on the floor. So you can hang it at any place or in any direction. Customer reviews are divided on its durability but it comes with a 1-year warranty in case something goes wrong.
Whether you want to work out longer, have rough garage duty, or want to hang out, this versatile fan can serve you with cool air in almost all situations. This exceptional least-known fan has been brought to the list because of it's versatility, affordability, and forgiving nature. Another plus is, it is solid and sturdy enough to hold its place. 
Features
✪ Mounting System for Convenient Storage and Placement
✪ Versatility for Different Occasions
✪ Powerful Air Circulator
8. Maxx Air Wall Mount Fan – Commercial Grade for Patio
Maxx air wall fan is not made from cheap material. It is made from rugged steel with longlasting ability. Air circulation and working ability are better from other wall mount fans brand. 18-in wall-mountable design features a heavy-duty hanging bar to provide overhead circulation where floor space is limited, or for harsh indoor environments.
There is a chain for selection of speed limit. You can adjust speed on your own desire. The dustproof and energy-efficient motor is installed in the fan.
In case of horses, some horse owners reviewed it best product. Not only did the fans help horses cool down, but it'll also actually keep nasty biting flies off of them.
If you are looking for a wall mount fan with quick and easy setup, adjustable tilt, all possible speed operations, and a 3 prong plug, here is the best bet. It is listed with all necessary details and clear photos. It is specifically made for Patio but the versatile nature allows it to equally useful for homes and horse barns as well 
Features
✪ High Velocity 18 Inch Wall Mount Fan
✪ Reliable Motor
✪ Easy Operation
✪ Includes Hanging Bar
✪ Safe for Industrial Applications
✪ Extreme Durability
9. iLIVING ILG8E18-15 – Wall Mount Outdoor Waterproof Fan
If you are in search of the best waterproof fan, this living's wall mount fan should be the best choice for you. This fan has 18 inches curved blades for optimal movement. Three different speed parameters are adjusted with the speed chain.
No later lubrication is required because plates are already lubricated with lubrication material.
That fan is the best one in the list if you assemble it according to recommendations. Most of the users get confused in the installation of this fan but there is a manual with clear instructions.
Locate solid wall stud or ceiling beam. Mark the centre of the beam. If you do not have a solid structural framing member at that location, you will need to find an adequate alternative for mounting the fan. Drill pilot hole for 3/8″ lag bolt. Secure with the hardware provided.
This wall-mount fan is complemented by Amazon as the" best misting fan by iLiving". The thoughtful construction allows it to be used to cool down horse barns, patios, greenhouses, garages, workshops, and homes. The best part of this living deal is that it can be controlled with the pull chain control feature. 
10. Air King 9318 Industrial Grade
Airking 9318 comes with an enclosed motor and better efficiency. You can easily mount on ceilings, walls and steel beams. The powerful motor helps in instant air circulation. Different speed options are available for custom range. Parking can be set on the desired range.
There are easy instalment and long time usage. Powder quoted blade guards increase its durability. Fan meets AMCA standards and made in America. The motor is enclosed which prevent dust accumulation. Airking 9318 is not a noisy fan.
This 18″ multi-mount industrial grade fan is being recommended for ultra-powerful speeds, blades, and outer steel cage. It can be used to cool down the horse barn, gym, church, garage, warehouse, restaurant, and hospital environment. Though it has so much to get admired by however we found the one-year warranty worth mentioning.
11. Maxx Air | Industrial Grade Air  Fan
That is a powerful and most efficient fan on the list. Maxx Air is good for tough conditions and long time usage. Very easy to install and you can hang it on wall, ceiling or place in floor. Maxx air made with powder-coated steel material.OSHA compliant grills and powder cords ensure its safety.
Custom speed range helps you to maintain the desired one. It can tilt in 120 degrees. Maxx air is the best solution in summer for cooling your barn.
If finding a worth-mounting fan at the cheapest price is your concern then this Maxx Air's industrial circulatory fan is the most promising option. It might be cheap but as efficient as any other best-selling fan on Amazon. Give it a try before it says "sold out". 
Things to keep in Mind While Buying Horse stall fan
The horse is an animal that has been part of human lives for a long time. For centuries it has carried the man on its back and helped him win wars.
If you want to buy a horse stall fan and not sure what things you should keep in mind before buying. We are here for you. Here are some important points that you should keep in mind while buying a fan for your horse stalls.
Size of the fan
Horse stall fans come in different sizes. You should keep in mind which size will suit your barn the best. The fan should neither be too big that it doesn't fit in barn nor too small that it doesn't do its work. Buying a big fan doesn't ensure that it will keep the whole barn cool. Choose a fan that will fit at the place where you want to install it.
Closed motor
The fans that we usually use in our houses cannot be used in horse stalls. Commonly used fans and cheap box fans have open motors and wires. Horse barn fans should have closed motors. Horse stalls have a lot of dust that can stick in the fan's motor. This can cause the motor to heat up and may cause a fire. So one must ensure that the fan they are buying should have a closed and sealed motor.
Rust and water resistance
Horse stall fans should be rust and water-resistant. Most barns are closed spaces where humidity is usually high especially in rainy seasons. This humid air may cause rust in the blades thus damaging the fan. Moreover, if wires are not properly sealed a spark may also be caused by humid air. Hence care should be taken.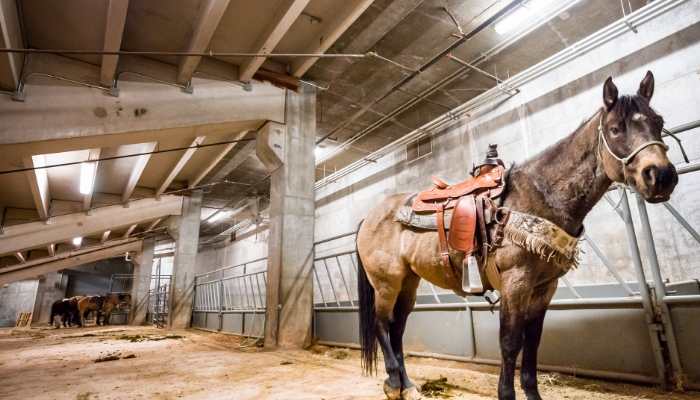 Power
Horse barn fans are available with a range of powers. Power tells about the speed at which fan works. Fans with high power beyond need will decrease the temperature of the barn unnecessarily and cause cold in horses. Fans with low power won't circulate the air properly and fail the purpose of ventilation. Usually, a fan with the power of approximately 2000 CFM works best for most of the barns.
Thermal overload protection
Barn fans have to work continuously for days and nights for months, unlike normal fans. This continuous work may overload the motor and heat the fan up leading to stall fires. So a fan should be chosen that has thermal overload protection.
Thermal overload protection means that the fan shuts down itself when the motor heats up beyond the limit. Some fans have an automatic system while some have a fuse. Fuse has to be changed after the motor gets heated beyond the limit and it melts disrupting the electric connection. If the fan you are choosing doesn't have a fuse or such system, you may ask the seller to add a fuse.
Energy-efficient
Barn fans should be energy efficient. It means that they should need less electricity to work and save energy. This will not only conserve the resources but will also decrease your bill. No one wants to spend their entire budget on a stall fan.
Durability
Horse stall fans should be strong and sturdy just like your horses. A stall fan has to work continuously for months without a break and ensure ventilation for your horses. Moreover, horse stall fans are expensive than normal fans. So there should be no compromise over the quality. As no one wants to spend a hundred dollars on a barn fan every other month.
Safety certificates
Last but not least safety certificates are important. It's better to buy a fan that is certified for its safety and tested than an untested one which is unreliable.
Love to know: The horse helped us to travel land and has carried man's luggage on its shoulders. It wouldn't be wrong to say that this animal has stood the test of time. The horse is an animal of love, loyalty, and bravery.

FAQ's
What Is the Best Place to Position Fans in the Barn?
According to forum users, the best place to position fans in front of the stall. Here you can mount in an upright direction. This upright direction will blow in a horizontal direction for maximum airflow.
How to maintain Horse stall fan?
Unplug the fan from the outlet before cleaning. After service, all parts (including grills and blades) must be reinstalled or remounted as previously installed. Use soft damp cloth then wipe with a dry cloth. Do not use harmful cleaners. Do not bend the blades. The motor bearings are permanently sealed and do not require additional lubrication
Source www.ilivingusa.com
Conclusion
A safe horse barn fan not only keeps the horses cool but also keeps you tension free. Hence fan should be chosen keeping in mind of location and size of the barn, fan's velocity, energy efficiency, and safety standards. This best horse stall fans list will help you to choose the best one.
>>>> Related Best Horse Riding crop
>>>> Related Best Hoof supplement for horses
>>>> Related The 7 Best Barn Paint Reviews