Things come and go in fashion nothing "really" stays more than a year but what cowboy jeans have always been in style. The cowboy jeans have evolved over the years and it is now available in several styles.
The catchy advertisement, heavily edited photos, and the number of options make the selection tiring and confusing. So, if you are here to save your time and energy, let's help you in selecting the right cowboy jeans for your cowboy spirits. Let's have a quick look at the possible options before we jump into details.
Best Bootcut Jeans for Cowboy Boots Reviews
1. Wrangler Men's Retro Relaxed Fit Boot Cut Jean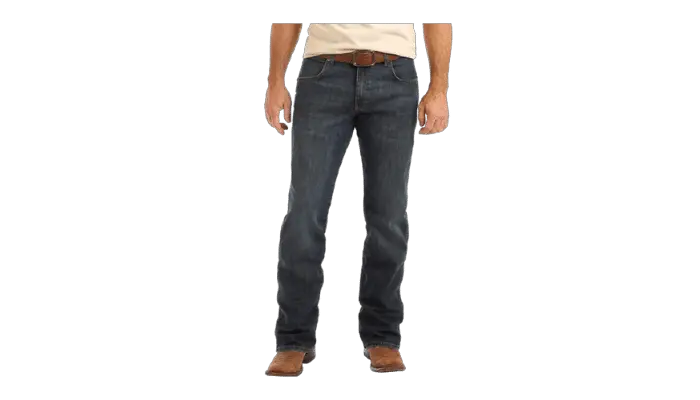 Wrangler has been serving us with versatile cowboy jeans since 1947. Their commitment to quality makes the Wrangler jeans an unavoidable part of the true cowboy's wardrobe.
The ultra-versatile relaxed boot cut design allows it to go well with snap shirts, tees, jackets, and authentic western denim. The relaxed fit design does not restrict the movement in horse riding and other cowboy activities.
Retro styling gives it a vintage touch that completes the cowboy avatar. The five-pocket design makes it highly suitable for the cowboy job.
The iconic Wrangler patch and embroidered "W" give it a perfect finish. 
Pros
Relaxed cut, neither baggy nor body-hugging
100% pure cotton
Machine washable
Fits the waist perfectly
Little roomy around the thighs
Affordable
Durable
Cons
Denim is sturdy and heavy
Not made for working
The coin pocket is way too small
2. Ariat Men's M2 Relaxed Fitted Bootcut Jeans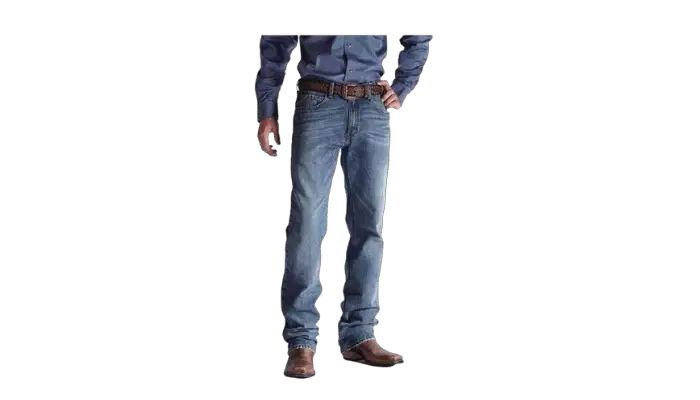 Ariat comes to the rescue when nothing is sitting well to the cowboy avatar. The color and quality make it nearly indestructible and unmatchable.
A fitted bootcut design makes it a wardrobe must-have for high-performance cowboy activities.
The mute blue colour allows it to be worn with all dark-colored cowboys' tees and shirts. These Ariat jeans do not let the cowboy compromise style or comfort.
The extra five pockets, heavy-duty zipper, and stretchable thigh area make it worthy of your attention. Can be used to complete the look with checkered and formal shirts.
Pros
Comes in cowboy's go-to jeans color
Neither baggy nor body-hugging fits like a second skin
No bunching or clinging to cowboy boots shaft
Durable, 100% pure cotton denim
Machine washable
Heavy-duty zipper
Stretchable around the thigh
Got tons of positive reviews
Cons
The color is a little lighter than shown in the picture
3. Wallflower Women's Instastretch Luscious Curvy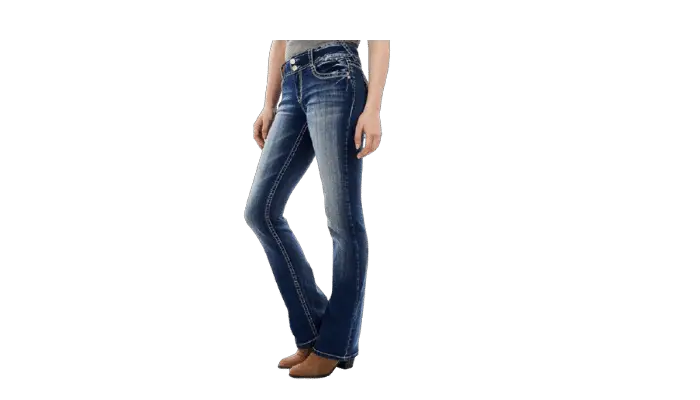 The Wallflower women's instastretch luscious curvy jeans are manufactured to match the positive youthful energy. Cut-hidden details, embellishment, the high-quality fabric give the jeans a fresh and new look. 
The advanced instastretch premium fabric ensures unmatched comfort and optimum performance. Five-pocket styling, contoured waistband, and fitted knees complement the style.
Faded legs and whiskered hips make it a great addition to a cowgirl's wardrobe. It effortlessly goes well with tees and all sorts of shirts. Available in several colors in standard and plus-sizes.
Pros
Premium install stretch fabric
Contoured waistband
Fitted knees
Can be paired with tees, tops, and formal shirts
Available in colors and sizes
Con
Not specifically made for cowgirls
4. The children's place Basic Bootcut Denim Jeans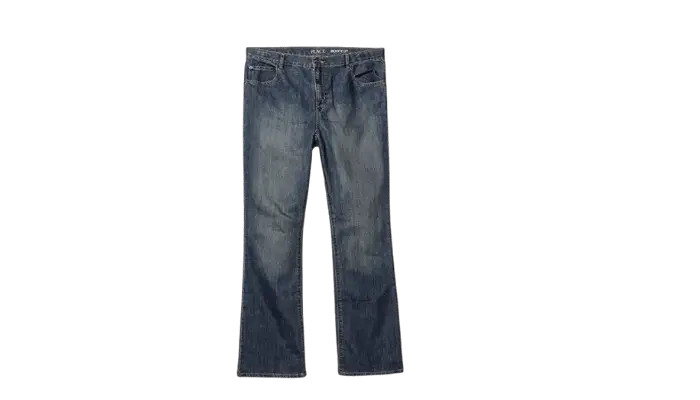 The Children's place basic bootcut jeans are stretched for the little cowboys. Pull-on closure makes it easy to wear and take off.
The stretchable denim and perfect fitting do not restrict the movement as these jeans are constructed keeping the requirements of kids in mind.
The 100% pure cotton does not just help it to retain its shape but also makes it durable.
However, the only thing that bothers most of the buyers is that it doesn't come in colors. Available in a lot of sizes.
Pros
Pull-on closure
Heavy-duty stretchable denim
Doesn't restrict the movement
Come in sizes
Cons
Available in a single color
5. Wrangler Men's Cowboy Cut Slim Fit Jeans
Wrangler men's cowboy cut slim fit jeans are manufactured to match the spirit of cowboys. It goes well for cowboys who do not prefer bootcut or regular-fit jeans.
The slim fit thigh and seat make it highly recommended for horse riding. The pure denim and felled seam don't cause any chafing or irritation thus making it ideal to be worn all day.
Despite being slim fit, it's still comfortable enough to be worn when you are on the ranch or working in the garage. Go well with tees, snap shirts, and jackets. Available in all possible adult sizes.
Pros
Slim fit 
100% pure cotton denim
Doesn't cause chafing or irritation
Comfortable enough to be worn all-day
Available in sizes
Cons
Can not tolerate chlorine bleach
6. Ariat M2 Relaxed Boot Cut Jeans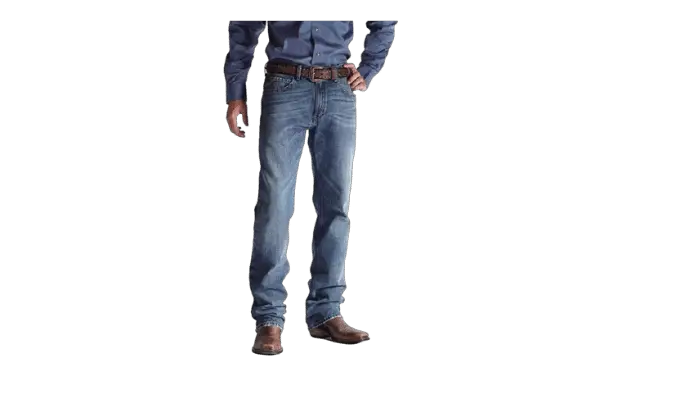 Ariat M2 relaxed boot cut jeans come to the rescue when you comfortably want to slip into a cowboy avatar. The Ariat jeans are known for texture, comfort, durability.
The relaxed bootcut and comfortable inseams satisfy the cowboy's requirements. High-waist design aid assists in carefree cowboy activities.
The go-anywhere, do-anything denim doesn't restrict the movement in high demanding activities like horse riding, caring for the horses, and for participating in rodeos. 
Pros
100% pure cotton
Relaxed cut
Textured
Comfortable 
Anchored belt loop
Machine washable
Cons
Starts showing wear and tears within few months
7. Wrangler Men's Cowboy Cut Original Fit Jeans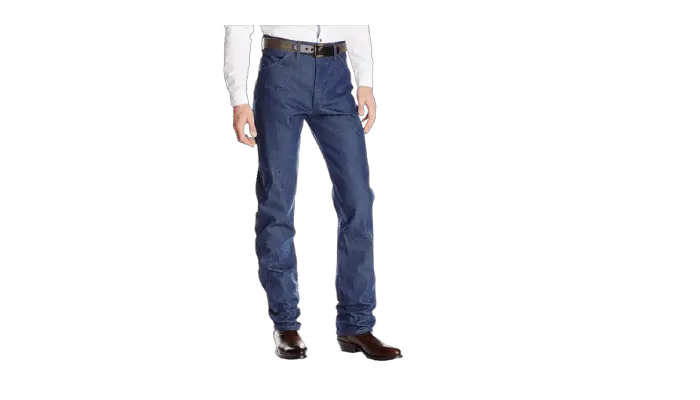 Wrangler men's cowboy cut original fit jeans are specifically designed to complete the look with all kinds of cowboy shoes and shirts. The original fit, comfortable waist, seat, and thigh give it a sleek and stylish look.
The classic design makes it a must-have of a true cowboy's closet. The original fit cowboy jeans are often demanded by the world champions because of the classic design.
The original fit jeans are embellished with authentic details like neolite patch, five-pocket style, and signature "W" stitching. The 100% pure cotton denim makes it durable and skin-friendly.
Pros
Original cut
Comfortable
Durable
Embellished with authentic details
Completes the cowboy avatar effortlessly
Cons
No noticeable confound yet
There were a few cowboys' favorites that caught my attention and got my admiration because of their style, durability, and comfortability.
There would be some other options as well that can bring you into a true cowboy avatar without any efforts. It's impossible to write all possible options with details so, here naming them down.
Wrangler Men's Cowboy Cut Slim Fit Jeans
Wrangler Men's Retro Slim Fit Boot Cut Jeans
Ariat M2 Relaxed Boot Cut Jeans
Ariat M4 Low Rise Boot Cut Jeans
Cowboy jeans are available in several styles but what works for one may not go well for others. Cowboy riding jeans shopping is just not the same as regular jeans shopping, one needs to be aware of the needs and what he/she should look for. 
How to find the right bootcut Jeans for cowboy boots
Material
The first thing you need to be bothering about is "material". The cowboys wake up before sunrise and keep on working till night so the jeans can be worn all day and the material non-irritant, soft, and skin-friendly. Look for the cotton denim.
The cotton denim is durable, lightweight, and much more reliable for such high-performance activities. 
Size
The size can boost or bring down your performance. It's important to get the accurate size as you can not afford to adjust the jeans again and again.
Baggy and body-hugging jeans are both not good for the job. The right size would bless you with a relaxed and stretchable go-to option. 
Color
Color plays an important role in cowboy styling. The classic cowboys prefer to go with blue and black colors as these two rewarding colors can be paired with any dark and light color shirts. So, if you want to slip in a classic cowboy avatar make sure the color is blue or black.
Durability
Cowboy activities demand full attention and peak performance and sometimes the popular expensive brands fail to fulfill the needs. Go through all the reviews and judge what lasted longer than the other if you are shopping online.
It's better to shop for cowboy jeans in person because it becomes easy to judge whether the material and stitching would last as per your expectations or not?
Budget
Lastly, you have to be sure how much you can or willing to pay for cowboy jeans. There is no shame in staying on your budget.
The cowboy jeans are mostly expensive so list down a few options, compare, and see what's not forcing you to neglect your budget.
The story doesn't end here even if you have got a bunch of options already and know what you need to look for because cowboy jeans are available in many styles and cuts.
The cowboy's jeans should be comfortable around the seat and thighs so it's hard for a newbie to judge what cut or style can be comfortable for him/her. 
The most commonly worn cowboy jeans-style are;
Boot cut
Slim fit 
Cowboy cut
There are a lot of others as well but we would be discussing only these popular cowboy jeans styles in detail. Starting with the most admired one;
Boot cut Jeans types
The boot cut jeans that have recently made a comeback in 2020 are admired because they look great in any form. The boot cut jeans can be recognized by a subtle flare that begins right from the knees. 
The boot cut jeans are admired by almost every wearer as they effortlessly enhance your style with sneakers, high-heeled shoes, pointy-toe flats, and all sorts of cowboy boots. 
The boot cut jeans suit the pear-shaped body more because they are tight around the upper thigh and flared where they should be, below the knee.
The boot cut jeans are further divided into the following styles;
Relaxed boot cut
Fitted boot cut
Original boot cut
Relaxed bootcut
The relaxed bootcut are made for those who do not want their jeans to be hugging the thighs too tightly. This form is relaxed around the thigh and a little more flared below the knee.
Fitted boot cut
The fitted boot cut hugs the contours of the cowboy's legs tightly but carefully. As the name suggests, it's well tighter around the thighs and a little less flared below the knee that can barely be noticed.
Original boot cut
Original boot cut is the oldest classic boot cut jeans style that is worn and demanded by professionals. It's neither baggy nor body-hugging. The original boot-cut jeans sit every cowboy's body perfectly as if they are specifically made for the wearer.
Slim Fit
The slim-fit jeans are an excellent blend of regular and cowboy jeans. The slim-fit jeans have got no fancy flare or anything but are straight and body-hugging. The slim-fit jeans are usually worn for horse riding.
Cowboy cut
Surprisingly, the cowboy cut is not "actually" a world-recognized cowboy jeans style. It is developed by the famous cowboy jeans manufacturing company called "Wrangler". As per the company's claim, the cowboy cut jeans are original, slim, classic, and relaxed.
Summary
Cowboy avatar competes with cowboy jeans and cowboy boots. The cowboy jeans are specifically made keeping the requirements and needs of cowboy activities in mind.
The Wrangler and Ariat are the most popular cowboy jeans manufacturers that are supplying comfortable and durable options at affordable prices.
The cowboy jeans options that caught my eye are; Wrangler Men's Retro Relaxed Fit Boot Cut Jean, Ariat Men's M2 Relaxed Fitted Bootcut Jeans, Wallflower Women's Instastretch Luscious Curvy, children'srn's place Basic Bootcut Denim Jeans, Wrangler Men's Cowboy Cut Slim Fit Jeans, Ariat M2 Relaxed Boot Cut Jeans, Wrangler Men's Cowboy Cut Original Fit Jeans and out of all these promising options I find the Wrangler Men's Cowboy Cut Original Fit Jeans perfect for my needs. 
I hope you find this article helpful. Here I would like to suggest, please read the buyer's guide thoroughly before placing an order.
Related