Horse Trailers were invented way back in time by the fire department to take the wounded or injured horses to hospitals and called it "Horse-Drawn Ambulance." The horse-drawn ambulance later became a means of transporting or shifting horses from one place to another.
They come in different sizes, the smaller ones can take only three horses whereas the largest ones can pick six to eight horses at a time. Horse trailers, even in the 20th century, look and sound foreign to millions of people on this planet earth.
A horse trailer is exceptionally different from the goods carriage vehicles and their spare parts are hard to find. Since horse trailers are built to take horses safely from place to place so they are divided into several parts.
Each part is designed to serve an important purpose. It's hard for a newbie to access what each horse trailer part is for but what internet and this website are for if it is not for answering your questions or providing you with the information?
Let's have a look at the important parts and cabins of the horse trailer and discuss what they are for
Horse Trailer Body Parts
Dressing room
The dressing room is a small dedicated area that can be used for several purposes like storing unfolded cots and several important personal goods. It is also used as a changing cabin when the horse trailer is booked to take the horses to a horse event and shows.
Escape door
The escape door is another innovative feature of a horse trailer that is placed for the caretaker's safety. Horses are loyal to their masters but sometimes putting them in an unusual situation can make them go mad. So for unforeseen events escape doors are installed. You can quickly leave whenever you sense danger.
Horse compartment
As the horse trailer is made to take the horses to places with ease so a noticeable part of the horse trailer is shaped down into a horse compartment. Horses are kept in these cabins during the entire journey. It contains all the luxuries a horse needs for safe travel.
Horse stalls
The horse compartment is further divided into sections called stalls where horses are kept separately.
The horse compartment can either have 3 to 4 or 6 to 8 stalls. Not all horse trailers have the same horse stalls; some contain rectangular stalls where horses are kept side by side whereas in the other case the horses are kept diagonally.
The trailer with rectangular stalls are called straight load trailers and the latter is called slant load trailers. Slant load trailers are more horse-friendly than the straight load as it gives more space to the horses to hang around in the small confined place called a horse trailer. Keep horse stalls ventilated with barn fans or heated with barn heaters.
Living quarter
The living quarter is a small luxurious area that has a tiny kitchen and a bathroom containing all the necessities. It is specifically furnished for horse owners. Cimarron Norstar 4-Horse trailer, Equine Motorcoach Horse trailer, Platinum Coach Outlaw, Featherlite Country Estate Villa, Sundowner Special Edition Series, and Trail Boss Custom Living Quarters horse trailers have the best living quarters for horse masters.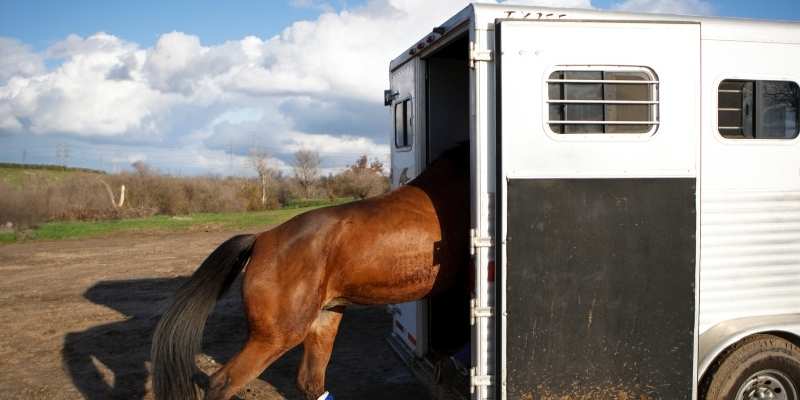 Long and short walls
The horse trailer has both long and short walls. The sidewall of dressing rooms are usually shorter ones and the wall that is opposite to the short wall is called a long wall. Both long and short walls are placed for safety and convenience and are usually measured in feet.
Head dividers
As its name suggests, a head driver is another useful part of a horse trailer that is placed between the stalls to keep the horses in their respective stalls. 
Gooseneck
The gooseneck is the extended part of a horse trailer that is usually attached at the back of the truck. Even though they are expensive but still an essential part of a horse trailer. The gooseneck is often used as a sleeping area.
Weight distribution hitch
Weight distribution hitch is another important component of a horse trailer that spreads out the weight to the parts of a horse trailer. It is the backbone of a horse trailer that helps in safe traveling.
Cowboy shower
Cowboy shower is another portable essential accessory that became a part of the horse trailer because of its rewarding and traveling-friendly nature. It eliminates the need to go to a specific place to take shower. 
These were the evident "bigger" parts of the horse trailer. But there are some fixing and storage accessories as well that play a vital role that putting everything apart together to make a "horse trailer."
As the little barely noticeable accessories are making a difference so it wouldn't be fair to put them down in a shade. Let's have a look as well while considering them a significant part of a horse trailer. 
Where to Purchase Horse Trailer Parts?
There are different local sellers and big brands like amazon to sell different trailer parts. Here are a few to purchase.
Amazon.com
sundownerparts.com
htfhardware.com
easternmarine.com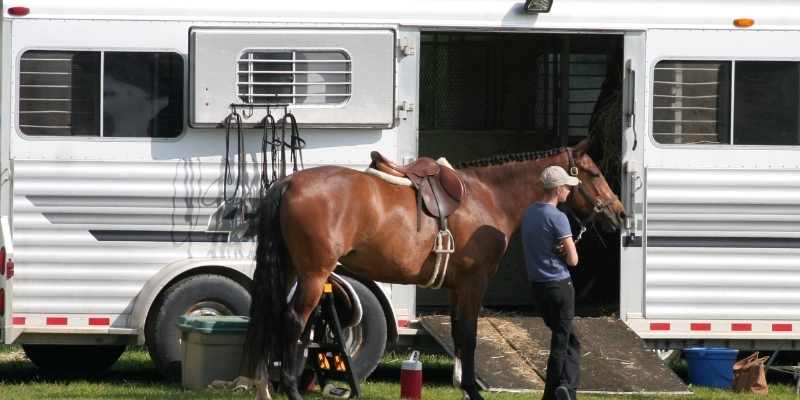 Other accessories – As a Meaningful Part of Horse Trailer
The total horse trailer accessories are divided into 13 different categories; storage and organizing, door hardware, trailer lights, trailer vents, trailer brakes, trailer hubs and drums, trailer suspension, trailer tire and wheels, trailer jacks, trailer couplers, and trailer security accessories. 
These above-mentioned categories contain several major and minor accessories that are all equally important.
It's hard to discuss every part of the horse trailer separately as the article would get long and my readers will lose interest. So I'm writing to give you an overview of important horse trailer parts briefly. Enough beating about the bush, let's get straight into a meaningful discussion.
Storage and organizing horse trailer accessories
As its name suggests the storage and organizing category contains several storage and organizing accessories like folding tables, cabinets, helmet storage trays, straphangers, code, and hose racks, etc. All these accessories make life inside the horse trailer easy as each horse accessory has its own defined space.
Door and hardware horse trailer accessories
The horse trailer has several unique doors that are specifically designed for easy loading and unloading. Door latches, rubber bumpers, door lock assemblies, door holders, things, ramp springs are made for horse trailer doors and hardware.
Horse trailer lights
Horse trailers are unique so they are the accessories. Apart from the regular lights some additional lights are utility light, interior light, LED light, license plate light, clearance light, tail light. All these lighting accessories are made keeping the requirements and needs of a horse trailer in mind. These lights are available on amazon.
Horse trailer vent accessories
Horse trailers have several ventilation systems that are meant to prevent overheating, dust, bacteria, and mold. The horse trailer ventilation accessories include roof vents, wall vents, butterfly vent specifically manufactured for a horse trailer, and a regular ventilator.
Horse trailer brakes
Breakaway kits, wires, brake, and other brake system parts make up the fully functional unique brake system.
Horse trailer hubs and drums accessories
Trailer bearings, races, seals, caps, axles, spindles, and several other hubs and drum parts hold an important place in the horse trailer's essential parts.
Horse trailer suspension accessories
Horse trailer suspension accessories are a combination of an equalizer, leaf springs, axle mounting hardware, suspension enhancement, and suspension kit containing additional major and minor suspension tools.
Horse trailer tire and wheel accessories
Like most giant vehicles and trailers, the horse trailer has a list of tire and wheel accessories. Trailer fenders, a tire with wheel, the wheel only, a tire only, TPMS sensor, and tire inflation tops the list because of their utmost need to keep the trailer moving.
Horse trailer jack accessories
For unforeseen events or mishaps horse trailer drivers like to keep the jack in their toolboxes for extra safety. The horse van needs a drop-leg jack and A-frame jack to keep it running at it's best.
Horse trailer couplers
The horse trailer coupler category is built of a Gooseneck coupler and A-frame coupler. The gooseneck coupler is used to tow a horse trailer and the A-frame coupler provides a good attachment point to the hitch ball to tow a giant vehicle like a horse trailer.
Horse trailer security tools
Trailer GPS, wheel locks, and coupler locks are essential locking tools that put off the danger of horse trailers being stolen. 
Horse Trailer Generator
That is not a direct body part but can be used in the trailer. Make sure to purchase an inverter portable trailer generator.
Other accessories
Window nets, water caddy, protectant pads, floor liner mats, horse trailer covers, grip strips, spare tire carriers, and wheel chocks are also needed to serve different objectives.
Not all trailers have these above-mentioned cabins and parts. Some cheap trailers may miss several important features and not all expensive trailers are good for the job. A trailer that meets the 8 to 9 hours need of a horse is considered an ideal trailer for traveling with horses. So, what are the parts of a good-for-the-job horse trailer?
More horse stalls, an ideal horse trailer has more space dedicated to the horse compartment consisting of horse stalls. But if the requirement is a small trailer with more horse stalls is useless. 
A good ventilation system, horses can not tolerate heat so a horse trailer that has every possible ventilation item like a butterfly, wall, and roof vent as an important feature is suitable for the job.
Head dividers, all horse stalls should have one head divider to keep the horses colliding with each other. So if a trailer has 6 horse stalls, it must have 6 head dividers as well.
Now you know what one needs to understand the complex structure of an alien vehicle like a horse trailer. Let me take you a little deeper by answering the Frequently Asked Questions about horse trailers.
FAQ's
What are the top horse trailer brands?
There are quite a few brands that are manufacturing these complexes that are not so easy to make vehicles. The top ten brands that are known for creating and selling quality horse trailers are; Trail West, CM, Titin, Merhow, Cimarron, Hawk, Sundowner, Featherlite, 4 Star, and Exiss.
How tall should the horse trailer?
Horse trailers come in different sizes for 16.3 hands horses a 7'6″ and for horses that go above 17 hands can only get inside the trailer that is 7'8″ in height. So, to know how tall you should be in your horse trailer you first need to know what is the exact height of your horses. 
Are there any other names for the horse trailer?
Yes, horse trailers are famous among the individuals that are not so familiar with horse trailers with several names like horse van and horse ambulance. In Newzealand and Australia, it is called a "horse float" and the rest of the world calls it a horse trailer.
How long horses can travel in horse trailers?
A horse trailer is made to take the horses from place to place. It has food, water, and everything a horse needs to stay for at least 8 to 9 hours straight. Going above 9 hours can make them go mad as they are not made to live in small spaces.