Do you have a quarter horse in your barn? Choosing a catchy name for your quarter horse is very easy. There are a few factors to consider before naming your horse. you should be aware of the name registration process.
Naming your horse is creativity. That is something amazing if you find a name to use both in a barn and as a registered name. Here are the names ideas for quarter horses.
Famous Quarter horse names
These quarter names will guide you about history. Here are some quarter horse names from history. American Quarter Horse Hall of Fame gathered information and paintings of these famous horses.
Barbara L
A famous horse from early 1950 who defeated many racehorses. She was the daughter of a great mare big boss. Barbara Produced 11 foals who are also registered with AQHA.
Blondy's dude
A beautiful quarter stallion later introduced in AQHA. He earned eight reining and 45 halter points during association with American quarter horse hall of fame.
Baby Doll combs
Baby doll combs or baby dolls were famous rodeo horse. She participated in the rodeo cowboys association. Baby doll won two races with her younger brother.
Bert
A famous brown stallion from the United States. Bob Weimer purchased bert when she was suffering from an injury.
Billy Cleg
A beautiful stallion from history who won different races.
Charger bar
An outstanding mare who participated in different race competitions. Charger bar made forty-three stars record in her career. She was named as world quarter champion.
Clabber
He won the merit register race and made a place in world quarter champion horse. Clobber was sorrel in colour and bred in the United States.
Cutter bill
He made record earnings in 1962. Cutter bill was one of the best horses who won AQHA and NCHA in the same year. C.Bill got fame after the name of two western stores.
Do Good
She was a famous sire who was also introduced in the American quarter horse hall of fame.
Quarter Horse Names for mares
These female names for quarter horses are also taken from history. There were quarter mares who participated in different race competitions and got fame.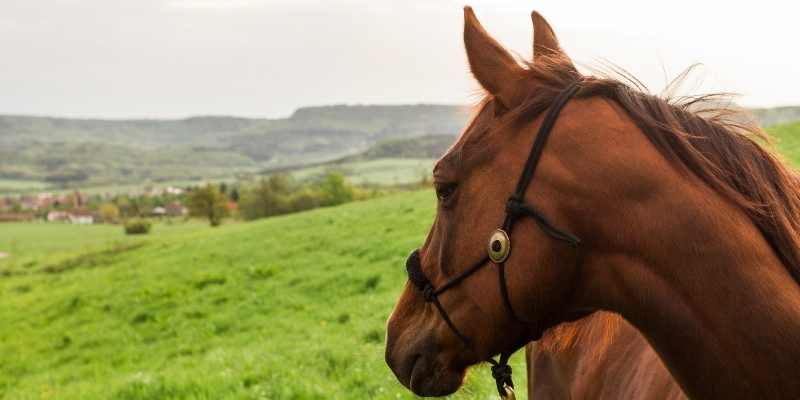 Male Quarter Horse Names
Do you want to name your quarter gelding or stallion? Here are some catchy ideas from history.
Thinking of naming your newborn/newly bought quarter horse? Naming your animals and pets changes the way we regard them.
It may mean nothing to them as they hardly understand the human language but calling your pet with a cute name shows how much you adore them.
The quarter horse is an American breed that is famous for its ability to beat all horse breeds in quarter-mile horse races. The quarter horse is recognized by the short refined head, strong muscular body, broad chest, and powerful round hindquarters.
The horse names are often based on their appearance and characteristics. The horse keepers are often seen struggling with horse names. We will today be discussing how you can name your quarter horse.
Don't get over-excited, you have to find the name yourself but we will help in coming up with one. Here are some tips and rules you can consider while naming your quarter horse.
Few Guidelines to Follow When Naming a Quarter Horse
As you have been made aware that the registered name of the horse may contradict the 'barn name' if it doesn't fulfil the official name requirements. Follow these rules and name your Quarter Horse accordingly
Pedigree: If the horse is a predecessor of a famous horse, leave a hint in the name. However, it is totally up to the horse owner and not mandatory.
Characters: The registered horse name allows for 20 characters including Alphabets, numbers, and blank spaces.
Number: If the owner wants to add a number to the name in association with memory, special day, or whatever reason, he is allowed to do so. The rule the horse owner has to follow when numbers are concerned is leaving a space between the last word and first number. For instance, Jetstream Day 747.
Punctuation Marks: The registered Quarter Horse name has no space for punctuation marks. For example, Mike's Brown Sugar does not fit the bill instead of opt for Mikes Brown Sugar.
Naming a Horse After Celebrity: Avoid naming the Quarter Horse after a celebrity unless you have the resources to get written permission from that particular celebrity.
Naming After a Deceased Horse: The restrictions that a horse owner can face when naming after the deceased horse are if that deceased horse was a participant in AQHA races or events or has currently no offspring younger than 10 years.
No Vulgar Names: Suggestive, lewd, profane, vulgar, and ill-mannered names are not accepted.
Helpful tips for naming your quarter horse
The name should be as cute as they are.
It should be creative and not-so-common.
It should be different from the registered name.
You can admire their character or colour with their name, but only if you are creative enough.
It should be easy as you are going to call them by their name in the future quite often.
It should be short because you are naming a pet, not a human.
You don't have to bother about the middle name or last name.
Last but not least, it should show your affection and appreciation for the horse.
Related Articles