Looking for shire horse names? Shire horse is one of the largest horse breeds in the world. It comes in gray, black, or bay color. It is a British breed, mostly used for farm and draught purposes. It is a traditional breed used in carrying carts and other stuff in past.
This breed developed with British origin and believed to be a great Britain horse. Shire horses did not again attention to the US when they introduced in 1853. In the past agriculture and transport industry was a little bit dependent on shire horses but now there is no need to use them. Shires are considered endangered now.
Here is the list of names for shire horses.
Top Shire Horse Names
Shire horses are large and big in size so tough horse names are perfect for them. Here are some popular shire names.
Male Shire Horse Names
There is not a visual difference between mare and stallion of the shire breed. Here are some names for the male shire.
Blackjack – Blackjack is a very strong name with multiple meanings behind it.
Alexander – After the name of strong Alexander, that is the perfect name for your stallion.
Caesar – Name from Julius Caesar ( A statesman and famous personality who played role in the power of the Roman empire
Galahad – A famous fighter from a movie character.
Mufasa – A famous character and tough name for a stallion. It is a character from the pride lands. He fights from the front and guides other members.
Xanthos – It has two meanings behind it, one for the ancient city Lycia and another immortal horse character from fiction.
Buraq – Buraq is a famous horse from Muslim history.Buraq has special wings and characteristics that made him strong.
Napolean – Napolean was a famous warrior so exactly naming on his name is a perfect idea.
Flicka – Name from the movie "My friend Flicka"
Female Shire Horse Names
Here are some beautiful names for shire mare.
Bela – A famous horse from "The wheel of time'.Bela is also a catchy and short name.
Sargent Reckless – A famous Mangolian horse mare. She helped soldiers by carrying war material on the back.
Bucephalus – Horse belongs to the famous Alexander and this horse has a white star on the head.
Epona – A famous horse from Gallo who protected donkeys, horses, and mules. If you want to pick a catchy name, consider Epona top in the list.
Castor -It is the name of the shire horse team
some more shire names for mare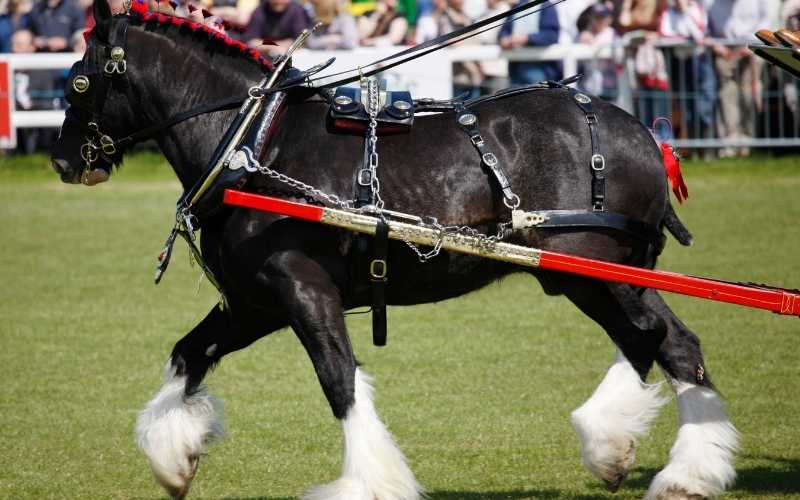 Shire Horse Names by Color
Shire horses come in black, gray, or bay colors. They can be brown but very rare. They can have different markings on their body. Here are some names depending on the color of the shire horse.
| | | |
| --- | --- | --- |
| Black Shire Names | Bay Shire Names | Gray Shire Names |
| Black Jack | Goji | Nutella |
| Carbon | Bay Snapper | Smoke |
| Black Caviar | Phoenix | Rusty |
| Ash | Salmon | Silver Bullet |
| Jaspar | Cashew | Smog King |
| Batman | Chuk Noris | Gun Smoke |
| Smoky | Mandarin | Alpha |
| Blackberry | Mocha | Austen |
| Thunder | Sneakers | Ghost |
Naming your Shire Horse
Before naming your horse, some facts about shire are important to know.
Shire horses are one of the largest breeds with 16 to 18 feet in height
Shire horse breed weighs between 1800 to 2400 pounds.
Before World war, they were used in carrying wagons and field instruments
Shire horses eat a similar diet as other horses but they need more to maintain body weight
They need extra grooming so their upkeep can be costly
World's largest shire horse was Mammoth born in 1848 and weighed around 3300 pounds
Shire horses are not easy to buy because they need registration and can be costly as compared to other horses.
Naming Tips
Here are three naming tips that can help you to pick the perfect name for your giant shire.
Always pick a name that is easy to call. Names like mammoths are easy to call and have a history behind it so you can remember it easily.
Try to pick on appearance and body-color: Shire horses are large and can be in three colors so pick a badass horse name or black, bay, and gray name for a horse.
Take ideas from other breeds: There are some fellow biggest horse breeds that can bring great ideas for your shire.
Drop your suggestions for more shire horse names in the comments.
Article resources