Horses have been an indispensable part of Indian culture and society, if you look at former Mughal rulers, you can see their fondness for horses and riding.
Many Indians are known to worship horses and it is a unique place of equine development for multiple horse breeds.
Indian horse breeds are known for their high levels of endurance, distinctive looks, and unique traits. Many horse breeds are categorized as rare, extinct, endangered, or at-risk. Many Indian breeds that have made a mark are elaborated under.
Indian Horse Breeds
1. Bhutia Horse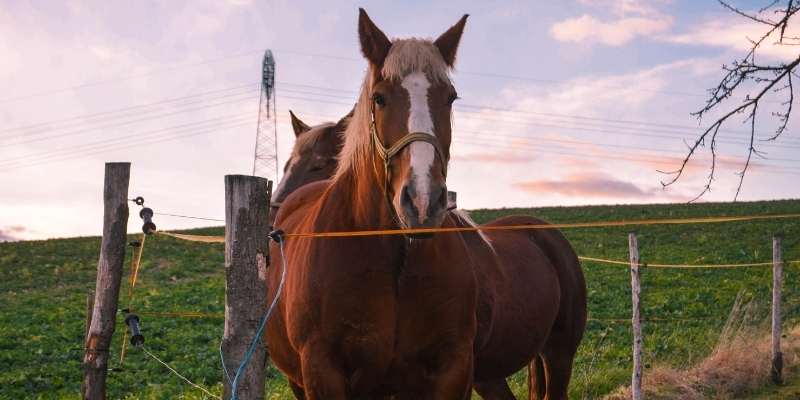 Bhutia is a beautiful horse with a friendly demeanor. They are just not known for their beauty but also hard work and willingness to go the extra mile for their keeper. 
History
The history of the Bhutia horse is lost to the mists of time; whatever we know about the horse's past is mostly based on folklore. No historian or equine expert knows about the ancestry of this horse breed for sure, however, the development and evolution of the breed is credited to extensive interbreeding between local horses and ponies.
Hailing from the district of Darjeeling in Northern India, this breed is mostly found in the Himalayan regions of Nepal, India, and Bhutan. Crossbreeding among the local breeds, Bhutia, Spiti, and others have led to the loss of individual traits. These breeds are collectively called Indian-Country-Bred ponies.
Characteristics & Temperament
Bhutia looks like a combination of Mongolian and Tibetan equine breeds. Bhutia horses have a straight profile, short, thick neck, large head, pronounced jaw, low withers, sloping quarters, deep chest, straight shoulders, strong legs, and short tail.
Being a mountain breed, Bhutia is not new to labor. They are quiet, hardworking, resilient, and have a strong character. Be it rough terrain or freezing temperatures, Bhutias are known for their adaptability to difficult living conditions.
Size & Color
Bhutia horses are approximately 14.3 hands tall (male) or 12.3 ( female). Bay, gray, chestnut, and roan are the usual coat colors.
2. Bhimthadi Horses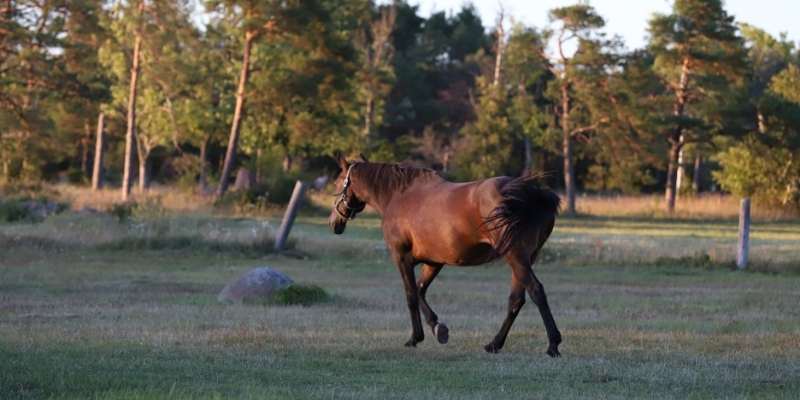 Bhimthadi horses also go by the name of Deccani or Deccan breed, this name was awarded to them from their hometown, Deccan Plateau in India.
History
Bhimthadi horses are not ordinary horses or easily forgotten, especially after their stunts on the battlefield. Originated from India, the breed developed after cross-breeding between Arabian and Turkic breeds with local ponies.
Deccani horses were sought by rulers and became part of Shivji's forces to fight the Mughal army. Marathas became the proud owner of hundreds of Deccan horses. The renowned warrior Maharajah Maratha Yashwantrao Holkar had a trusted Bhimthadi breed battle mount, Mahua.
This horse breed was degenerated during British rule, even though initiatives have been taken to save the breed, it still is on the verge of extinction.
Characteristics & Temperament
Deccani horses have curved ears, narrow, straight back, round hindquarters, sloping shoulders, and strong limbs.
Bhimthadi horses were used as war mounts, so they are quite familiar with the tough conditions. These obedient horses are now used for riding and sports purposes.
Size & Color
They have an average horse size and common coat colors are bay, roan, and brown.
3. Kathiawari Horse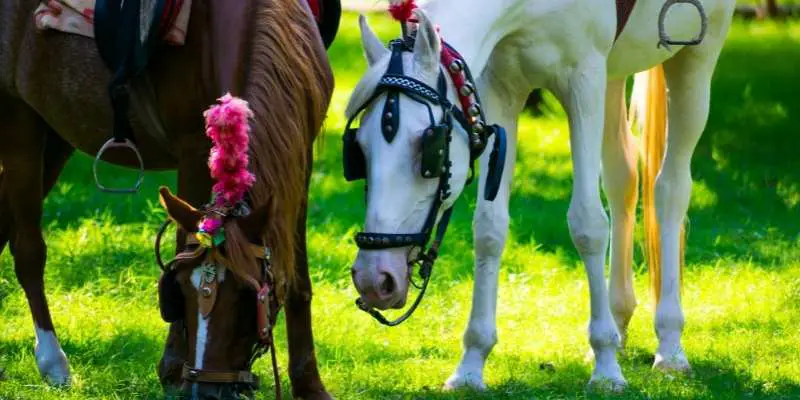 One of the popular Indian horse breeds, Kathiawari got its name from its place of origin, the Kathiawar peninsula. Kathiawari or Kathiyawari horse bears a close resemblance to the famous Marwari horse.
History
The origin of this Indian breed is unclear, however, under the Mughal rule, many Arabian horses were imported to India and bred with the native stock. The introduction of Mongolian horse blood evolved the breed further.  
Kathiawari horses were uses as Calvary mounts or desert warhorses, known for their loyalty and bravery on the battlefield. They defended their masters even when wounded or injured. This wiry, sleek, agile, and fast Indian breed carried armed men through rough terrains over long distances.
The breed is mainly found in Rajasthan and Maharashtra, the government of Gujrat aims to preserve the horse breed and improve the local stock.
Characteristics & Temperament
Kathiawari horses feature inward-curving ears, large eyes, short muzzle, large forehead,  big nostrils set in a concave head, short neck, and proportional body structure.
This horse breed is known for being loyal, affectionate, intelligent, brave, and has an unwavering spirit.
Size & Color
Kathiawaris are usually less than 15 hands tall and have chestnut, gray, bay, and dun coat colors.
4. Manipuri Pony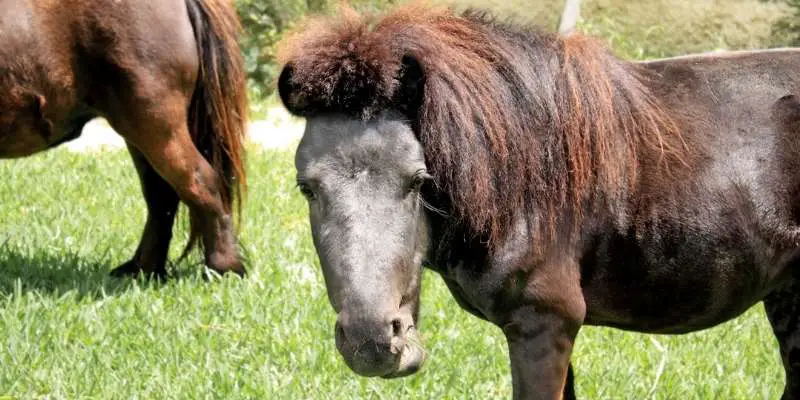 Named after the place it calls home, this Indian small horse or pony breed hails from Assam and Manipur of North-Eastern India. This rare equine breed is popular as polo and military horse in India. 
History
Manipuri's source of origin is a matter of debate, some historians believe Tibetan Pony to be the ancestor while others opine that the breed evolved after crossing between Arabian and Mongolian Wild horses.
Being bred for more than a hundred years in Manipur, they were efficient cavalry horses used in warfare throughout the 17th and 18th centuries. Employed as a pivotal part in the Manipuri king Garib Newaz's cavalry, many Meltei warriors rode them to the battles.
Manipuri was the favorite polo mount of the British colonists, it was imported to the west for being an efficient polo pony.
Characteristics & Temperament
The Manipuri pony has a Light head, straight profile, well-formed neck, pronounced withers, broad chest, sloping croup and shoulders, sturdy legs, and well-set tail.
Manipuri ponies are calm under pressure and learn new skills quickly. They have a high endurance level and versatile nature.
Size & Color
Manipuris are generally 11 to 13 hands tall and weigh approximately 450 pounds. Common coat color is bay but also found in chestnut, gray, and pinto.
5. Marwari Horse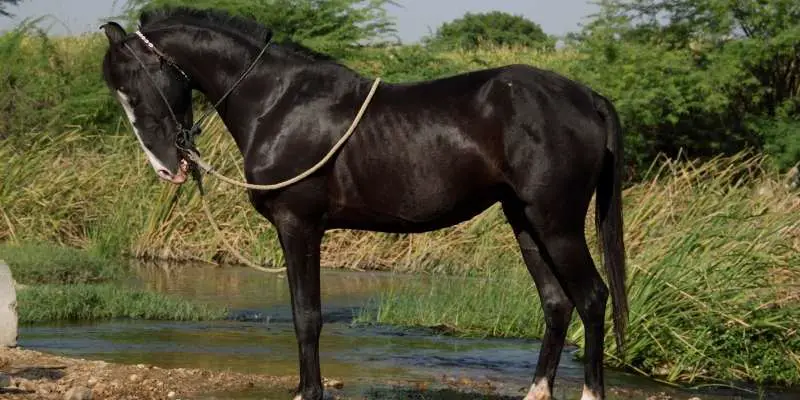 Marwari is just not an Indian horse, rather it's popular all around the world for being a royal historic horse. Being a warhorse breed for centuries, the Marwari breed has seen its fair share of good and bad days. However, Marwari remained a prized horse for multiple centuries.
History
The exact origin of this breed is debatable, however, many experts believe that Arabian horses were crossed with local Indian ponies; some influence of the Mongolian breed is reported by Genetic Researchers as well.
As per the traditional accounts, the Marwari breed was bred in the 12th century. Bred and developed to be a warhorse or a hardy mount for the royals, Marwaris served in many historic battlefields. These war mounts were part of the warrior clan, helped in taking refugees to remote places.
When weapons replaced horses, the breed saw a significant decrease in population. Many nationalists took initiative to revive the breed and were successful in their venture. Read more facts about Marwari Horse Names – 71+ Great Ideas
Characteristics & Temperament
Marwaris are known for their beautiful features;  
straight profile, slim body, ears curved inwards, high croup; slanted neck, short back, straight legs, and highly carried tail.
This popular Indian Equine breed is beautiful, loyal, friendly, kind, strong, and loving.
Size & Color
Adult mares and stallions are usually 14 to 16 hands tall. Bred in all common and rare coat colors like black, gray, chestnut, palomino, piebald, skewbald, roan, and bay.
6. Spiti Horse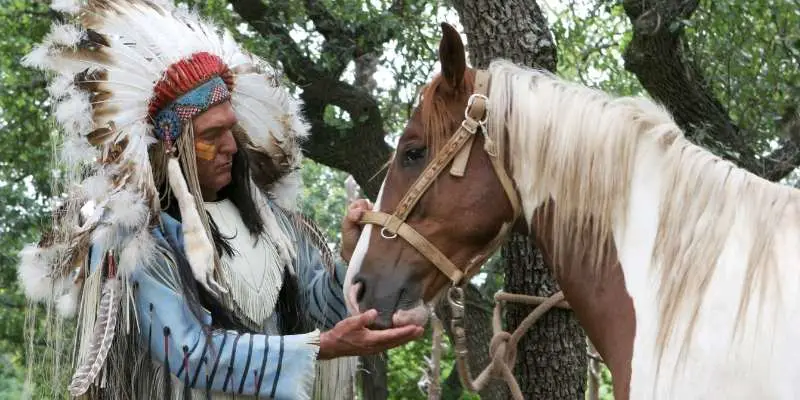 Indigenous to Himachal Pardesh, the breed attained its name from the Spiti river where this small-statured equine was bred. Now, this breed is found mainly in the Kullu, Lahaul, Spiti, and Kinnaur districts of the state.
History
It is not concrete but experts say that the ancestors of the Indian horse breed are Kiang, an inhabitant of the Alpine regions of Spiti. Soon this perception was changed and the Mongolian and Tibetan breeds were considered Spiti's ancestors. Zanskari is also believed to be a close relative.
Currently, there are two reported strains of Spiti ponies i.e, Spiti pure and Konimare. Being a mountain horse, Spiti horses have been used to carry loads of weight for many years. 
Spiti breed has been marked 'endangered' owing to the limited number because of the traditional breeding method around the villages of the Spiti river.
Characteristics & Temperament
This beautiful mountain horse has a solid, compact body, strong bones, a convex face, small to medium-sized black eyes, erect ears, long tail, deep chest, slightly sloped shoulders, low withers, short back, thick, coarse-haired legs, and hairy long manes.
Spiti is intelligent, quiet, alert, docile but also, sometimes nervous, and may not always in a good disposition.
Size & Color
Mares are usually 9 and Stallions are 12 hands tall, common coat colors are Grey, dun, black, brown, palomino yellow, and white body with black spots.
7. Zaniskari
Belonging to the Leh and Ladakh district of Indian occupied Jammu and Kashmir, Zaniskari or Zanskari is a small mountain horse or pony quite similar to the Spiti breed. The breed takes its name from the Zanskar valley or region in the Kargil district.
History
Scientific research conducted back in 2007 studied genetic variation which showed a great genetic divergence between Zanskari and the Marwari horses. The breed also is closely related to Bhutia, Spiti, and Manipuri.
The breed is not officially marked as 'endangered' yet, it's status is still ' Not At Risk', however, there are only a few hundred purebred Zansikari left in the valley. The reason being indiscriminate breeding practices, crossbreeding with unidentified ponies has significantly reduced the population of purebreds.
Initiatives have been taken to preserve the breed through selective breeding programs and artificial insemination techniques.
Characteristics & Temperament
Zanskari has a Well-built, compact body, predominant eyes, erect ears, deep chest, long and heavy tail, long manes
Zanskari is a worker bee who works tirelessly. This breed is adaptable, intelligent, strong, and can survive at high altitudes and low temperatures.
Color & Size
These horses are usually 11.8-13.8 hands in size, most Zanskaris have grey coats while brown, bay, chestnut, and black can also be seen.
8. Chummarti
This small-sized horse breed is known for its love for the Himalayas, being their native land, Chummarti is quite familiar with the high altitudes and freezing temperatures.
History
This Indian horse breed is named after the valley of Tibet, Chummarti. It is believed to be originated from the Chummarti Valley and found mainly in Himachal Pardesh. This mountain horse breed is similar to the Spiti. 
Chummarti is used to carry loads at higher altitudes where no other means of transport can reach. They have been used for carrying loads for many years. 
This breed is also used for riding because of its five recognized gaits. It ensures a comfortable riding experience as it trots on its lateral instead of its diagonal. Prized as pack animals, breeding practices are largely based on traditional family secrets passed down for generations.
Characteristics & Temperaments
Their body structure is solid, compact, and well-muscled. 
Chummarti is sturdy, strong, and a hard worker. Most important of all, they are adaptable to harsh living conditions.
Size & Color
Chummarti have less than a maximum height of 13 hands high, bred in usual coat colors.
9. Sikang
Sikang is a beautiful warhorse, served in many wars, predominantly World War ll. Not necessarily a formal breed yet but the Sikang breed has an interesting history and a unique story. Looked down upon by many, Sikang showed their worth in multiple battle arenas. 
History
History tells less about this warrior horse. US Forces despite having the advanced equipment and weaponry employed horses for different war duties. Sikang happened to be one of the breeds that participated in World War ll and led 2000 horses.
Their accomplishments may not be formally recognized but many equine lovers appreciate them for their services. After the breed failed to make it through the challenging trial, they were abandoned by the cavalry. 
After abandonment, some Sikang lovers recaptured them and cross-bred them with local Indian stock.
Characteristics & Temperament
Taller standing, muscled body, proportional body, and bone structure are some of the attractive attributes.
Sikang horses are calm, friendly, hardworking, and have unique strengths and strong stamina.
Size & Color
Sikang has an average equine height and is bred in common coat colors.
In a nutshell, Indian horse breeds have been quite popular all around the world and used for breeding purposes. They have played their part in developing multiple breeds. However, poor breeding practices have led to many breeds being endangered. 
Related Articles