German Horse names are unique. Either you love German names or have a German breed, these names are going to attract you. Picking German names from history, culture or food is not easy but here is a list that can help you.
There are many gender-based options that add creativity in the name. Here are a few ways to pick great ideas.
Kaspar – Treasurer
Susser – Sweet
Alger – Noble
Bernard – Brave
Perle – Pear
Bruno – Brown Hair
Donner – Thunder
Ellard – Brave
Felix – Lucky
Gunther – Warrior
Valentin – Strong Heart
Ryker – Rich
Donna – Dark One
Jaeger – Hunter
Keene – Sharp
Waldo – Ruler
Theobald – Boldest
Dagmar – Famous
Semra – Dark Beauty
Delmira – Protector
Hulda – Sweet
German Male Horse Names
The male horse needs some tough and unique ideas. Naming your male horse is easy if your name is according to appearance.
Alfred – Counselor
Adolph – Noble Wolf
Ada – Noble
Addie – Noble
Albert – White
Aldo – Wise and old
Alger – Clever Warrior
Alvin – Noble Friend
Anka – Purse
Amelia – Work
Alphonse – Ready for battle
Arvin – Friend to all
August – Revered
Axel – Peaceful
Arnold – Strong as an eagle
Alaric – Noble ruler
Albrecht – Bright
Arvin – Friend to all
Axel – Peace
Bach – Near the brook
Bernard – Brave as bear
Baldwin – Brave friend
Barret – Strong like bear
Bethoven – one of the best German Composer
Bruno – Brown
Bismarck – German statsman
Beatrix – One who brings happiness
Benz – German Luxury automobile brand
Clovis – Famous warrior
Caroline – Freeman
Calus – Victory people
Danube – Second largest river in the European region
Dedrick – People's ruler
Dirk – People's ruler
Deutsche – German Language
Donner – Thunder
Ebba – Strong as Boar
Emmet – Truth
Ernst – Serious
Elbe – A river in Europe
Franz – Freeman
Felix – Happy
Ferdinand – Courageous
Frieda – Peaceful ruler
Goulash – Stew of meats
Garin – Warrior
Gunther – Bold warrior
Gariswold – Gray forest
Guttenberg – Inventor of the printing press
Harbin – Shining fighter
Hans – God is gracious
Heinrich – Home belongs to the king
Helmar – Famous Protector
Hefe – German yeast
Herr – German for mister
Hertz – Kind hearted
Hund – Dog in german
Ines – Pure
Imre – Great King
Ido – Work
Kaiser – Emperor
Kasper – Treasurer
Kaja – Alive
Keene – Sharp
Klara – Bright
Lando – Famous country
Lara – Famous
Luther – Warrior
Leonard – Brave lion
Leopold – Bold leader
Mandel – Almond
Max – The great
Medwin – Powerful friend
Miles – Merciful
Millie – Gentle strength
Nia – Bright
Norbert – Hero
Otto – Rich
Odo – Wealthy
Oskar – Spear
Ozzy – Divine spear
Ritter – Knight
Raymond – Wise protector
Richelle – Brave one
Rowland – Famous one in the island
Rolf – Famous wolf
Rudy – Famous wolf
Saxon – Sharp blade
Schatzi – Sweetheart
Siegfried – Victorious Peace
Stien – Stone
Strom – Stream
Waldo – To rule
Walker – Worker
Walter – Army ruler
Yohann – Form of Johan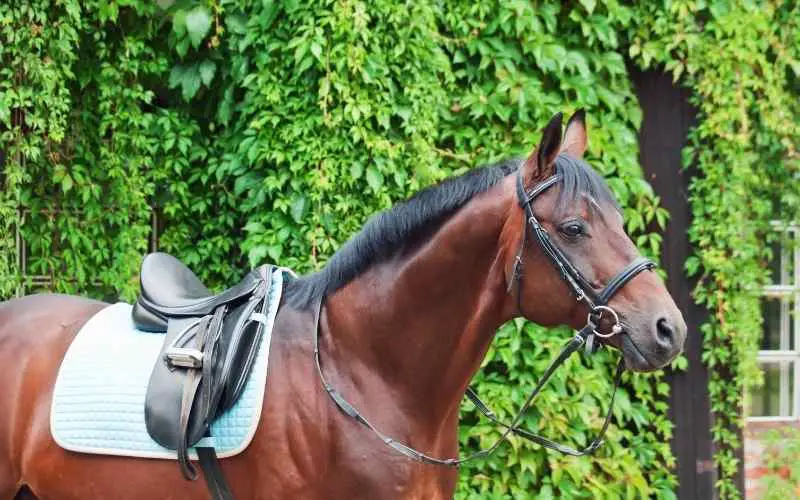 Female German Horse Names
Mares need cute ideas, here are some female horse names in the German Language.
Annika – Graceful
Alena – Small
Ada – Noble
Adler – Eagle
Amelia – Work
Anka – Purse
Arabelle – Beautiful eagle
Ava – Life
Aubrey – Noble
Britta – Strength
Bavaria – A region in Germany
Berta – Glorious
Beatrix – One who brings happiness
Blitz – Sudden Attack
Bruno – Brown
Claudia – Enclosure
Cologne – A city in Germany
Elsa – Pledged to God
Elbe – A major river
Emery – A ruler
Emmet – Universal Truth
Emmett – Strong
Ernie – Serious
Floriane – Blooming
Fritzi – Peaceful ruler
Frau – Mr's in German
Frieda – Peaceful ruler
Greta – Pearl
Gretel – Sister of Hensel
Gretchen – Pearl
Gerda – Protection
Heidi – Noble
Harbin – Shining Fighter
Hase – Bunny or a short term used for women in German
Helga – Holly
Hilda – Battle woman
Hulda – Sweet
Ida – Hardworking
Ida – Industrious one
Ines – Pure
Ido – Work
Jaeger – Hunter
Klara – Bright
Kaja – Alive
Kartin – Beauty
Lena – Shiny
Lara – Famous
Lola – Lady of sorrows
Leona – Brave like a lioness
Lienling – the German word for darling
Liebe – Love
Lorelie – Alluring
Lotti – Little woman
Marta – Lady
Mandel – Almond
Milo – Form of miles
Millie – Gentle strength
Nia – Bright
Nixie – Fairy
Ozzy – Divine spear
Sofie – Wisdom
Selma – Divine Protector
Sasha – Defender of mankind
Sonje – Wisdom
Trillie – Battle maiden
Trudi – Spear warrior
Ugo – Mind
Ula – Pearl
Ursula – Little female bear
Wanda – Wanderer
Zelda – Fighting maid
Ziggy – Protector
German Horse Names from Food
German love to eat a heavy meal. Their food products and dishes are unique in sound. Here is some inspiration in the form of names.
Dinette – It is a traditional German dish.Dinner looks like Pizza with salt, pepper, eggs, cream, and cheese. It is a baked dish.
Botel – Salt Cured and boiled pork from Northern Germany. Botel is served with bread or any other helping food material.
Brezel – First this name is best for male Horse names. It is a white Pretzel made with yeast and white flour.
Pickert – Pickert is another German dish from Westphalia. It is a combination of Potato pancake, waffle, and fritter.
Geflite – It is a type of fish which commonly used as an appetizer. Typical ingredients include carrots, onion, eggs, and leeks.
Knipp – It is a German Sausage with origin in Bremen. A dish made with onion, eggs, allspice, beef, and salt.
Hopfen – Hopes used to prepare beer.
Dunkel – German Lager.
Maibock – Maibock looks attractive name for a foal. It is strong and pale brewed in spring.
German Horse Names Inspired by Famous Places
Finding some common or unique German locations and naming your horse is also a unique idea. Here are some horse names based on locations.
Harz – Beautiful mountains in Germany. A large number of tourists visit this place and a lot of fairy tails about this.
Munich – It is famous city of Germany and home of Oktoberfest festival.
Sylt – Popular Island located in Germany. It is full of beaches, cottages and other beautiful scenes.
Berlin – It is the capital and most populous city in Germany.Famous for beautiful scenes, landmarks and historical places.
Hamburg – It is beautiful city with 2 million people.Hamburg makes cute name for male horse.
Black Forest – It is a beautiful region in the southwestern country. Black forest is a catchy name for the black horse.
Vienna – Vienna is a famous city in Austria.If you are looking for an attractive name, Vienna is the best choice.
Rine – Rine or Romantic Rhine is a famous section of rine. Rine river has beautiful track and places to enjoy the trip.
Bavaria – A well known state in Germany
Elbe – It is a famous river in Germany. Elbe is a wide river that passes between Germany and the Czech Republic.
German Horse Names from History
History brings great ideas for horses.It is better to name your German breed from history.Here are some ideas to pick.
Heidi Klum – A famous television host from Germany
Sigmund Freud – Austrian Neurologist
Einstien – A famous physicist from history.
Frau – Mr or Mr's in German Language
Prost – Word for cheers in German Language
Hase – Word for the bunny in the German language
Hansel – Story of siblings captured in Germany
Porsche – High-end brand from Germany
Maus – Word for Mouse in the German language
Tips for Naming your German Horse
Most people love to choose a name for their German horse in the German language. Some horse lovers also take inspiration from German horse names. It is easy to decide a name while naming your horse. Here are some tips that can help you to pick the best name.
Breeds
There are some common German breeds. Make sure to pick alternative names from them. Here are some breeds.
German Sport Horse
Black Forest
Holsteiner Warmblut
Trakehner
Senner
Holsteiner
These are not bred names but also German names if you want to choose any other breed. Like Black forest is the best to name for any black breed. Names from other languages like Japanese horse names, Mexican horse names, French horse names can also be a great choice.
Appearance
The appearance of the breed also plays an important role in the selection of a name. Like if your horse has a wide appearance, the badass name will be perfect. For ponies, cute horse names are perfect. Other things like your personal choice and color also matter. Drop your favorite German horse name in the comments.