So you are finally confident enough to trim your horse's hooves yourself? Well, you have got my blessings! Now that, you have got the confidence and skill one needs to finish the job like a pro, it's time to invest in some basic hoof trimming accessories. The basic accessories you need to place an order for are hoof stand, hoof knife, and hoof rasp, etc. 
We have previously reviewed the best hoof stands and hoof rasp so today's subject of discussion would be "Hoof knives". The hoof knife is a rewarding trimming tool that is used to trim off the dried outsole and clean up the ragged frogs.
The local hardware stores and Amazon are already overloading with the number of options available. It's important to have the right tool for the job to minimize the risk of injuries so we have decided to short list the items we found helpful. Before we get into details, let's check what the options are;
Best Hoof Knife Reviews
1. Tough 1 German Stainless Steel Sharp Hoof Knife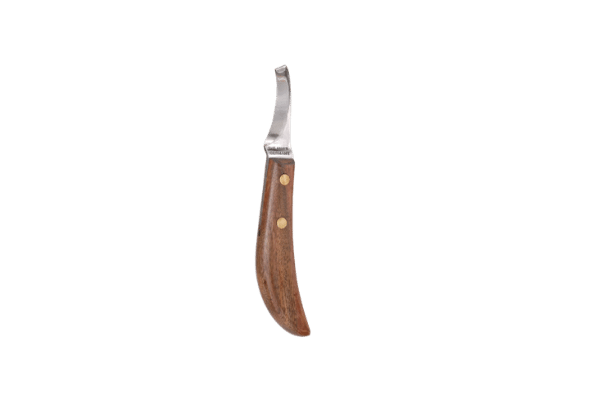 Tough 1 equine accessories manufacturing company is constantly engaged in serving horse admirers across the globe. This lightweight trimming tool is made to facilitate the farrier in hoof trimming.
The High duty stainless steel blade is treated to prevent rust and corrosion from making it useless. Moreover, the well-sharpened blade helps the farrier in getting the job done early. The balanced height and width sit well in the hands and the curved handle keeps it locked in place.
The wooden handle absorbs sweat and prevents slippage to keep the whole trimming procedure less stressful. However, the only drawback we have found is that it can not be used by lefties.
2. Anvil Brand Hoof Knife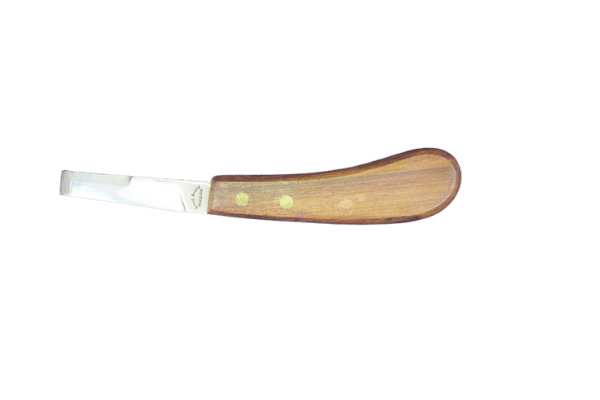 Anvil hoof knife is admired for it's compact size and simplicity. This basic design is made for the farriers who still use the traditional hoof trimming methods.
The not-so-fancy blade is heat-treated to retain the sharpness for a longer time. The imported steel is spectacularly rust and corrosion-resistant. The firmly embedded handle and blade make it a useful tool for hoof trimming.
The handle is contoured to fit the farrier's hands comfortably. The wooden handle encourages the farrier to pay attention to hooves by preventing slippage and readjustments.
3. Farrier Hoof Knife Oval Swiss Wooden Handle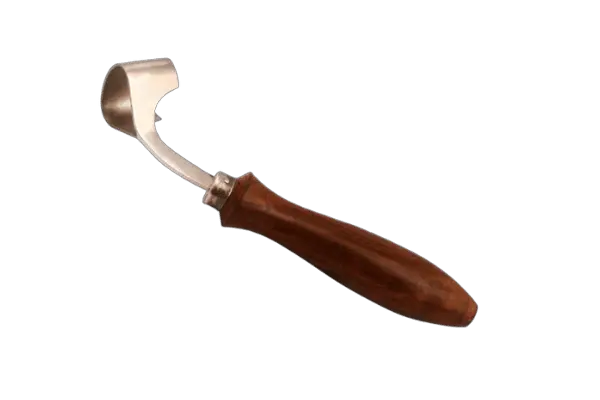 This oddly shaped hoof knife is the most farrier's favorite because of it's forgiving nature and modern styling. The wooden handle is polished to facilitate the handling and hoof trimming.
The oval shape allows the farrier to trim the hoof forward and backward, whatever he/she finds feasible. This thoughtfully designed knife doesn't cause blisters from frequent use.
The superior grade stainless steel adds more toughness and durability to it's nature. The design and finishing make it more suitable for professional use.
4. Weaver Leather Right Handed Hoof Knife With Wooden Handle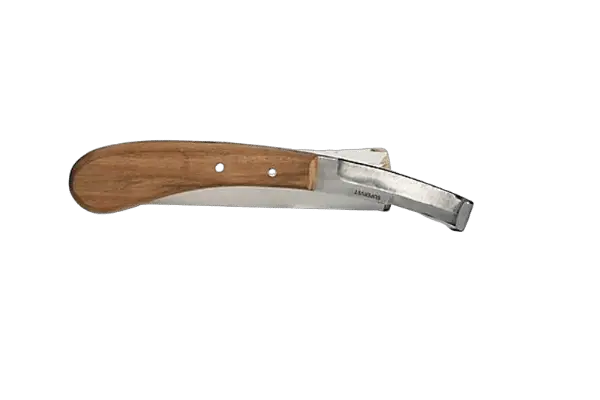 The Weave Leather was established in 1973 with the mission to serve the horse admirers with the best equipment. Since the establishment, it has been winning hearts with equine, livestock, pets, and arborist accessories.
The 5-⅛ stainless steel well-sharpened blade makes it stand out in the crowd. Wooden handles prevent sweat and blisters that are usually caused by frequent use. 
Made to serve the righties. This Weaver's knife can be used for both professional and non-professional trimming.
5. G.S New Right Hand Hoof Knife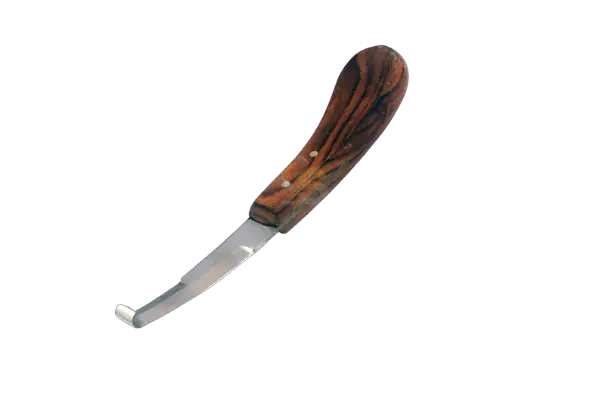 G.S hoof knife is a great all-in-one invention that can be used for cleaning up, exfoliating, trimming shedding fog, and cutting bars. This affordable trimming accessory is made to fit the farrier's hands and needs.
The well-sharpened blade minimizes the sharpening need and keeps on rewarding for months without any demands. The imported stainless steel is combined with a superior grade wooden handle to perform the toughest job called hoof trimming.
It's strong and durable enough to keep it's shape even after months of abuse. However, like most of the hoof knives in the market, the G.S hoof trimming knife can be used by the righties only.
6. DDP Right Hand Hoof Knife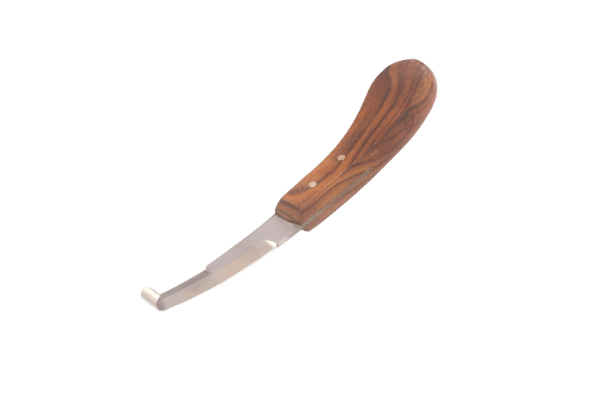 DDP hoof knife is a regular hoof trimming accessory that works for both professional and non-professional horse admirers. It is engineered to serve as a helping hand in hoof trimming.
This least-known brand is manufacturing and offering the best tools at affordable prices. The wooden handle is secured nicely to give horse admirers relief from the common wooden handle readjustment issues.
The top-notch DDP hoof knife is being offered at the price much lower than the most expensive brands. It is highly suitable for those who want to get the best trimming tool at an affordable price.
7. Castillo Small Blade Right Hand Hoof Knife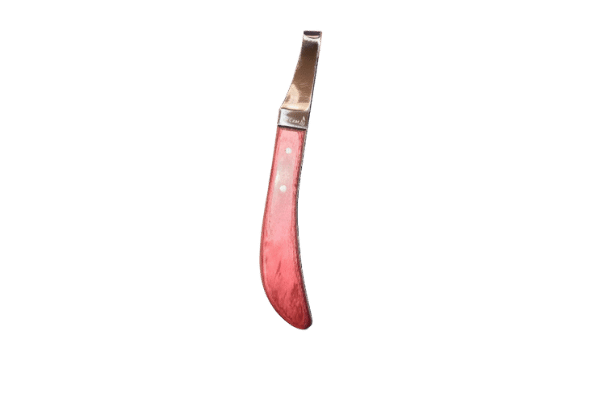 Castillo small blade hoof knife is manufactured to cater to the trimming needs of ponies and young horses. Contoured handle and blade make the hoof trimming an easier manageable task to perform.
This small blade hoof knife is manufactured to entertain the farriers who do not want to go for a standard size hoof trimming knife. This special-sized farrier hoof knife comes in regular shape and coloring.
The heavy-duty polished wooden handle prevents sweat and slippage that is usually caused by prolonged holding. Despite the size, it does its job effectively. 
8. Equinox Pet Supplies Horseman's All-In-One Hoof Pick Comb And Hoof Knife With Pouch Belt Loop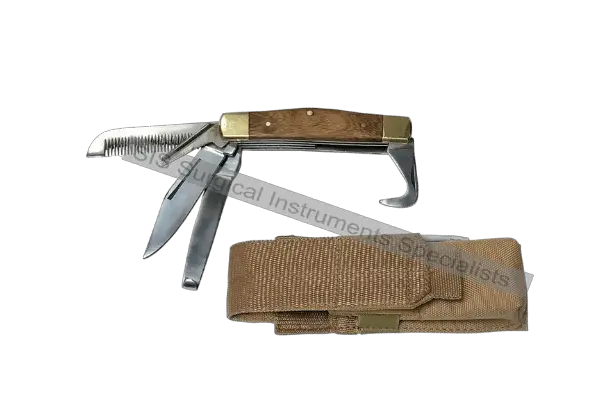 This Equinox multi-tool is the most promising hoof trimming accessory listed on Amazon. This all-in-one thoughtfully designed hoof knife is engineered to eliminate the need to buy different hoof trimming tools separately. 
This multi-tool comes with a long trimming knife, round cutting blade, hoof probe, hoof pick, and hoof thinning comb. The well-sharpened hoof knife is designed to give farriers a lasting experience. The pouch belt loop makes it easier to hang and carry. 
The heavy-duty hoof pick comb is attached to the knife to facilitate the farrier in removing dirt, mud, and stones that bring the hoof performance down. The unique all-in-one design and surprisingly low price make it a must-have. 
9. Equipment Essential Hoof Knife Set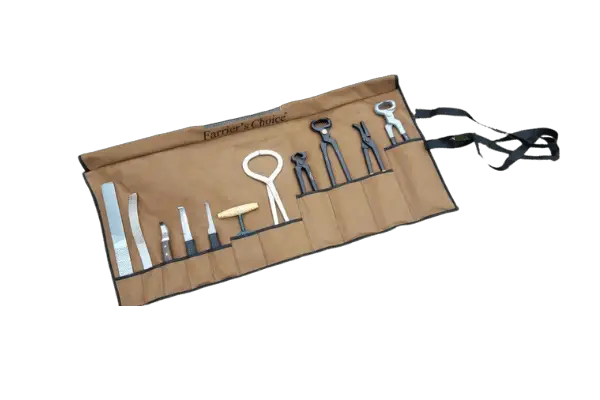 Equipment essential hoof knife set is a full package engineered for professional farriers. It offers all hoof knife sizes in one package. The big giant advantage of ordering this hoof knife set is that it contains both right and left-hand hoof knives.
The knives are not different in sizes but shapes as well so the farrier can get done with the hoof trimming job effectively. The thick heavy-duty stainless steel allows it to handle the rough and tough hoof trimming job well.
The heavy-duty wooden handles make the holding less-tiring and troublesome. Moreover, the wooden handles keep the blades locked in place. The foldable case keeps all the hoof trimming knives in place.
10. 2 Pcs Veterinary Horse Hoof Double Edge & Swiss Knife 8″ Premium Instruments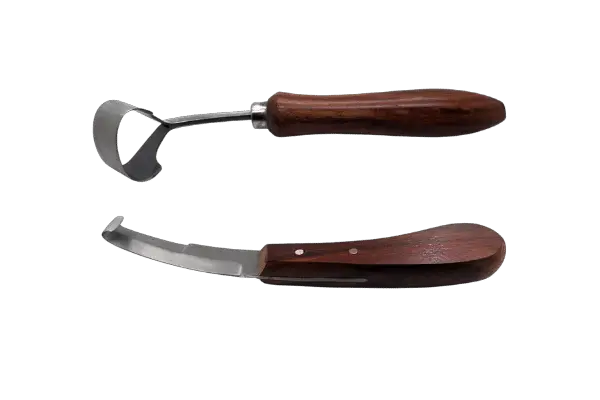 This 2 Pcs knife is made with German stainless steel. They claim to meet CE-Quality Mark and ISO 13485 quality standards. Well polished to give aesthetic look.
This swiss knife provides high Precision and Flexibility during a clinical procedure. The 2 pcs option is very unique in this product.
11. Jeffergarden straight blade carbon steel hoof trimming knife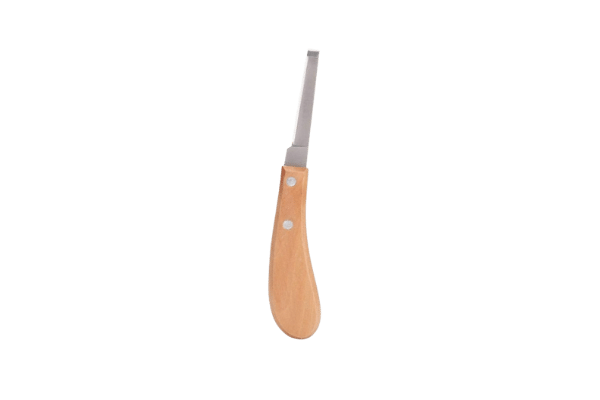 Jeffergarden is a new brand for garden and equine tools. Quality of material and advanced use made this brand famous.
This product is different from others as it is not made with simple stainless steel. Jeffergarden hoof trimming knife is made with carbon steel. This carbon steel is more durable and shock-resistant. It is less prone to shock, dents and breakage. More it is environment friendly and easy in recycling.
Its handle comes in ergonomic design makes it easy to use with a strong grip. Blades are very sharp which completes work fast without breaking.
These were the few options that I and my fellow horse admirers have found helpful in all these years. There are several other brands as well that are offering quality hoof knives at affordable prices. It's impossible to write each promising option down with the details and it's not fair either to deprive them of the well-deserved position. So, let's find out what else can be considered;
Fishlore straight blade left-handed hoof knife and trimming tools set
Farrier Loop Knives symmetrical, frog, trimming, laminae, hoof wall resection knives
Laja Imports left and right hoof knife set
Debian straight carbon steel blade hoof knife
Now that you have known all the best possible options, it's time to discuss what you need to look for before placing the order.
It's super hard to find quality trimming tools online as the catchy advertisement and heavily edited photos can bring anything to the limelight. Most of us turn to Amazon to get our hands on multiple options even though online shopping is risky. A lot of us have been disappointed several times but still, Amazon is the first platform we go to get our desired tools delivered. 
To minimize the risk of buying the wrong or inferior hoof knife you need to pay attention to the details. Farriers and advanced horse admirers already know what they need to look for, but beginners need to be enlightened. So without further ado, let's discuss how can navies minimize the risk of purchasing the inferior hoof knives;
How to find the right hoof trimming knife?
Most hoof trimming knives are half stainless steel and half wooden but they come in a variety of sizes and shapes. The shapes and sizes often confuse the buyers so it's important to judge whether it suits your needs or not. This article is useless if it fails to deliver the whole idea. So, let's help you in judging whether the hoof trimming knife is up to the mark or not;
Material
The first thing that should be bothering you is "material". All knife blades are of stainless steel but handles can be wooden or plastic. The handle should be comfortable to hold and must be durable enough to keep the blade locked in place.
Wooden handles are perfect for hoof trimming jobs as plastic can not absorb or prevent sweat. Moreover, plastic knives are more prone to slippage than wooden-handled knives. So make sure the knife you are ordering has a wooden handle. 
Style
Hoof knives come in a variety of styles but what farrier uses and recommends are slightly curved throughout the body and have a sharp hook at the edge of the blade. Curved knives are much easier to use and handle than straight ones.
While placing an order for a curved knife, you have to buy a specific left or right hand hoof knife. So, if you are a rightie, make sure you invest in a right-hand knife and a left-hand knife if you call yourself a leftie.
Weight
The knife's weight should never be ignored because hoof trimming is already tiring, too light or too heavy trimming equipment would not allow you to have control. Each case is different, scroll down to the product weight and judge whether the knife weight is ideal for your hands or not. 
Size
As mentioned above, hoof trimming knives come in a variety of sizes to fit the job well. It's hard for newbies to judge what size suits their hands and job well. It is therefore recommended to take professional help in selecting the right size. 
Budget
In the end, you have to judge whether it's affordable for you or not. Do not get disheartened, if the option you find promising is a bit pricey as Amazon is bombarded with options. Keep looking, you will find a reasonable option for sure.
FAQ's
What is the best way to sharpen a hoof knife?
Dull knives waste a lot of time. A dull knife can result in the bloody hands of the farrier. Specific in trimming hooves, a sharp knife is important. A sharp knife can work against dust or dirt behind the hoof. You should keep proper maintenance for the hoof knife. If you will keep it blunt for some time, it will take more time to re-sharpen it.
You can use a bench sander or grinder to sharpen them. Make sure the knife gets sharpened from inside. There is a disadvantage associated with this method as you can not adjust with the moving wheel. An expert can give a touch to the curved point.
Another method is a diamond sharpener. You can keep it in hand sharpen with simple strokes, but it needs energy and some serious strokes to completely sharpen. Hoof rasp is the best alternative to use for sharpening knife.
What is the purpose of a hoof knife?
A hoof knife is very important to trim dried and loose soul. Hooves need proper care and maintenance. There are few methods to remove this dried portion.
Summary
Hoof trimming knives are an important tool that helps in scraping off the unwanted material from the hooves. Buying the right hoof knife is a little tricky as it comes in a variety of sizes and styles.
The most promising hoof trimming knives available on amazon are Tough 1 German Stainless Steel Sharp Hoof Knife, Anvil Brand Hoof Knife, Farrier Hoof Knife Oval Swiss Wooden Handle, Weaver Leather Right Handed Hoof Knife With Wooden Handle, G.S New Right Hand Hoof Knife, DDP Right Hand Hoof Knife, Castillo Small Blade Right Hand Hoof Knife, Equinox Pet Supplies Horseman's All-In-One Hoof Pick Comb And Hoof Knife With Pouch Belt Loop, and Equipment Essential Hoof Knife set.
Out of these options we have found the Equinox Pet Supplies Horseman's All-In-One Hoof Pick Comb And Hoof Knife With Pouch Belt Loop quite affordable, useful, and handy.
Related Articles