There are different breeds associated with America. Horses play an important part in the riding history of America. Maybe you can only need the role of horses in Wars or in Movies but now they are the only hobby. English and western are basically two famous riding styles.
Western horses are compact with steady travel all day. Many of us love western horse riding like western-style boots, hats, and comfortable boots are distinctive elements of it.
It is always magical to choose a catchy name for your horse. There are general criteria while choosing a name for your horse but breed, personality, and coat color should be first priority.
Below is the list with Western Horse names for both mares and geldings. Male names are included in the geldings list and females in Mares but you can select your desired one for any gender.
Sully
Bullseye
Wood Eager
Patrick
Pancho
Mischief
Cactus
Pinkerton
Ranger
Beast
Garth
Gunner
Sundance
Wellington
kenny
Wrangler
Pasiley
Gypsy
Harper
Dusty
Shania
Dallas
Lone Ranger
Deputy
Cinnamon
Muffin
Peaches
Jackpot
Jolene
Brandy
Western Horse Names for Mares
Choosing a female western horse name is very easy from the list. There is no specificity in choosing any wester name as female horse names can also work best.
Arizona
Blaze
Vegas
Dolly
Annabelle
Anie
Arrow
Babes
Loreta
Patsy
Rebba
Wynona
Dolly
Bess
Betsy
Blaze
Boot
Charlotte
Cowgirl
Curly
Bella
Nevada
Dawn
Paisley
Olie
Duck
Tulsa
Cheyenne
Sally
Kate
Rusty
Gretchen
Grainger
Dumplin
Trisha
Miranda
Georgia
Carolina
Justice
Jolene
Delta
Memphis
Stormy
Candy
Sweetheart
Paisley
Rawhide
Sundance
Sally
Rose
Billy
Cody
Autry
Oakley
Wayne
Blanche
Bonnie
Cheyenne
Della
Delta
Glory
Dakota
Sierra
Gypsy
Montana
Craze Alice
Lula Mae
Magnolia
Maisie
Maribelle
Millie
Peaches
Ruby
Sugarbaker
Skarlet
Tillie
Trixy
Willow
Rawhide
Cash
Lakota
Adelaide
Ambrosia
Annamae
Aretha
Arabella
Ella-Mae
Delilah
Clarabelle
Chantilly
Emmilene
Dolly
Georgina
Jolene
Josette
Lady
Loretta
Margaret
Mayhaw
Penelope
Peach
Olympia
Savannah
Topeka
Topeka
Willadsen
Bourbon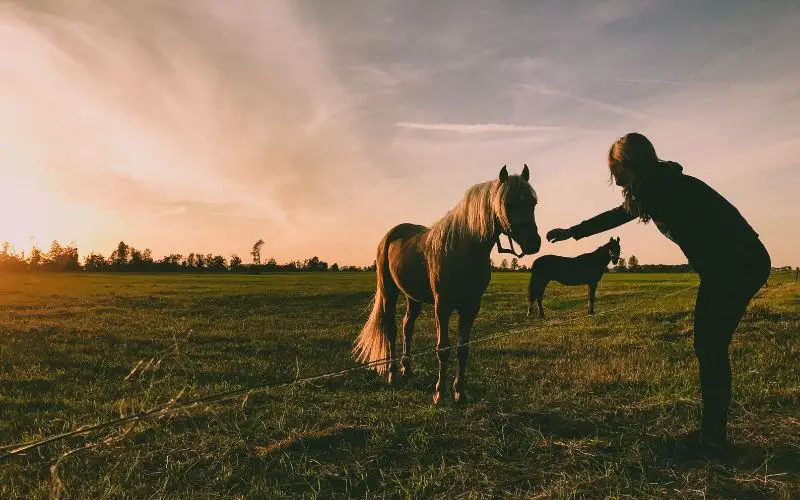 Western Horse Names for Geldings
It is easier to find a male western horse name as compared to a female. Boys are more glorious in the American west. There are few cowgirls in the history of names. Most of the gelding names can be picked as cowboy names from series or movies.
Augustus
Austin
Bank
Angus
Banjo
Blaze
Canyon
Carolina
Amos
Apache
Arrow
Boone
Boots
Junior
Bobby Joe
Buck
Beo
Colt
Chief
Dakota
Biscuit
Billy ray
Lariat
Spurr
Summer
Rocky
Ranchero
Houston
Shadow
Rider
Trigger
Walker
Wayne
Sierra
Shadow
Silow
Ranchero
Lasso
Bourbon
Brisket
Cherokee
Butch
Carter
Colonel
Clyde
Cisco
Cowboy
Daniel
Dumplin
Strait
Rogers
Gunslinger
Grainger
Graizer
Hunter
Johnny
Justice
Rawhide
Outlaw
Morgan
Ringo
Ropper
Sundance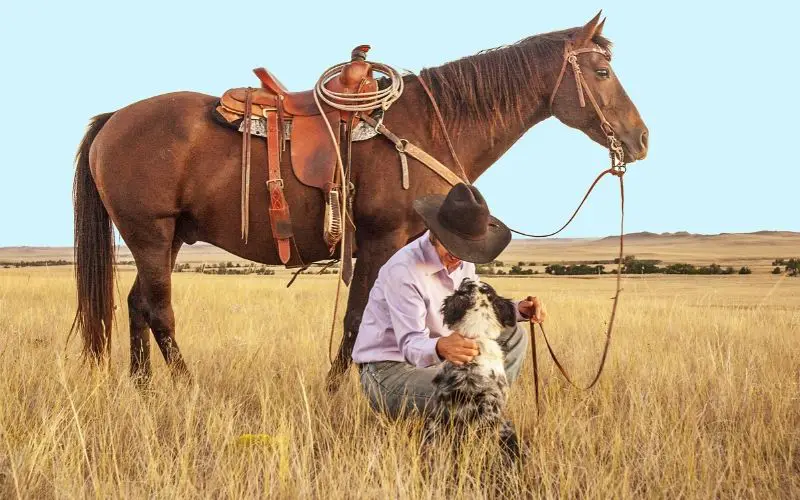 Famous Horse Names from Western Legends
Famous actor names or cowboy names from films are the perfect western name for horses. Here are some western names from famous characters.
Crazy Alice – Cowboys 1972
Big Nose Kate – Wife of Doc Holiday
Old Thunder – Gregory Peck
Bitter Creek – Ghost Town
Bonnie – Criminal, of Bonnie and Clyde
 Amanda Blake – Gunmen at Abilene
Broken Doll – 1910 Western
Buck Garrett – Gunfighter and Lawman
Andy Devine – The adventures of Hickok
Buck Taylor – Actor in Gunsmoke
Art Acord – White Horseman
Pardner – Buddy Roosevelt
Bill Cody – Under the Tx skies
Bob Custer – Cactus Trial
Butch Cassidy – Train Robber 
Carry Nation – Independent Woman
Bob Nalon – Sons of Pioneers
Back Jones – Shadow Ranch
Buddy Roosewelt – Way out west
Doc Holliday – Gunfighter & Gambler
Chunk Conners – Branded series
Little Champ – Gene Autry
Dale wans – Queen of west
Tale Robertson – Tales of well fargo
Black Jack – Allan Rocky Lane
Dick Foran –  Moonlight on the Prairie
Dorothy Page – The singing Cowgirl
Dub Taylor – The tayming of west
Duncan Renaldo – The Cisco Kid
Fred Humes – The cactus Kid
Fred Scott – In old Montana
Tumbleweed – Audie Murphy
Fred Thomson – The two Gun man
Topper – Hopalong Cassidy
Fuzzy Knight – She done him wrong
Gabby Hayes – The Gabby Hayes shows
Allen's Gold Zepher – Roy Rogers
Gail Davis – The far frontier
Gene Autry – In old sante Fre
Trigger Junior – Roy Rogers
Gene Berry – BateMasterson
George Houston – The lone Rider rides on
George O Brien – Arizona Legion
 George Montgomery – Cimaron City
Glen Ford – Cade's County
Guy Madison –  The Adventures of Wild Bill Hickok
 Harry Carey – A knight of Range
Mesquite (Allan Rocky Lane)
Henry Derrow – A knight of the range
Old Speed (Jack Nicholson)
 Herb Jeffries  – Two Gun man from Harlem
Hoot Gibson – Outlaw Trail
Jack Elam – Temple Houston
Jack Holt – Mysterious Rider
Jack Kirk –  Sheriff of Sundown
Jack Ludan – Stagecoach Days
 Jack Perrin –  Border Vengeance
Little Trigger (Roy Rogers)
James Durry – The virginian
James Elisson – Trail Dust
Silver Bullet – Whip Wilson
Jane Frezee – Melody of moonlight
Jennifer Holt – Hopalong Cassidy
Thunderhead – Mary O'hara
Jack Mohney – Yancey Derringer
Jim Wakley – Six-Gun Serenade
 John McIntire – Wagon Train
John Wayne – Riders Destiny
Jonny Carpenter – The lawless rider
Johnny Mack brown – Billy the kid
Kay Hughes –  The Three Mesquiteers
Karl Heckett –  Prairie Rustlers
Ken Kurtis – Son of Pioneers
Kermit Manyard – Velley of Terror
Kevin costner – Yellowstone
Land Chandler –  Quantrill's Raiders
Lash Larhue – King of Bullwhip
Leo Carillo – The Cisco Kid
Western Show Names for Horse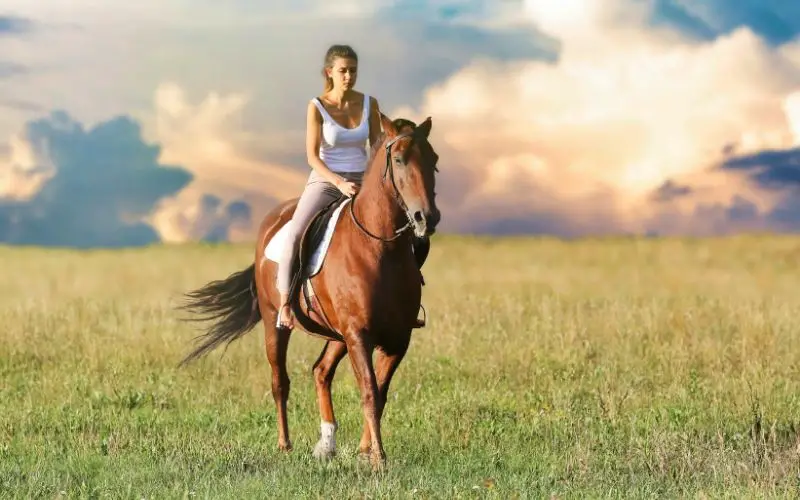 How to Pick Western Name for Your Horse?
Naming your new horse is the first choice of any owner. Most of the horses love to choose any name that is the best fit for the personality of horses. There are a few factors that play an important role in the selection of the name. First of all, you should know the breed of your horse. If you are selecting a western name, still consider breed as a second option. Coat color also plays an important role.
Movies, Novels, and series also give some good western name ideas. Make a list of names and write down them. Try one by one on your horse for the catchy idea. You can ask other horse owners to pick a good idea.
Final Words
Western horse names can also be your favorite cowboy or cowgirl name. Some favorite movies also bring great western ideas. Mare and gelding names are arranged separately so you can pick the best name from the list. Drop your favorite name below in the comments.