Last year right in January my beloved horse Charlie died just because I couldn't take him to a vet in another city. I had a really hard time accepting the fact that Charlie is not among us anymore. 
I was naive at that time, having no idea whether you can or can not get a horse trailer on rent as Charlie has spent all of his life roaming around in the same city. The vet lives next door so I never needed a horse trailer to take him to a vet. 
Right after Charlie died I began researching and inquiring how one can get a horse trailer on rent? What amount of money does one need to have such a giant cabin on rent? As I'm planning to get a new horse because my kids and I are fond of horses.
Horse trailers are widely used as "Horse Ambulance" that takes the injured or sick horses to the vet's clinic but that doesn't mean you can't book a trailer to take them to mini-trips and horse shows. Horse trailers are generally quite expensive; a middle-class horse owner can't own one.
Before jumping straight into booking a horse trailer there are a few things you need to know;
Whether your vehicle is suitable to carry a trailer or not?
The total distance between the cities or towns you are traveling between.
What type of trailer suits your needs?
Whether you have insurance to cover you for unforeseen events or mishaps?
If you can answer these questions without even thinking for a second congratulations! You can take your horse on a joyful ride.
Where to get a horse trailer on rent?
How can you get a horse trailer on rent so your horse doesn't have to spend his entire life in the barn? I'm here to give you a complete guide on renting a horse trailer. Let's have a meaningful discussion on the companies that are offering horse trailers at cheaper rates and favourable terms. 
U-Haul Rentals: Cargo, Utility, and Care Trailer Rentals
JH Spirit LLC
Flaman Rentals
U-Haul Rentals: Cargo, Utility, and Car Trailer Rentals
This trustable company deals in renting Cargos, Utility, and Car Trailer rentals at affordable prices. The interested parties can check their rates by visiting their official website and filling a farm that demands a pick-up location, drop off location, and pick-up dates.
U-Haul Rentals is an economical option for a local movement like taking a horse to a vet or a show being held in the same city. The customers will be given an option and they are free to select what suits their needs.
Besides the job of renting out the trailers, the company gives information about using and attaching the extensions they provide to the cars, vans, and bikes. The official website has a portion dedicated to the frequently asked questions where they have answered the most frequently asked questions about such vehicles.
They offer Cargo, Ramp, and Utility trailers. A brief guideline is also provided by the company for an easier selection. The summary of the guide is
Cargo trailers 
Enclosed cargo trailers are most suitable when you have to take your horse to another city. They are safe and handy. They suit prolonged hours travelling more as they protect from the extreme weather conditions. It can also be booked when the road is not smooth and there are solid chances that the horse can get injured in the way.
Ramp trailers
Ramp trailers are made for one-way short-distance travelling. They are most suitable for smoother roads and moving around in the city. They are a little cheaper and less safe than the enclosed cargo trailers but the short-distance travelling doesn't demand safety that much.
Utility trailers
Utility trailers aren't made for the horse but since the company offers it as well so let's discuss it a little. Utility trailers are most suited to shift bikes, small cars, and furniture from one place to another within the city. They are super affordable when the goods are not fragile.
U-Haul Rentals are actively providing services in the following cities.
| | |
| --- | --- |
| New York | New Hampshire |
| Kansas | South Carolina |
| Saskatchewan | Prince Edward Island |
| Northwest Territory | Newfoundland |
| New Jersey | Kentucky |
| Indiana | Alaska |
| California | Texas |
| Ontario | Alberta |
| Hawaii | Maryland |
| Arkansas, | Connecticut |
| Georgia | Delaware |
| Lowa | Illinois |
Louisiana, Michigan, Missouri, Montana, North Dakota, New Mexico, Oklahoma, Pennsylvania, Tennessee, Utah, Vermont, Wisconsin, Wyoming, Manitoba, Yukon, and a lot of others as well.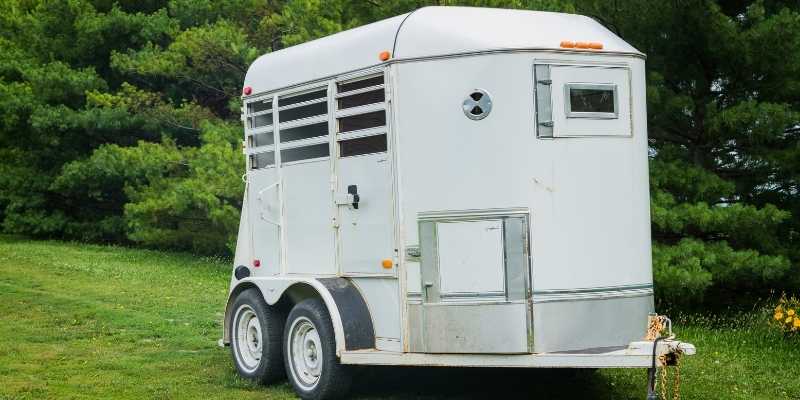 JH Spirit LLC Rentals
JH Spirit LLC is another famous horse trailer rental company that is helping out several horse owners since 2011. Like most of the horse trailer rental companies, the JH Spirit LLC is also offering the horse trailers on daily, weekly, and monthly packages.
This company offers quick services even the horse trailers can be booked at the eleventh hour. It gives a complete guideline on attaching and using a horse trailer for your horse's safety.
The daily fare is more or less $100 the discount is usually offered when a horse owner gets the trailer for a week or a month. However, the downside of this company is that it deals in bumper pull horse trailers and it serves the horses living in the Phoenix Metropolitan area only.
Flaman Rentals
Flaman's is a solution to almost every problem. They do not just deal in horse trailers but lawn and gardening equipment, construction tools, and several other types of machinery.
Flaman Rentals deals in bumper pull(10′, 14′, 16′) and gooseneck horse trailers(82″ wides and 20″ long) only. The company offers fully furnished trailers that have a soft carpet, horse stalls separated by head dividers. Move over, the company lets its customers choose whether they want the RV pin or ball installed or not.
The customer-friendly rental packages include half-day, full-day, and weekly packages. The cost of the packages are;
Half-day – $85.00
Full day – $125.00
Weekly – $625.00
Flaman Rentals are working in several small cities and towns including Atmore, Cardston, Acadia Valley, Barrhead, Edmonton, Foremost, Hanna, Milk River, Nanton, Rimbey, Smoky lake, Stony Plain, Westlock, and Three hills, etc.
There are several other promising options as well but these were the most trusted ones. It's isn't hard to find a good horse trailer rental company in your area as you have to look for a few things.
If the company is fulfilling your requirements it can be your go-to choice. The first thing you need to look for is the "License" and then whether or not the company gets their trailers insured. If it's licensed and the trailers are insured, it's a safe option.
Everything about booking a horse trailer on rent
First of all, horse trailers are just a call away
Even if the horse trailer is expensive to get the option of having it on rent is always available. The horse trailer companies have been offering daily, weekly, and monthly rental packages at affordable prices. To book a ride, you either just have to make a call or visit their office in person. As you sign the rental agreement the horse trailer will be sent to your location.
How much does it cost to get a horse trailer on rent?
As mentioned-above the trailers are usually booked for a day, week, or even month. The companies have different packages but on average it can be booked for $60 a day, $400 a week, and $1300 a month. The rent of a horse trailer depends on a few factors i.e. model, living apartment, and horse stalls, etc. 
There can be additional costs as well
The costs mentioned-above are just what they are demanding to lend you a horse trailer for rent. Most likely, you have to face some additional charges as well. So, be prepared you probably have to pay a little extra than the rental cost.
Go only for the insured horse trailers
Renting a trailer is different than renting a regular vehicle so you need to go for a company that lends out only the insured trailers. So, in the case of any mishap, you don't need to bear more than your capacity.
Go for the well-known licensed companies
We sometimes get involved in thinking well-known companies charge more while renting out their accessories so it's better to go for an unprofessional one because you can bargain. It's risky because you don't even know what's going to happen in the next minute. 
I suggest you go to a licensed company that is more professional in their dealings. 
You have to return the trailer as you got- Neat and Clean 
The horse trailer providers thoroughly clean the horse trailer before renting it out. So, they demand the trailer back in the conditions it was granted. Otherwise, the company can demand extra charges.
Order trailer according to your need
Even though a horse trailer is cheaper to get on rent than buying it for several hundred or thousand dollars, having it for a few hours is still costly. So, you need to be sure of your need. If you have to take one or two horses at a time get a trailer that has 2 stalls but if the number of horses passes the digit 6 you have to order a trailer that contains 6 to 8 stalls.
If you are going somewhere far away you should go for the trailer that has a living apartment otherwise the trailer with no living apartment is a fine option(because they are cheaper).
You need a vehicle that can tow the horse trailer
Horse trailers can't be pulled by every vehicle. Certain vehicles can tow a giant horse trailer. So, be sure if the vehicle is capable of that or not. 
The license plate and registration number should match
Do not forget to seal the deal without double-checking the license plate and registration number of the horse trailer. The license plate number and the registration number should match, just in case they don't, be prepared, you can get into legal trouble.
Thoroughly read the terms and conditions of the contract
Each company will make the interested party agree to their own terms and conditions, even if you know the general terms and conditions of the rental agreement you should still, go through the entire contract thoroughly.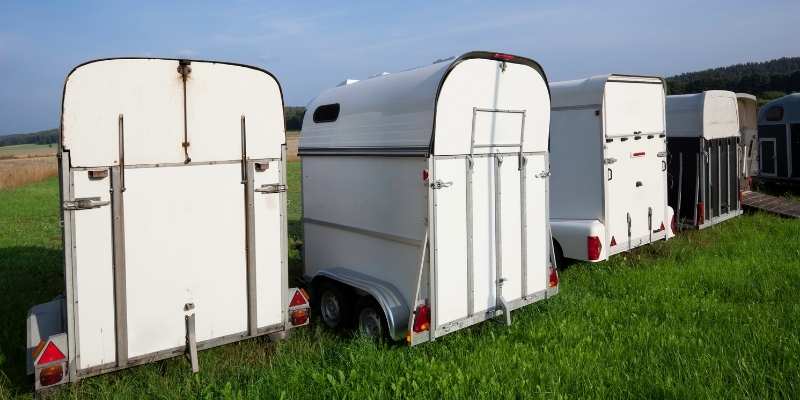 How to find the right horse trailer on a rental basis
Finding the right trailer whether on a rental basis or not is the key to safer rides.  Most of the readers might know more than me, but those who get overwhelmed by the horse trailer rental companies' questions. Here's how you can ensure your horse's safety. Look for trailer parts efficiency.
The horse stalls and head dividers
You are not here to move goods but horses. So, the trailers must have horse stalls separated by head dividers. The horse stalls and head dividers provide sufficient equal space for the horses to stand comfortably.
The escape door
Horses get scared if they are being loaded in the horse trailers for the first time and they get mad if the travelling gets longer than the 9 hours. The horse trailer must have an escape door so if a horse tries to get out with force the horse owner can get out without getting injured.
A living quarter in certain conditions
Horse trailers are generally used for prolonged travelling if you have to take your horse several miles away then the horse trailer must have a living quarter consisting of a bathroom, trailer generator, kitchen, and a living area.
Where to take your horse in the trailer if not to the vet?
If you are dying to take your horse somewhere they feel better and you relax. There is a recreational park with the name "Crazy Horse Recreational Park Canoe/kayak Rental Campground" located in Waynesboro.
The crazy horse canoe part has been serving the horses and the owners for almost twenty-five years with their unique recreational activities. It's made for camping, canoeing, and kayaking.
The management is taking care of the Covid-19 care very professionally so it's a safe place to go to even though the Corona Virus is taking over.
Frequently Asked Questions
Is getting a horse trailer on rent expensive?
Not as expensive as buying one but it's not cheaper either. Getting a trailer for a day costs around $80 to $100 depending on the model, brand, and it's interior structure.
What's the most affordable horse trailer to get on rent?
A stock trailer is the most affordable option when the ride is short and smooth. Hiring a stock trailer for this would make you pay more or less $34 a day. If we look for a cheaper specific horse trailer than horse trailers with no living apartment and few horse stalls are less heavy on the pocket.
Can you use stock trailers as horse trailers?
Stock trailers aren't made to carry horses, they are used to take goods from one place to another. Horse trailers are expensive(even to get on rent) so stock trailers are often used for this purpose.
The stock trailers are not as safe as the "actual" horse trailers and they don't have a horse compartment or horse stalls, etc. The stock trailers are a fine option if you are sure that the road is smooth and you don't have to travel much to reach the destination.
Which horse trailer brands are expensive to buy and get on a rental basis?
The brand greatly affects the price and rental cost of a horse trailer. The most expensive brands are Maverick, Sundowner Trailer corporation, Exis, Trails West Trailer, 4 Stars Trailer, Hawk Horse Trailers, Cimarron Trailers, Logan Coach, and Featherlight, etc.
What are the best horse trailer service providers on a rental basis?
There are several horse trailer rental service providers that are working professionally in various states and cities. The most trusted and rated ones are Horse And Travel, Equine Express, Creech, Next Door Rental, Local Horse Trailer, U-Haul Rentals: Cargo, Utility, and Car Trailer Rentals, Flaman Rentals, and JH Spirit LLC, and Coast to Coast Truck and Trailer Sales Inc.
Summary
Horse trailers are quite expensive, not every horse owner can own them. It's good and even cheaper to buy one for you than getting it on a rental basis every other day but if you rarely use a horse trailer then having it on a rental basis is an ideal option.
The cost of getting a trailer for a day, week, or month depends on the model, brand, and interior structure of the horse trailer but on average it can be booked for more or less $60, $400, or $1300.
Horse trailers are generally provided by the companies but not all companies are safe to get a horse trailer on rent from. The companies that are licensed for this job are the most recommended options. U-Haul Rentals: Cargo, Utility, and Car Trailer Rentals, Flaman Rentals, and JH Spirit LLC are the most trusted options.