I have kept and raised livestock for over a decade now, one thing that really concerns me is feeding them, especially during the dry season. Therefore, I prepare in advance, buy hay and straw bales in advance, and store them to use in winter. 
I have been doing it for years and I believe summer is the best time to buy straw bales as one can get them at an affordable price as compared to the winter months. It is no secret that most livestock owners rely on hay and straw bales throughout the year. Therefore, it does not fell out of demand.
Each year, when I head over to the local feed store, I have been told a different price for straw bale. It may be because of inflation and other factors, the prices keep fluctuating. Never for once, I have bought a bale of straw at the same price for two years in a row. 
This year, before heading to the market, I decided to ask the Internet for help to see what prices straw bales are being sold at. I contacted farmers directly to compare their prices with the market. Fortunately, it seems like I will be saving a few bucks this year. The research I did pay off well. I recommend you to stay and learn about the straw bale price, how to minimize it, and factors influencing the cost of a bale of straw.
How Much Does a Bale Of Straw Cost?
It would be unfair to just restrict straw bales to feeding livestock. It is undoubtedly less nutritious than hay. Straw is a byproduct or waste product of the grain harvest. Straw is not in demand for just feeding horses, cattle, and goats but also used for bedding and mulch. 
How much is a bale of straw? The answer is not as simple as you anticipate it to be. Multiple factors help determine the price. Straw prices are usually steady with little fluctuation each year. Here is a price breakdown for different sizes of straw bales.
Small Square Straw Bale – If you do not need a large amount of straw for feeding or bedding, go for a small square bale. It is an economical option as it costs less. The average price of a small square bale is $4.6. The price ranges from $2 and goes up to $6.
Large Square Straw Bale – Large square bale is heavier in weight and lasts more than the small one. Most farmers tend to buy large straw bales as they will likely get a good deal. Large square bale ranges from $40.00 to $90.00. Large square bale cost is averaged at $64.
Large Round Straw Bale – Purchasing large round straw bales is a go-to option for most people because of easier handling. When you go to buy a large round bale of straw, the cost is in the range between $40 to $85. The average price for a large round straw bale is about $58.Read our guide on How Much Does a Round Bale of Hay Cost?
Is Straw Cheaper Than Hay?
Hay is far more expensive than straw and usually bought to feed horses. One can get a small square straw bale for under $4, however, it is not possible to get hay at this price. Straw is not used as a food source because of the low nutritional value, just given in addition to the regular diet. Mostly, it is used for backyard chicken coop, nesting boxes, bedding, and mulching. Because of its low nutrient profile and minimal use as feed, it is not as expensive as hay.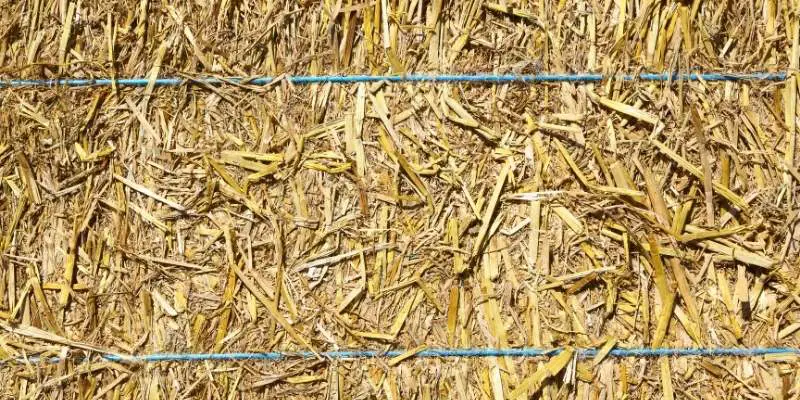 Ways to Cutdown Straw Bale Cost
Even though it is cheap already, still, you can save some money by following these ways. These practices will surely help you get the best deal.
If you buy in bulk, you will get a huge discount. If you have been planning to use straw throughout the year for different tasks, buying in bulk would be a wise option. Store it someplace safe and be worry-free for the rest of the season. Because of low moisture content, it does not get molded or spoiled like hay.
Contact farmers who have been selling straw bales without the involvement of a middleman or feed store. The rates offered by these farmers are far more affordable than the prices set for straw bales in local stores.
Where to Buy Straw Bales?
Straw bale is not a rare commodity, easily available in nearby local stores. If you do not like the bale quality or seller, try looking online for some affordable options. There are many online feed stores selling quality straw and hay bales. Just search for 'Straw Bales Online' or 'Straw Bale for Sale' and scroll through the given options.
Factors Affecting the Straw Bales Cost
Straw bales cost does not stay the same but varies depending on different factors. It may confuse some buyers to the point that they doubt the seller's credibility, but the prices keep changing due to the following factors.
Size
It is a no-brainer that large straw bales will cost more than small ones. These prices are relative to the size of the bale you are buying.
Type
If you do not know already, there are multiple types of straw bale; Barley Straw, Wheat Straw, and Rape Straw. Prices for each type of straw are different than the other.
Weight
If you are buying a bale by weight, the prices would be different. It is worth noting that even the same size bales weigh differently. So, if you are buying a ton or 100 pounds, the prices would vary.
Location
Some states offer straw bales at a more affordable price than others. In areas where the wheat is grown, the prices would be less there as compared to the region where the straw bales are exported to.
Lastly, one can get a small square bale for just around $4, the reason for straw bales being cheap is because it is not used as a sole food source. That's why it is available at lower prices than the hay bales.
Resources