Do you like riding horses? Do it with the saddle. 
A Saddle is a leather seat fastened on the back of a horse for riders. It is a supportive structure for a rider or carrying another load. Horse Saddles are specifically designed for the rider's comfort and safety. 
Buying Guide For a Saddle
When choosing a saddle, a lot of factors are to be kept in mind for hustle free riding. 
Fit
Buying a saddle that fits both you and the horse will make the difference.
An ill-fitting saddle will cause health problems for the rider and the horse.
Pommel and Cantle should be well balanced and not incline backwards and forward to cause unnecessary pressure for the horse. Not too large or small saddle be used by the rider. 
Material
The most commonly used materials are leather and synthetic leather. 
Leather adds durability and years to the life of the saddle. It requires maintenance and care to last long. 
Synthetic leather is environmentally friendly, lightweight and easier to maintain. It is less durable in comparison with Genuine Leather. 
Style
Different Saddles are available for different riding styles. Some are heavy on the pocket and some inexpensive based on the features it has.
Specifically designed saddles are used for multiple purposes like Barrel Racing, trail riding, ranch work, trick riding, rodeo work and hunting. 
When buying a saddle, a buyer should keep in mind snug fit, material, style, comfort, manufacturer and budget.
Keeping in mind the requirements and use, the buyer should buy a saddle fit for the horse and the rider.
Best Horse saddles reviews
We have reviewed some of the best saddles by renowned manufacturers for help you to select.
This classic, lightweight traditional looking saddle can be your go to option as it offers unmatched endurance and comfort.
This classic, lightweight traditional looking saddle can be your go to option as it offers unmatched endurance and comfort.
It has EZ-fold Fender System allowing the rider to customize fenders for his comfort. 
Padded Polyurethane suede leather seat provides maximum comfort and grip.
Square skirts, fenders, jockeys, swell and cantle are covered with scratch resistant synthetic leather. 
This weatherproof saddle is best for working and training horses.It Comes with a 5 year warranty. 
Parts of this saddle has different sizes like cantle 3 ⅓", seat size 15″,16″,17″, seat width 19 ½" x 7 ½",Gullet 6 ¾" W x 7 ¾",Bars =Full Quarter horse,Swell 12 ½",Skirt 28″ Stirrup 2″ x 7″.
This Mustang padded ride saddle protects both horse and the rider by absorbing shock incurred from jumping.
Steel Hardware adds durability to last long. Seat with high rise Cantle offers support, snug fit and improves rider's balance. 
Closed-cell foam construction causes no pressure for the rider and the horse as it offers close contact. 
Lightweight design makes it a smart choice. it weighs around 6 lbs. Comes in a colour black. Girth is not included. 
This Saddle features adjustable grab handle and removable Stirrups. 
Seat is 14″,15″, High Rise Cantle 3 ½" 4″ 
King synthetic trail saddle offers maximum comfort even when ridden in for many hours.
Suede seat creates not only just a good look but bringing comfort to the rider at the same time.
Adjustable sewn Stirrups are padded to provide relaxation to joint stress.
The Saddle boasts scratch-resistant synthetic skirts and fenders, silver conchos, rawhide covered tree and quick change buckle. 
Lightweight Shock absorption construction makes it a sound choice for beginners and intermediate level rider. 
Available in 7 colours and weigh around 14 lbs. 
Specifications: Tree:Rawhide, Bars:11″, Semi quarter horse 13″-17″, Full quarter horse 7″, Swell 12″ Cantle 5″,Horns 3″
Want your saddle to look best from the rest? Acerugs saddle is there to match your style preference. With the looks, it offers no compromise in quality.
Floral design with handcrafted basket weaving accented on a medium oil leather. Similar to the Southwestern colour scheme popular in the late 1990s.
High-performance build and similar tooling stands out with blue suede leather seat.
Seat is padded to save the rider from impacts during jumping. 
Rawhide trimmed Horn and Cantle adds durability to last as long as years. Fleece underside promises comfort for your horse.
100% Cowhide leather construction, this saddle boasts adjustable Belvins buckles, shiny silver conchos, blue padded Stirrups and rough out seat jockey and fenders. 
It weighs 24lbs.Comes with headstall, reins and breast collar.
Measurements: Tree:well balanced wood and fibreglass tree, seat:14″-16″,Gullet :6.5″ x 7 ¼"  Skirts:25-27″ Swell 12″ Horn 3 ¼" Cantle :25″
Available in 6 designs, this racer saddle allows you to ride in style. Rider friendly construction for handling long rides. 
Made from Cordura synthetic Saddle with coloured padded seat and crystals is perfect for those looking for a lightweight and stylish saddle.
Thickly padded seat offers comfortable rides. Fleece underside of the saddle pleases the horse as well.
Coloured crystal trim along the skirting with coloured nylon binding makes it tear-proof and easier to clean.
This trail Saddle features crystal decoration, coloured Texas fun conchos, adjustable Belvins buckles and padded Stirrup. 
Cordura material makes it lightweight while providing optimum grip and cushioning. This trail saddle weighs around 18 lbs.
Comes in Blue, Red, Pink, Black, Brown, Green, Purple. Girth cinch, Back cinch and horse bit to be purchased separately.
Saddle Measurements : Gullet: 7″ FQHB  Cantle :5″ Swell 12″  Skirt: 24.5″-28.5″ Stirrups : 28″-34″
This all purpose Saddle though traditional looking packs unmatched performance.
This allows the rider in experiencing different English Disciplines.
Ideally used for jumping allowing horse and the rider to make smoother jumps. 
Medium deep padded seat and padded flaps offer maximum protection and shock absorption.
Embedded padded panels for horse's comfort during jumping and vigorous training sessions.
Concealed knee rolls with heavy duty buckles provide secured attachment and balanced seat for the rider.
Lower pommel offers maximum mobility to the rider while jumping. 
Multiple D-rings on the saddle to attach a show number or saddle bags.
Available in colour brown and weighs 15 pounds. Comes with a 30 days return with instructions available in the package delivered. 
Made from supreme quality Buffalo Harness Leather and fully hand-carved built to stand up to the abuse. 
Crafted from the flexible tree this saddle adjusts to the horse's back offering snugness at par. Padded seat promises comfortable rides for longer hours.
This western pony style saddle features Belvin buckles and original branded thread used for trail rides and training sessions. 
Occasional blemishes may appear but do not affect the overall quality. Irregularities in the consistency of leather are part of the design. 
Weighs around 26 Pounds. 
Saddle Measurements : Stirrup Length 28″-35″, Gullet 7″ Swell 13″
Give yourself a gift of AceRugs Black Hand Carved Saddle without spending a fortune. 
100% Genuine Leather construction if cared well will last a lifetime. Supreme quality leather withstands long hours of training and riding.
Deep and well-padded seat provides cushioning and comfort. Ergonomic design eases lower back stress.
It features Padded Stirrups, Quit stitched pattern seats, In skirt rigging, Balance wood and fibreglass tree. 
Equipped with numerous "O" rings for number attachment if playing in a show ring or attaching other accessories used when trailing. 
Comes in Black colour. It weighs 22 pounds. Free Headstall, Reins and Breast Collar included in the package.
Check Horse Stall Fans
Best Saddle for Wide Flat Backed Horses
There is no doubt in the importance of using the saddle for horse ride as its essential for your horse's comfort and performance.
The best way to choose a saddle for wide flat-backed horses is to choose a custom one.
Every horse has different measurements of the body, yet there are some dimensions consistent with all.
Usually, there are two factors of a saddle that determine whether it will fit the horse or not. These are:
The Gullet Width 
The Bar Angle
The Gullet Width
The Gullet is the most important because it holds the bars of saddle together. It also determines the saddle fit to horse.
Two possibilities aren't suitable for gullet width, and these are:
If the angle of saddle bar is too wide and gullet Hight is short, then saddle will set on horse withers.
If gullet height is tall with narrow-angle, then the horse's shoulders will hurt.
There should be two and four fingers width between horse withers and saddle fork.
Make sure you can see a tunnel in between the two to get the best saddle for wide flat backed horses.
The Bar Angle
Many people don't put conscience to the bar angle, but it has its importance.
The tight bar angle will cause irritation and discomfort to the horse. On the other hand, a loose bar angle will not result in smooth riding experience. But, for your flat, broad-backed horse, a wide bar angle would fit well.
Factors for choosing Best saddle for Wide Flat backed Horses
Multiple factors are involved in maintain functioning of horse with best saddle fit.
1. Tree of Saddle
Saddle fit is its ability to adjust on the contour of your horseback.
If it fits well, then everything will fall into place. So, start your research with an understanding of tree shape and how it's related to saddle fit.
The function of Tree: It's a most important function to balance the weight of horse and rider. It makes sure the centre of gravity of the rider is aligned with his horse.
2. Saddle Tree Angle
The angle of horse shoulder and tree angle should be the same for your wide backed horse. Determine it by carrying a wither tracing and matching it to the angle of the tree of saddle.
3. Saddle Tree Width
Every horse is different from others, but most of them have common measurements for saddle treewidth. 
But the wide backed flat horses require wider treewidth. Do not confuse it with the tree angle.
Treewidth could be different than the tree angle. You cannot just assume the widest width for the flat horse but take measurements and check adjustments.
4. Full Panel Contact
The panel must sit firmly to horseback from front to back.
That's why saddle tree shape is important. Because your horse has a wide flat back, so it's vital to choose the right shape of the saddle tree. It will help in even weight distribution.
5. Length of Saddle
When the saddle correctly positioned, it should not sit behind the last ribs of the horse.
Testing saddle length: find where his hairline meets up in his flank. Then draw a straight line up to his spine.
Look for any weight on the spine because there shouldn't be any. The loin is the weakest part of the body.
2 Best Saddles for Wide Flat Backed Horses
If you are looking for best quality cow leather saddle, this one should be your first choice. Acergus saddle has hand-painted inlay with a unique design.
Saddle is made with fibreglas tree and well balanced.Acergus saddle features with blue smooth leather seat.
Specifications
✪ Hand Painted inlay
✪ Floral tooling and hand tool basket weave
✪ Silver cocnhos
✪ Made with 100% cow hide leather
Best for trail riding and schooling.Very comfortable and underside of saddle is well-padded with fleece. Acergus saddle has a padded seat with a fibreglass tree that make it strong.
Silver cochons give this saddle a unique appearance.10% pure leather and unique design make this saddle to stand out.
Specifications
✪ Genuine cowhide leather
✪ Silver conchos with unique look
✪ Underside of saddle is padded with fleece
✪ Hand carved tooling
Do you Know?
People have been riding horses since long. They rode horses mostly bareback. It was the late iron age period before when saddle initially started.
The first utilization of seat happened in North Africa. 
In 700 BC Assyrian Warriors went into their fights on beautifying saddle garments.
The advancement proceeded as people started utilizing it more in their fights. 
Types of Saddles
Saddles are specifically designed to assist rider during running, jumping and other riding activities.
English and western saddles are there to do the job.
English Saddles
These saddles are popular for being used in Olympics and International federation for equestrians sports.
These saddles are not only used for English sports or for countries speaking English. Pommel, Cantle, Seat, Jocky, Flap, Gullet, Twist, Panels, Knee Roll, Billets, Girth, Stirrup Bar, Stirrup leather and Stirrup form the construction of English Saddle.
Deep seat and sloped back built on laminated wooden tree strengthened with steel.
Sides of the tree that run horizontally are referred as bars. Leather is put on to create Flap, Panels and seat.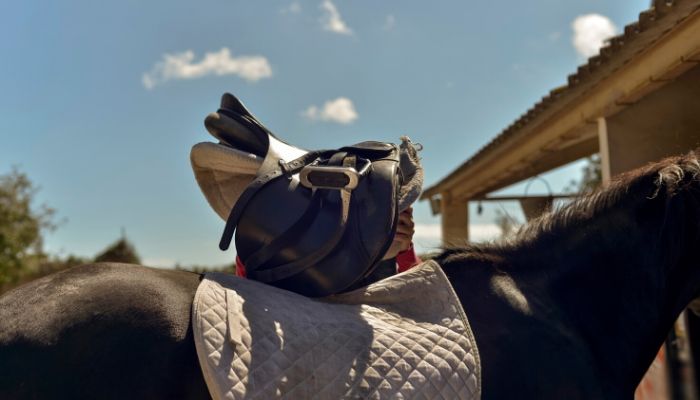 Western Saddles
Western Saddles often referred to as "Cowboy Saddles" are used on working horses. Horn, Pomel, Cantle, Seat, Jockey, Rigging, Skirt, Saddle Tree, Gullet, Fender and Stirrup.
constructed on wooden tree covered in fibreglass or rawhide for durability.
Most parts of the saddle are covered with genuine or synthetic leather. Split leather or suede is used to cover the seat. Western Saddles are heavier than English saddles. 
FAQ's
What is the most comfortable saddle for horses?
Here are some comfortable saddles for horses.
King Series Synthetic Trail Saddle
AceRugs Western Pleasure Trail
AceRugs Premium English Jumping Horse Saddle
Should i consider used saddle?
Yes, you can pick it. If you are a horse owner for a long time, this would be easy to check leather, tree and stress points. Our suggestion to buy a new one if you are not familiar with saddles.
Final Words and Our Pick
You just need to read the whole article and buying guide for the best pick. Still, if you are confused then trust on myhorsenames.
Wintec Full Quarter Western Saddle is the best saddle for durability and comfort. Wintec saddle is the best fit for all kind of horses.