We all have grown up watching horse movies as a kid, they are still just as popular as they used to be back then. In fact, the horse movies would remain so.
The 90's kids might remember saving pocket money to watch The Black Stallion, Flicka, Secretariat, Hidalgo, Spirit: Stallion of the Cimarron, The Derby Stallion, All The Pretty Horses, Buck, Wild Hearts Can't Be Broken, Dreamer, The Wild Stallion, Jappeloup, The Silver Brumby, Cowgirls n' Angels, The Last Shot, Running Free, and the movies like The Horse With The Flying Tail on the big screen.
The horse movies are still as entertaining as they used to be, it's been a long time since you haven't enjoyed someone portraying the bond you share with horses on the big screen, take some time out of your busy schedule, and have that much-needed break. Here are some of our recommendations;
Top Horse Movies On Netflix
War Horse
Walk. Ride. Rodeo
A Champion Heart – A Horse From Heaven
Horse Girl
Heartland
Rock My Heart
Black Beauty
1. War Horse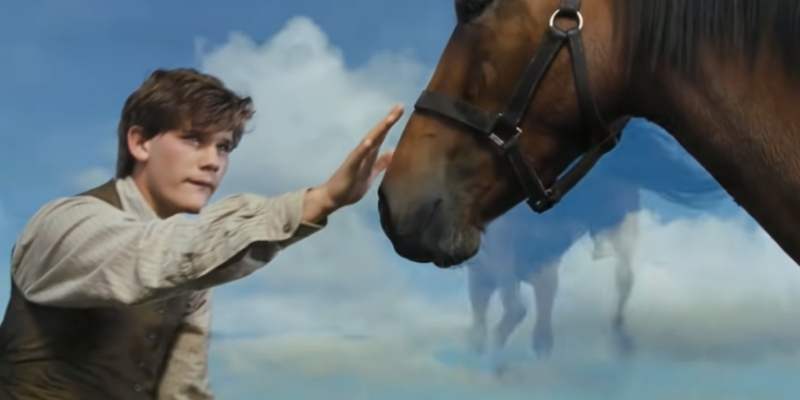 War Horse is a famous horse movie that can be categorized as a Drama/War movie. This epic horse movie is based on a Michael Morpurgo novel that was published in 1982.
It's an American movie that is produced and directed by Steven Spielberg. This Drama/War film made around 177.6 million USD just in the year of release; 2011.
Several big names in Hollywood were a part of it including Tom Hiddleston, Emily Watson, Peter Mullan, Benedict Cumberbatch, David Thewlis, Niels Arestrup, and Jeremy Irvine.
The War Horse's cinematography, editing, production designing, and music composing are performed by Janusz Kaminski, Michel Kahn, Rick Carter, and John Williams.
It is brought to us by DreamWorks Pictures, Amblin Entertainment, The Kennedy/Marshall Company, Reliance Entertainment and distributed by our favorite Walt Disney Studios Motion Pictures.
It's a must-watch for several reasons, one being the first movie to tackle the whole World War l event.
The whole War Horse movie was shot in England and it took over 63 days to complete.
This 146 minutes Horse movie is a story of a bay Irish Hunter horse Joey and a British teenager Albert Irvine's unbreakable bounding.
The movie starts from an auction, a farmer named Ted Narracott outbids his landlord for a horse below the age of four years as the family needs to plough an unworkable rocky field.
The farmer's son Albert forms an unbreakable bond with the horse, he and the horse ends up plowing the field and Saving the family farm.
Soon when the British made an entry into World War l, heavy rain destroys the entire family crop, Ted(Albert's father) sells Joey to the army.
Heartbroken Albert tries his best to keep the horse but he couldn't keep the horse. Helpless Albert ties his father's pennants to the horse's bridle and promises to win him back again.
A lot happens with Albert and Joey in between, at last when World War ends the fate gets in the favor of Albert. The movie ends with Joey and Albert returning to the family farm, a truly happy ending.
2. Walk. Ride. Rodeo
Walk. Ride. Rodeo came out to rule our hearts on March 08, 2019. It's an American biographical film that stars Spencer Locke, Sherri Shepherd, Bailey Chase, Corbin Bleu, and Missi Pyle.
This Netflix hit is directed and produced by Conor Allyn, Julie Crank Di Cataldo, Sean Dwyer, and Elizabeth Cullen. Cinematography, editing, and music are performed by Thomas L. Callaway, Cody Miller, and Sean Murray.
It is brought to us and distributed by Poke Prod and Netflix. This Netflix creation deserved 10/10 but it ended up gaining 6.4/10.
Walk. Ride. Rodeo is a story of a true horse enthusiast named Amberley Snyder, a nationally ranked rodeo barrel racer.
So, the movie starts with this 19-year-old Amberley Synder who spends a lot of her time practicing with her horsepower at a residence in Utah.
On her way to Denver, an unfortunate accident leaves this little horse enthusiast paraplegic. This brave young girl gets informed that she might have to spend her entire life in a wheelchair.
It saddens Amberley Synder a little as it appears that to her she would never be able to do what she loves doing.
To sprinkle salt to her wounds, she gets a call from an event she was planning to participate in. It proves to be a wake-up call for Amberley Synder.
This little horse enthusiast realizes that with a lot of determination, passion, and practice she can still ride the horse with a belt. She picks up her pieces, manages to drive, and rides her horse with a belt.
This new practice keeps going for months, she builds her courage, learns to stand up again, and in less than twelve months, Amberley Synder has not gained enough confidence but also starts preparing for an American rodeo event.
The constant infected pressure on Amberley Synder's back puts her in a critical condition. This new hospital routine still does not stop her from dreaming.
Six weeks later, she is ready not to ride again but to participate in the rodeo event as well. The movie ends with a romantic kiss between Amberley Synder and Tate and her mother expressing how proud she is.
3. A Champion Heart – A Horse From Heaven
A Champion Heart is a great movie that deserved more rating and appreciation than it got.
It's a 1 hour 30 minutes long family movie that you and your horse enthusiastic family should be watching this weekend.
A Champion Heart – A Horse From Heaven stars Daven key, Ryan O' Quinn, Donna Rusch, Ariana Guido, James Mulligan, David de Vas, Austin Brooks, Sonia Hoffman, Todd Wilkerson, Isabella Mancuso, Abby de Vos, Candace Kozak, Mandy Grace, Joelle Mancuso, Dan Moberly.
This might not be a worth-watch for action, sci-fi, romantic comedy lovers, however, for all the true horse enthusiasts out there A Champion Heart – A Horse From Heaven is no less than a masterpiece.
Despite the low rating, The Champion Heart – A Horse From Heaven has gathered hundreds of positive reviews. One A Champion Heart – A Horse From Heaven movie admirer called it a "feel good" film and for others, this is the best movie they have seen so far.
A Champion Heart – A Horse From Heaven is simply a story of a troubled girl who finds faith, hope, healing through a relationship with a four-legged wounded animal; a horse. The journey starts with Mandy Runner, a 15-year-old girl, who is grieving over her mother's death.
She is struggling to start over and make friends in a new town. After a betrayal, she was forced to spend some time at an equine sanctuary where she meets a wounded horse.
She begins caring for this four-legged fella, by the end of the film, her confidence is restored and she is ready for the world.
4. Horse Girl
Horse Girl is an American psychological drama that stars Alison Brie, Debby Ryan, John Reynolds, Molly Shannon, John Ortiz, Paul Reiser, and Matthew Gray Gubler.
The Horse Girl portrays modern times as it has just been made and released. Horse Girl is written and directed by Jeff Baena, cinematography and editing are done by Sean McElwee and Ryan Brown.
This horse enthusiast's favorite is brought and distributed to us by Duplass Brothers Production and Netflix.
Horse Girl is a story of an introverted young woman Sarah who has been living a quiet and boring life.
She spends most of her time working at a craft store, in her spare time she either visits her mother's grave or pays a visit to a horse stable where her former horse Willow lives.
Life was going well until she had a bizarre dream on her birthday. Bizarre dreams and questionable behavior became her routine.
After a series of bizarre dreams and questionable actions, she is suggested to visit a doctor.
Nothing really helps, then the only day a realization hits Sarah that she might be experiencing alien abductions.
Things around her start convincing Sarah that might be a clone. Because of Sarah's unusual behavior, she has to go to a mental hospital where she gets confirmation from a woman that she is an alien abductee.
Sarah dolls herself up in her grandmother's dress, steals her horse willow, walks into the woods. A spaceship appears Sarah levitates to the sky and never returns.
5. Heartland
Heartland is not a movie but a popular family comedy-drama television series starring Alisha Newton, Jessica Amlee, Cindy Busby, Amber Marshall, Graham Wardle, Michelle Morgan, Shaun Johnston, and Nathaniel Arcand.
The entire 13 seasons of the Heartland television series are shot in a filming studio, on a spot near High River Alberta, and Calgary.
Some episodes are shot at an abandoned military base Currie Barracks.
Heartland made an entry into the entertainment industry and beat the Global's comedy show Da Kink in My Hair's record with 513,000 views.
The first season finale attracted 625,000 viewership whereas, the 100th episode After all we've been through broke all the records with 945, 000 viewership.
This family comedy-drama television series is based on a popular Heartland book written by Lauren Brooke.
Amy Fleming(Amber Marshall), the main character in Heartland, is a natural horsemanship practitioner who, along with her mother, saved an abused horse's life at the age of fifteen.
Amy Fleming's mother dies while saving a horse, Amy takes the charge of her mother's work; healing horses.
Horses have a special place in Amy Fleming's heart, while living through the challenges, goods, and bads of life, she continues serving horses.
6. Rock My Heart
Rock My Heart, a German drama film appeared on our screens in the year of the Rohingya Crisis; 2017.
To be more specific, it was played in theaters in 2017 whereas Rock My Heart became a part of Netflix in June 2019.
This horse film is written, produced, directed, and edited by Clemente Fernandez Gil, Hanno Olderdissen, Boris Schonfelder, Hanno Olderdissen, and Claudia Wolscht.
It is brought and distributed to us by Neue Schönhauser filmproduktion GmbH, ARD Degeto Film GmbH, Senator Film Produktion GmbH, Wild Bunch Germany, and Netflix.
Rock My Heart cast include several big names, the worth-mentioning ones are Emilio Sakraya, Milan Peschel, Anneke Kim Sarnau, Annette Frier, Dieter Hallervorden, Natalia Romanova, Johann, Michael Lott, Amrei Haardt, Patrick Simons, Hans Martin Stier, Vedat Erincin, and Rolf Berg.
Rock My Heart was nominated for Int. Filmfestival Schlingel, Berlin & Beyond Festival, Goldener Spatz, Shanghai Int.
Film Festival, Metropolis-Deutscher Regiepreis, and Bunte New Faces Awards. It, however, ended up winning the Berlin & Beyond Festival in 2018.
Rock My Heart's story revolves around Jana(being played by Lena Klenke), a 17-year-old suffering from a congenital heart condition.
The 17 years old Jana trains to participate as an amateur jockey in a life-threatening race. In between training to compete as an amateur jockey this 17 years old with heart defect bonds forms an unbreakable bond with an unruly black stallion.
This movie revolves around the horses of the teenager, their bond remains unbreakable and Jana gets appointed by a famous racehorse trainer Paul Brenner's (Dieter Hallervorden) next prospective jockey.
7. Black Beauty
Black Beauty is the most recent horse movie on our list. This drama film stars Mackenzie Foy, Kate Winslet, iain Glen, Fern Deacon, and Claire Forlani.
Like most horse movies, Black Beauty is about an unbreakable bond between a spirited teenager and a black mare. The black mare and the teenager go through different chapters, challenges, and adventures together.
Black Beauty is a story of a wild mustang who was born free. Life happened, he got sold to a horse trainer John Manly.
John Manly takes the mustang to a horse sanctuary where it ends up befriending horses named Merrylegs and Ginger. John Manly lives with his niece Jo, a teenager that tames the difficult mustang. Jo names mustang Black Beauty.
An unfortunate accident happens, Black Beauty gets sold. Black Beauty gets sold again but in the end, Jo and the horse reunite.