If you have recently set up a farm and looking for a biblical name, you will find plenty of biblical farm name ideas here. Coming up with biblical or Christian farm name ideas can be challenging but equally rewarding.
As a Christian who takes pride in his faith in God Almighty when ventures into farming, would certainly want the farm name to showcase his love for God. There are two ways to go, either do it subtly or obviously.
Naming a farm is hard as it is, adding faith to it complicates things further. Launching a business causes enough stress, so, take some burden off your shoulder, let us handle the naming task.
Biblical Farm Names
When naming a farm, consider the words from Bible that fit in well and encompass what you do, and your faith in God. Here are some other ideas to help you get creative about the horse farm name.
Jordan River Ranch
Kidron Valley Farms
Little Light Farms
Trinity Acres
Christian
Everlasting Life
Galilee
Holy Ground
Holy Spirit
In The Beginning
Still Waters
The Good Book
Pray/Preach
Under God
Hallelujah Acres
Sing to the Heavens
God is Good
Gracebook
Bethlehem
Mustard Seed
The Shepherd
Genesis Farmland
New Testament
Canaan
Delilah
Fields of Joel
Holy Feeling
Lazarus and Martha
Trust in God
In Jesus Name
Heaven Seed
Heavenly Farm
Hope Christian
Second Coming
Mount Hermon
Mount of Olives
Next Level Teachings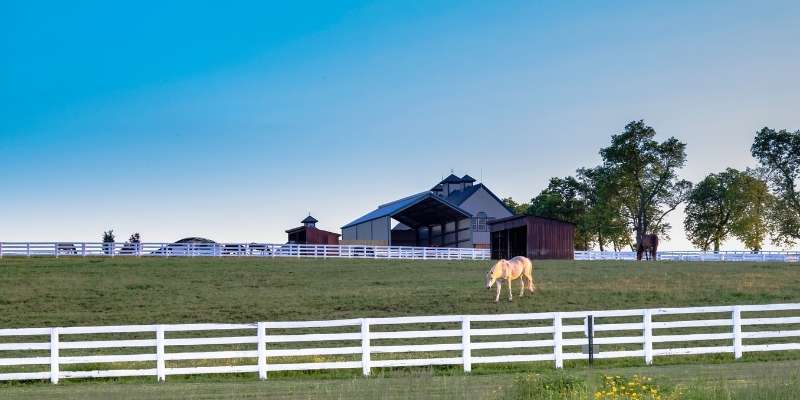 Biblical Farm Names from Stories and Characters
Look for the message, characters, and stories from the Bible that you want to be reflected in the name. Naming a Biblical name, no doubt, makes you feel closer to God. Therefore, we brought a list of farm name ideas to get started.
6th Day Farm – All living animals and human beings were created on the 6th day, which also makes for a great name.
12 Disciples Farm – Jesus brought 12 Apostles or disciples with him to tell about the inherent divine nature. 12 Disciples Farm would be a great name representing, love, strength, confidence, power, and more.
Angle Acres – What could sound more biblical or Christian than the representation of Angles in the name.
Ararat Cottage – Another reference from Bible about a mountain that was poking above when the floodwater receded after the Great Flood. It's the same place where Noah's arc landed.
Bethany – Bethany sounds biblical and means "House of Affliction or House of Figs". It was the name of Lazarus's home that Jesus raised from the dead.
Grace Homestead – Show your love for the God Almighty by naming the farm after one of his attributes.
Born Again Farm – As a Christian, you would not be able to relate with any other names than this. This phrase is used when an individual has accepted Jesus as their Savior or Redeemer.
Bread of Life Farm – This would not only be a Christian but a business-oriented farm name representing God's life-sustaining provision.
Divine Dude Ranch – If you want a biblical farm name with a little touch of humor, this would be it.
God Little's Acre – For Christians that want to go all out, use this name.
Gopherwood Farm – Another reference to Noah's story in the bible, it is the kind of wood used by Noah to build the ark.
Green Pastures – Take inspiration from one of the bible verses that read "The Lord is my shepherd, shall not want; he makes me lie down in green pastures."
Heart of Heavens Farm – Our Biblical farm name ideas list can not be complete without the inclusion of heavens, so, here it is.
The Ark – Name the farm after Noah's Ark.
Rise Again Farm – Stating a famous bible verse "For though I fall, I will rise again". It would make a great Christian name for a farm.
Narrow Path Farm – Narrow path means believing and standing strong for Christ.
How to Choose a Biblical Farm Name?
As per a survey, about 40% of the entire population of the US believe that faith has a major role to play in their lives. Some farmers are of the belief that God will take care of them and he will determine their success. That's the main reason they look for names of biblical or Christian origin.
A lot of people run short on ideas when it comes to biblical or Christian farm names. Finding the right farm name originating from Bible is not as easy as it looks. Worry not, following tips and tricks will help you choose a name.
Make Use of Your Name
If you can not come up with something, use your name. Nothing would sound more Christian than your name. All Christians have biblical or Christian names, keep things simple and name the farm after you.
Bible References
There are many scriptural verses or references about food, agriculture, drink, and animals in the book. Make use of those verses to name your farm. As a Christian, you should know that there are plenty of verses talking about farms.
For instance, "May God gives you heaven's dew and earth's richness, an abundance of grain and new wine" (Genesis 27:28). A person can name his farm New Wine in relation to this verse.
Opt For a Creative Name
Do not let your dry sense of humor get in the way, choose a name that is creative, funny, attractive, and catchy. Choose a Christian name and give it a twist by adding some creativity or humor to it.
Make Things Legal
Are you naming your farm for fun or business purposes? If for business purposes, then you have to follow proper steps to make things legal. Hire a lawyer to set up farm business the right way.
Once the name is selected for the business, you have to make sure that no one else is using it and there are no trademarks with that name.
Conclusion
Take your time to come up with a perfect biblical farm name, it is undoubtedly a great way to express your love for God and his creations. Use these ideas and combine them with other words to make up a perfect name. Good Luck!